Register by June 1 for online RDH-to-BSDH program; start in August
Published: May 08, 2019 by Rhonda Whitmeyer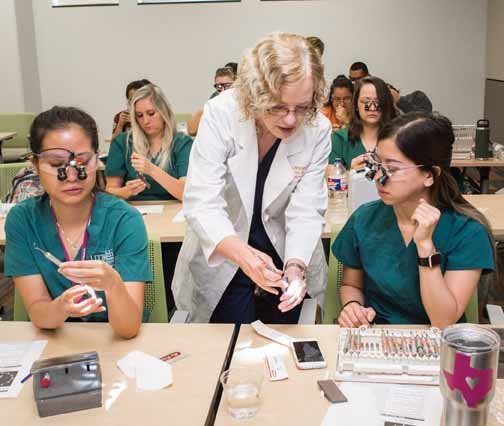 Dental hygienists who want to a wider range of career opportunities can upgrade their credentials to a bachelor's degree through UTHealth School of Dentistry at Houston's online RDH-to-BSDH degree-completion program.
The school will accept applications until June 1 for August admission. The program is fully online except for a seven-hour clinical practicum that can be completed on the campus of any regionally accredited dental hygiene program.
"They can be in New York, San Antonio, Houston … wherever," said Dental Hygiene Program Director and Professor Donna Warren Morris, RDH, MEd. "We will set it up on a case-by-case basis."
Although many community colleges offer dental hygiene programs, the School of Dentistry is the only one in the Houston area offering a baccalaureate degree.
"The big thing about our program is that it has the education focus," Morris said. "It's for people who really want to go into dental hygiene education. A lot of community colleges hire our BSDH graduates as teachers."
All applicants must complete 62 hours of prerequisites prior to starting the program, but students who earned their dental hygiene certificates from UTHealth Houston may be able to complete the RDH-to-BSDH program in one year. Graduates of other programs will need two years.
For more information about this and other dental hygiene options at UTHealth, visit Go.uth.edu/DH-Admissions.