Rodriguez and mentor win first place in 'Nuestros Ninos' contest
Published: February 04, 2019 by Rhonda Whitmeyer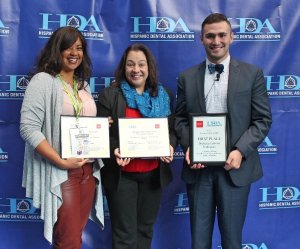 Hispanic Student Dental Association member Nicholas Rodriguez, a fourth-year dental student at UTHealth School of Dentistry at Houston, won first place in the "Nuestros Ninos" contest sponsored by the Hispanic Dental Association and Colgate-Palmolive.
Dental students were invited to submit case studies that discussed the treatment plan for the patient, consideration of cultural and socioeconomic factors, preventive evaluations and recommendations, and patient outcomes. Rodriguez won for his pediatric case study, "Raising Awareness for Safety Net Dental Clinics." More than 20 students from various schools submitted entries
His prize was a $4,000 scholarship, $500 for UTHealth HSDA chapter, and paid travel for him and his mentor, Assistant Professor Amy Herbert, DDS, to attend the awards ceremony. Herbert also assisted in creating the presentation.
The contest was part of the Nov. 24 Greater New York Dental Meeting in the Javits Convention Center in New York.
×