UTHealth Cares volunteers provide dental screenings
Published: January 31, 2019 by Rhonda Whitmeyer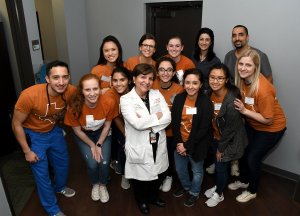 Students and faculty from UTHealth School of Dentistry at Houston, along with the five other UTHealth schools, participated in the second annual "UTHealth Cares" Health Fair.
This health fair is organized to provide basic health screenings and information to underserved communities and is held at the UT Physicians' Jensen clinic near downtown Houston.
Dental screenings and oral health instructions were provided to more than 90 children and adults. Oral hygiene kits were also given to the participants who came to the event.
Services provided from other UTHealth schools included vital signs, stroke assessment, vision assessment, blood glucose readings, nutrition information, financial advising, and more. Also, the Houston Food Bank distributed groceries to all participants.
School of Dentistry volunteers included Assistant Professor Miriam Tabrizi, DMD, MPH, and students Ian Castell, Hillary Strassner, Sandra Perez, Lauren Sanchez, Jillian Huffman, Mary Jocelyn Nisnisan, Ibrahim Zanayed, Rana Shammas, Claudia Pruneda, Mary Elliott, Gianncarlo Cruz, Erica Trammell, Julianna Masabni, Jennifer Imani and Alyson Ye.
×