HSDA members volunteer at El Centro de Corazón
Published: February 18, 2019 by Rhonda Whitmeyer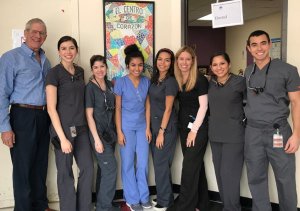 Members of the Hispanic Student Dental Association at UTHealth School of Dentistry at Houston continued their community partnership with El Centro de Corazón in East Houston on Jan. 26 by offering "Dental Day" for patients there.
Dr. Heather Dent, dental director for El Centro de Corazón, said the students (under faculty supervision by Professor Phil Pierpont, DDS) treated eight patients and provided an estimated $2,700 value of care that included 11 fillings and three extractions.
Othr volunteers included Selina Garcés, Kimberly Ruiz, Melba Salazar, Jocelyn Duarte, Leticia Gutiérrez and Iván Gonzalez. HSDA dental hygiene members plan to return in March and April to provide preventive and therapeutic services.
Gutierrez, a fourth-year dental student, said HSDA's outreach to El Centro de Corazón has been a meaningful experience she will miss after graduation.
"This project has been an ongoing community service event that HSDA has participated in for many years," she said. "It saddens me to know I no longer will be volunteering here, but it's been such a wonderful experience to serve in Houston that I will continue to strive to serve those in need in my future communities."
She also thanked Dent, Pierpont and UTSD Community Outreach Director Margo Melchor, RDH, EdD, for arranging opportunities to serve.
×