Graduate research assistant at UTSD awarded Kopchick Fellowship
Published: February 05, 2019 by Rhonda Whitmeyer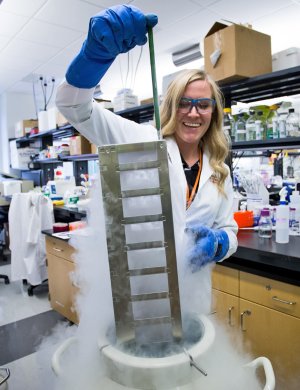 The University of Texas MD Anderson Cancer Center UTHealth Graduate School of Biomedical Sciences has announced the 2019 recipients of the Dr. John J. and Charlene Kopchick Fellowships. Among the honorees is Tristen Tellman, graduate research assistant to Professor Mary C. "Cindy" Farach-Carson, PhD, director of clinical and translational research at UTHealth School of Dentistry.
Farach-Carson serves as adviser for Tellman's research project, "Defining the perlecan-semaphorin receptor complex in the context of metastatic prostate cancer."
The Kopchick Fellowships are funded through a $10.5 million endowment established by GSBS alumnus John J. Kopchick, PhD, and his wife, Charlene.
Fellowships are awarded to six students who demonstrate exceptional character, extracurricular leadership, research excellence and scholarly merit. Each fellowship provides $7,500 directly to the student and an additional $7,500 to support their research and training. The fellowships may be renewed for a total award period of up to two years. Visit the GSBS website for more information about the 2019 fellows.
Tellman is a doctoral candidate at GSBS and serves as historian on the Student InterCouncil, the student governance organization at UTHealth.
×