2019 Student Table Clinic: Practice for prime time
Published: January 30, 2019 by Rhonda Whitmeyer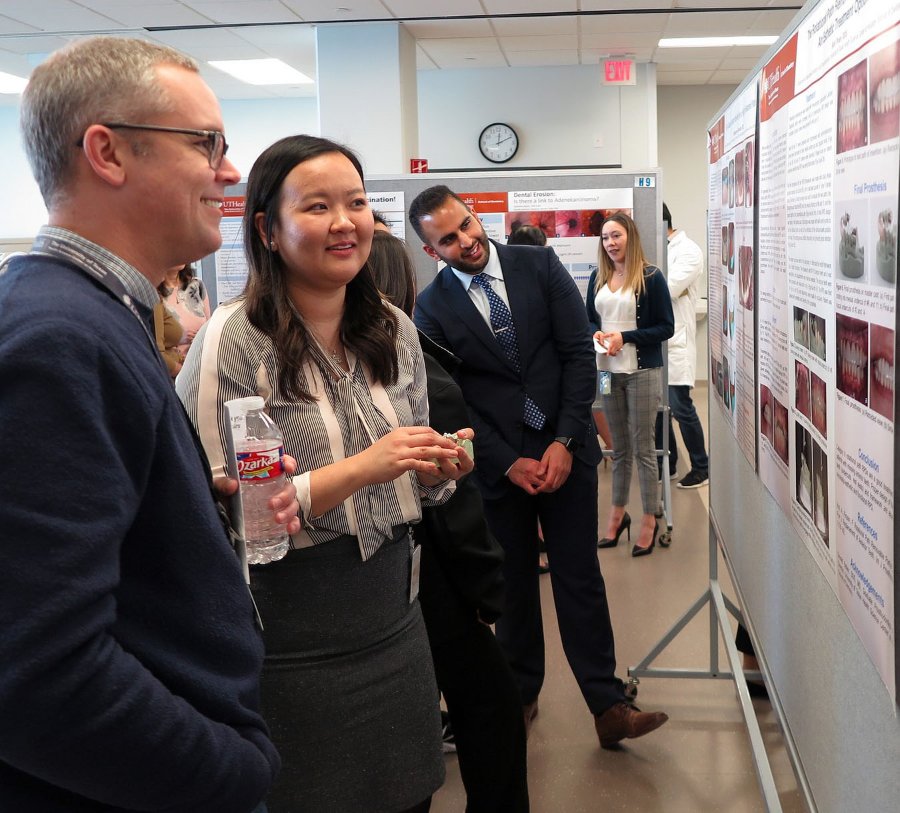 The 2019 Student Table Clinic at UTHealth School of Dentistry featured 52 projects on a wide array of topics. The popular event gives students and residents a chance to share findings and polish their presentations in advance of the scientific table clinic at the annual Star of the South Dental Meeting in Houston and other events.
The American Association for Dental Research Houston Section awarded certificates and cash awards for outstanding work in three categories (dental student, dental hygiene, and faculty/resident). The winners include:
Dental Student Category: Joshua Johnson, "Association of WNT Signaling Pathway Receptor Genes and Apical Periodontitis," mentors Ariadne Letra, DDS, PhD, and Renato Silva, DDS, PhD
Dental Hygiene Category: Tien Lam and Jasmine Ayala, "Dental Erosion: Can It Lead to Esophageal Cancer?" mentors Harold Henson, RDH, PhD
Resident Category: Derrick Thomas, "Design and Fabrication of 3D-Printed Bone Reduction and Implant Surgical Guides," mentor Donald Belles, DDS.
The UTSD Alumni Association, Dentsply Sirona, Komet and Procter & Gamble sponsored the Student Table Clinic. Click here to see the complete list of projects and presenters, and here to see more photos.