2021 Student Table Clinic: Show & tell
Published: April 19, 2021 by Kyle Rogers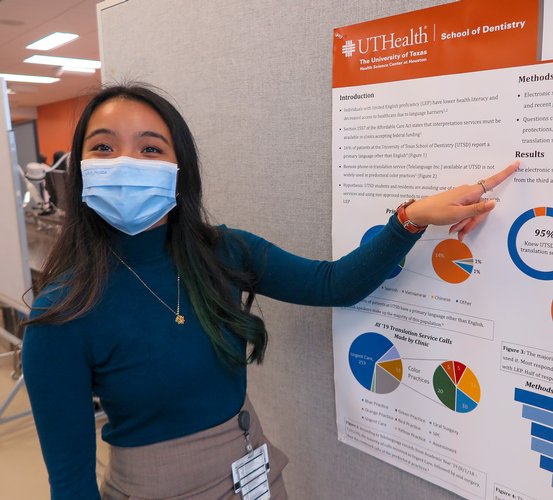 UTHealth School of Dentistry at Houston's Student Table Clinic returned in April. The popular event gave students and residents a chance to share findings and practice presentations in advance of the scientific table clinic at the annual Star of the South Dental Meeting in Houston and other events.
Taking place April 15, 23 projects were displayed on a wide array of topics.
The American Association for Dental Research Houston Section awarded certificates and cash awards for outstanding work in two categories (dental student and resident). The winners were:
Dental Student Category: Nicole Moore, first-year dental student, "Laser-Treated Dentin Surface Improves SDF Occlusal Retention and Dentinal Penetration," sponsors: Juliana Barros, DDS, MS, and Daniel Harrington, PhD;
Resident Category: Benjamin Thomas, DMD, "Clinical Utilization of Platelet-Rich Fibrin (PRF)," sponsor Kyle D. McCrea, DDS.
The UTSD Alumni Association sponsored the Student Table Clinic. The event's brochure can be found online, and a photo gallery is available on Flickr.