3rd annual Giving Day raises more than $100,000 for UTHealth initiatives
Published: April 09, 2021 by John Evans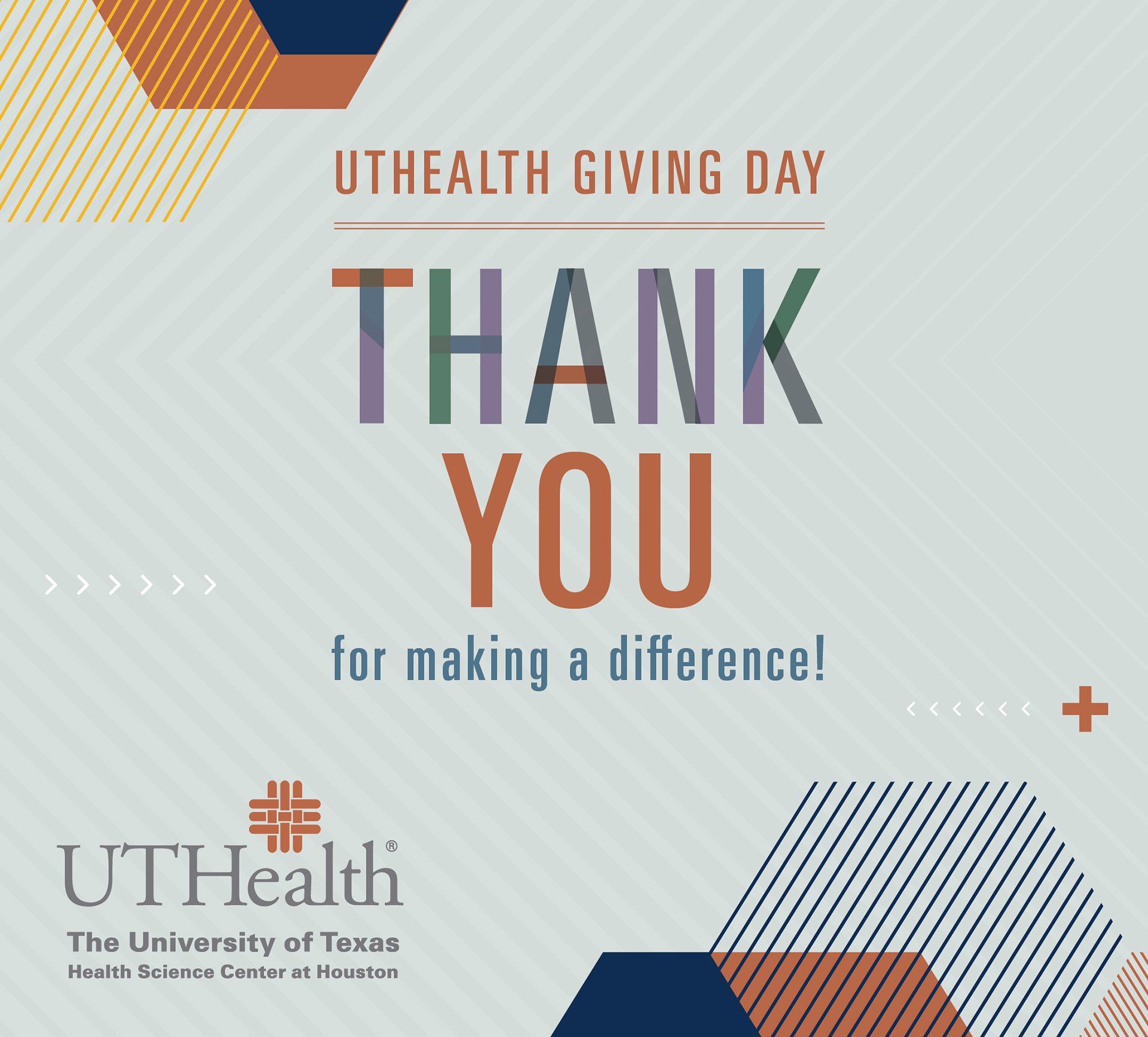 Friends of UTHealth came together on April 6, 2021, for the university's third annual Giving Day, raising more than $100,000 in a single day with 338 gifts advancing priorities in education, research, and patient care. Held roughly one year after the COVID-19 pandemic first swept through the Houston area, Giving Day demonstrated the ongoing generosity of UTHealth's supporters amid challenging circumstances.
"It has been an inspiration to see how many people across the nation came together to collectively support the many faces of UTHealth and make a lasting difference in our communities," said Requita Furlow, associate director of annual giving.
During this 24-hour event, donors made contributions directly to the causes meaningful to them through the interactive website. Giving Day ambassadors also took to social media and their networks to spread the word about UTHealth and encourage others to participate.
Donations spanned all six schools, from scholarships for biomedical informatics students to dental community outreach and research funding for public health initiatives. Giving Day also supported university-wide funds like the President's Excellence Fund, which provides flexible resources for UTHealth leadership to engage priorities across the university. Throughout the day, donors were able to multiply the impact of their contributions by unlocking several matching gifts from generous supporters.
"UTHealth alumni played a major role in making Giving Day a success, and we are grateful that they continue to give back to the university and the students who follow in their footsteps," said Derrick Miller, director of university and McGovern Medical School alumni engagement.
In addition, the event spotlighted crowdfunding opportunities – which will continue after Giving Day – in which donors strive to reach a specific funding goal for an initiative. These included the White Coat Campaign at McGovern Medical School and the SPH Brownsville Endowed Scholarship at the School of Public Health in Brownsville.
"The many pursuits of our faculty, students, and staff are bolstered by the support of the UTHealth philanthropic community, and Giving Day illustrated the strength of that support," said Kevin J. Foyle, MBA, CFRE, vice president for development and public affairs. "Thank you to everyone who gave to keep making longer, healthier lives a reality."