Academic Health Careers Fellowship now accepting applications for 2020 program
Published: September 11, 2019 by Bradi Zapata and Rhonda Whitmeyer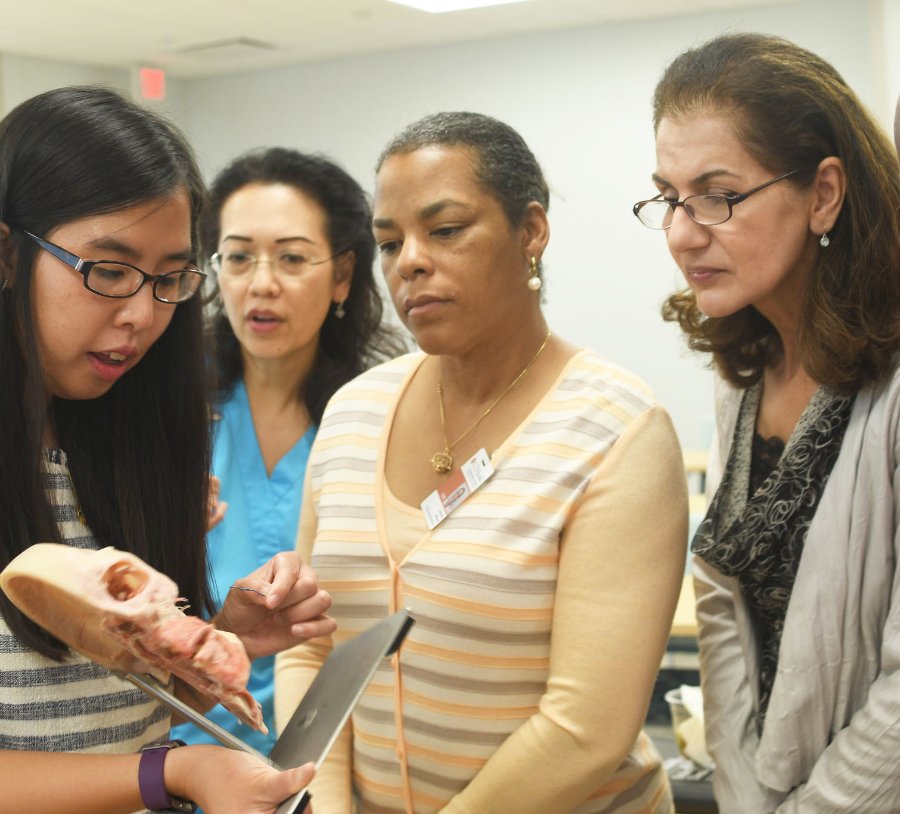 Practicing dental professionals interested in becoming educators can explore academia through a new fellowship at UTHealth School of Dentistry at Houston.
The school is accepting applications now through Nov. 1 for its acclaimed Academic Health Careers Fellowship Program — a professional development plan for dentists, dental hygienists, dental specialists and other health care professionals interested in exploring academic careers.
"What I appreciate more than anything is having more insight on academic careers. Academia has changed with methodology, so this program is not a one-size-fits-all; it's tailored to different learning styles," said Laurena Moore, DDS, who went through the program in 2018. "Since the environment was very supportive and personalized, it gave me the opportunity to focus on areas of dentistry I'm passionate about."
Faculty mentors guide participants as they observe teaching in the classroom, clinic, laboratory and simulation center. Educational principles and methods used in health science education will be discussed, and participants will be able to attend seasonal activities such as the Spring Faculty Assembly, departmental meetings, faculty development and curriculum meetings, continuing education courses, and annual programs funded by endowments, such as the Claude and Blanche Nabers Lecture in Periodontics.
The program culminates with each participant choosing and presenting a scholarly capstone project.
Moore chose a project on traumatic brain injury that allowed her to incorporate her passion for aiding intellectually challenged individuals a classroom setting. Her classmates' presentations also gave her new perspectives on health care, she added.
Directed by Harold Henson, RDH, PhD, associate professor and director of UTSD's Center for Teaching and Learning, and Associate Professor Carolyn Huynh, DDS, MEd, EdD, the Academic Health Careers Fellowship program is a collaborative endeavor with support from Professor Lisa Cain, PhD, associate dean for professional development and faculty affairs, and the School of Dentistry's PACE Center.
Anahita Mortazavi, RDH, BSDH, went through the program in 2018 with the goal of joining the UTSD faculty. Now a clinical assistant professor in the Department of Periodontics and Dental Hygiene, she recommends the fellowship to anyone with a desire to explore the academic side of dentistry.
"It helps you get your feet wet and understand some of the potential challenges in this profession," she said. "There are so many positive things about the program. The capstone project specifically is wonderful because it helps you collaborate with other educators … and it basically nailed a job offer for me."
The next Academic Health Careers Fellowship begins its weekly gatherings on Friday, Jan. 17, 2020 at the school, 7500 Cambridge St. in Houston, concluding Friday, May 1. Registration information is available at Go.uth.edu/AHCFP. Tuition includes meals, parking and CDE credit for qualifying courses. For more information, contact Harold.A.Henson@uth.tmc.edu.