Behind the Smile IV brings stories to virtual audience
Published: November 23, 2020 by Kyle Rogers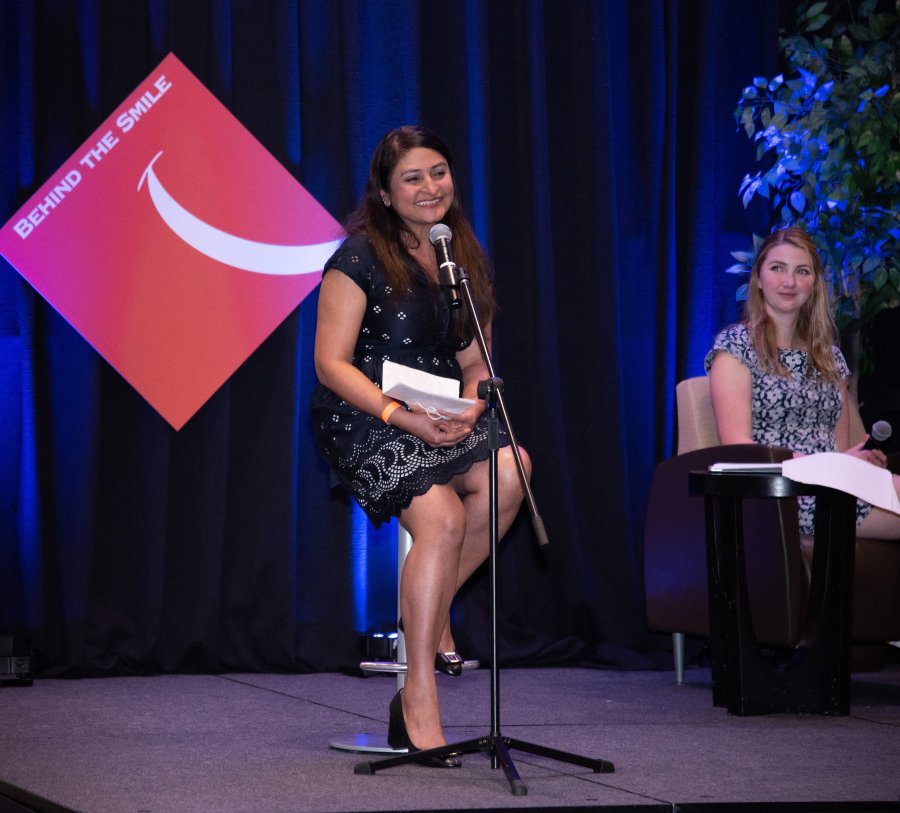 The late Fred Rogers once said, "There isn't anyone you couldn't learn to love once you've heard their story." UTHealth School of Dentistry at Houston continues to listen to its live storytelling series, Behind the Smile: Stories in and out of Dentistry.
The series' fourth installment took place Nov. 18 in the Denton A. Cooley, MD, and Ralph C. Cooley, DDS, University Life Center. The theme was "gratitude." See photos at Go.uth.edu/BTS2020-photos.
Life experiences and personal anecdotes as patients, students, faculty, and practicing dentists were shared with a virtual audience via Cisco Webex. Due to the COVID-19 pandemic, only the storytellers, their families, and technical staff were present.
At previous editions, held in person, the program was capped at 125 attendees. However, with a virtual setting, over 150 tuned in.
"In an era where social distancing and virtual meetings have become the new norm, many people have lost their sense of connection and belonging to the community. Now more than ever, we need to help each other to bring those senses back," said Distinguished Teaching Professor Shalizeh "Shelly" Patel, DDS, MEd. She emceed the event with Ariane "Annie" Huet, a fourth-year dental student.
Several stories shared evoked emotion about hardships related to illness, immigration, poverty, or racial microaggressions, while others disclosed messages of hope and acts of kindness such as a positive outlook on life, respect for a friend, supporting someone's journey in weight loss, or even a son helping his mother that had lasting effects on the speakers.
In order of appearance, speakers included:
Lauren Sanchez, DDS, first-year resident;
Jack Joseph, DDS, clinical associate professor
Priyanshi Ritwik, BDS, MS, professor;
John Valenza, DDS, dean and distinguished teaching professor;
Anamika Khosla, fourth-year dental student;
Jared Hatch, fourth-year dental student;
Brett Crell, fourth-year dental student;
Kenneth Horwitz, DDS, adjunct associate professor;
Kassie Broussard, PACE Center senior coordinator for special projects.
Patel and Whitney Vrazel, DDS '19, introduced Behind the Smile in 2018 as a way to help students, faculty, staff, residents, and alumni connect by sharing stories. UTSD was the first U.S. dental school to embrace storytelling as a tool for mental health awareness.