Black History Month Q&A - Professor Cleverick 'C.D." Johnson, DDS, MS
Published: February 17, 2022 by Alexandria Brown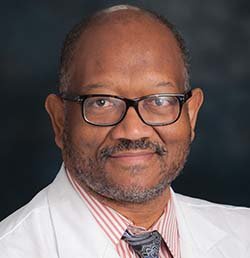 In honor of Black History Month, the PACE Center spoke with one of UTHealth Houston School of Dentistry's most tenured faculty members, Professor Cleverick "C.D." Johnson, DDS, MS. With over 40 years of dental experience, including 32 of them spent at the School of Dentistry, Johnson is a capsule of information and a bridge to future dentists.
What made you pursue a career in dentistry?
"My father had a teaching degree and couldn't find a job in Houston, so he worked at the University of Texas Dental Branch as the maintenance man. When I was four years old, I used to go there with him. I don't know if the dental students had a thing for me, but they taught me how to make dentures. So, I knew I wanted to be a dentist when I was four."
How important is the dental profession to you?
"Being here is the greatest gift I've received. If you're a practitioner, you'll see 10,000 patients in your life, maybe. As a faculty member, you'll treat thousands of people and teach your brand of humanity and civility to thousands of students, so in essence, you've reached millions of people. I tell the students, 'There's no mistake you can make that I haven't made and no mistake that I can't fix, so let's have fun.' That's been my idea for students from day one. I've been blessed with the best wife on the planet, the best daughter on the planet, the best profession on the planet, and the best position on the planet. I have four out of the five best in the world."
How important is representation in dentistry?
"I've helped a lot of people who look like me. I used to volunteer at Texas Southern University and Prairie View A&M University teaching pre-med and pre-dental courses. When I was growing up, all I ever knew were black dentists. My life has been great, and I want to share with everybody that this is the greatest profession, period."
What do you hope your legacy is?
"In the catholic church, there's something known as the Patron Saints; my saint is Moses the Black. He is a second-century Ethiopian saint who was a bad guy. All of a sudden, he became a good guy, saving hundreds of people's lives. That's what I'm trying to do — save those who can't quite take that extra step. I want to be that conduit from unsuccessful to successful."
What do you hope to see from the next generation of dentists?
"All I want them to have are morals and ethics. I can teach how to be a good dentist, but I can't teach someone how to be ethical and moral. If you have those things, that's all you need. You're going to learn, get better, and become an expert. Nobody is in the room with you when you are treating patients. Nobody knows if you treated one tooth or ten teeth, or if you provided the most expensive option or the least expensive option. That is what I want, ethics and morals."
Who are some of the people that you've looked up to in this profession?
"Zeb F. Poindexter Jr., DDS, FICD, who was the first African-American to graduate from the University of Texas Dental Branch; Joseph R. Willie Sr., DDS, who was the first African-American to be accepted into the University of Texas Dental Branch, but was not allowed to matriculate; Jack Levine, DDS; Ken Porter, DDS; and Al Gordon, DDS."