DDS, DH students volunteer at Jensen Jubilee Fall Festival
Published: November 03, 2021 by Kyle Rogers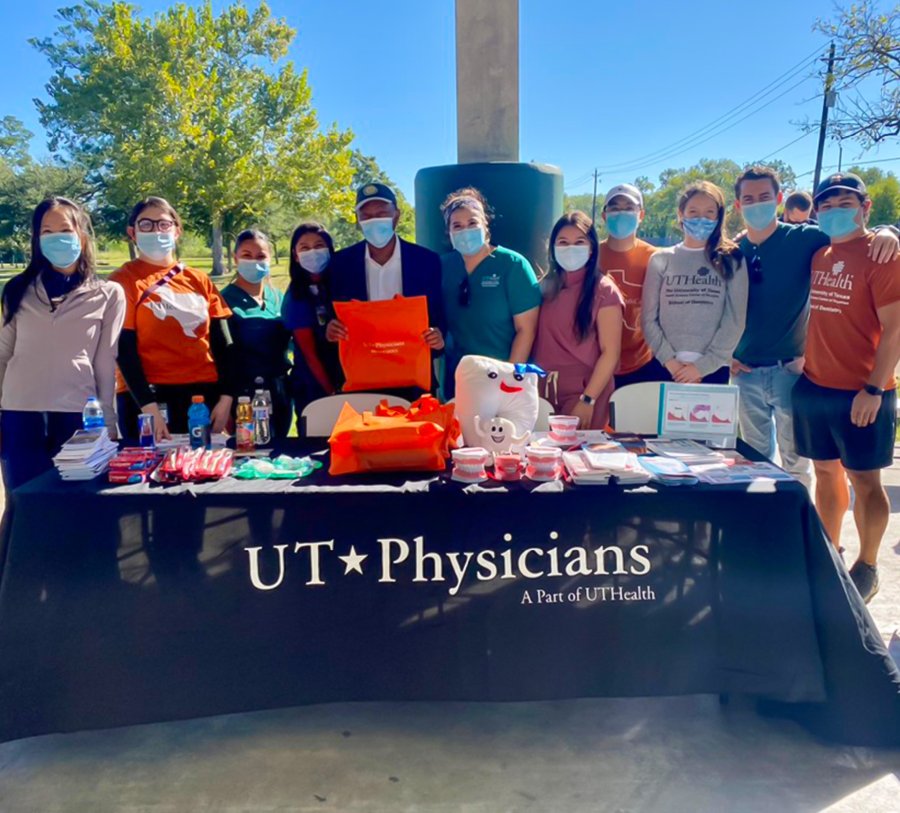 Dental and dental hygiene students of UTHealth Houston School of Dentistry volunteered to help distribute nonperishable food and health information at the 2021 Jensen Jubilee Fall Festival in October.
Participation was through UTHealthCares, a student-led, volunteer organization composed of students from UTHealth's six schools designed to uniquely address the health concerns of Houston's underserved populations through community engagement.
Taking place Oct. 16 at Shady Lane Park, UTHealthCares collaborated with UT Physicians and Commissioner Adrian Garcia of Harris County Precinct 2.
Dental student volunteers included Julia Brito '24, Thanh Le '23, Nazira Lewis '23, Anissa Rodriguez '23, Sophia Shi '25, Will Stevens '24, and Nick Tipton '23. Dental Hygiene student volunteers were Baraa Al-karkhi '22, Cassandra Castillo '23, Andrea Contasti '23, Stephanie Diaz '23, Peyton Dao '23, Evelynn Munoz '22, Kelly Rivera '22, and Nadia Saintot '22.
With October being National Dental Hygiene Month, dental hygiene students distributed oral health education materials and taught participants how to properly care for teeth and gums.
"To be granted an opportunity to connect with the community about what we care about the most, oral health — a gateway to your overall health — reignited our passion of what we do and why we do it," said Saintot.
For four years, UTHealth Houston and UT Physicians have served as platinum sponsors of the Jensen Jubilee Fall Festival.