Dental Hygiene Awards honor Class of 2021
Published: May 21, 2021 by Kyle Rogers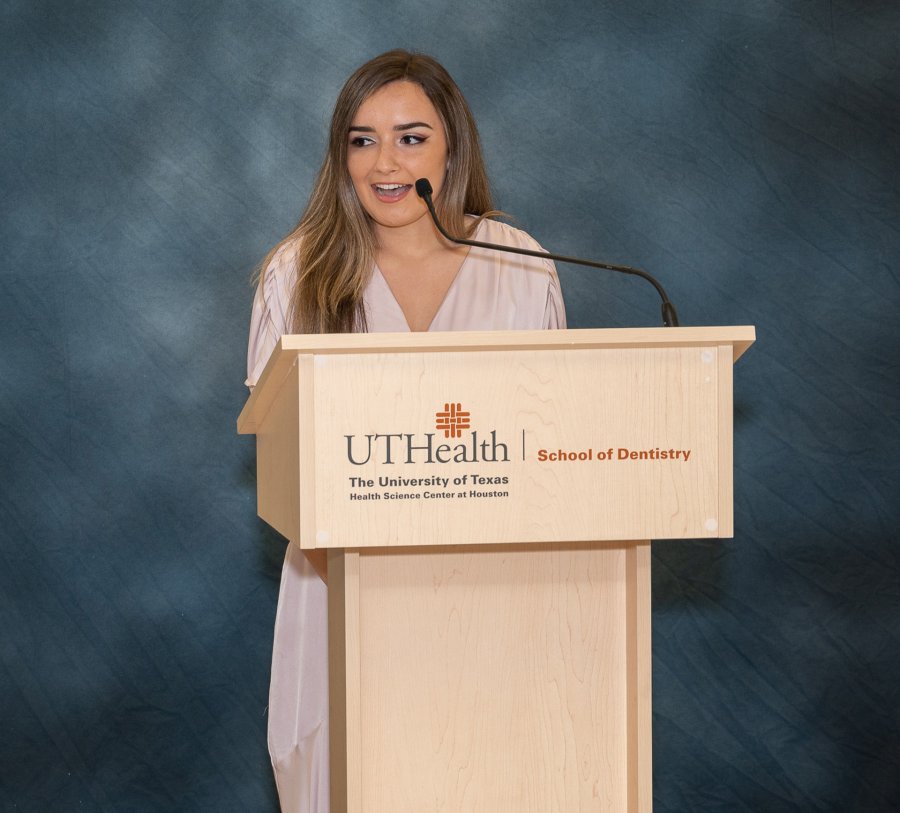 The UTHealth School of Dentistry at Houston Dental Hygiene Class of 2021 gathered one last time before graduation for the annual Dental Hygiene Awards.
Taking place May 20, the graduating class joined faculty, staff, and special guests in the Fullerton Classroom, while family and friends joined the ceremony virtually via Cisco Webex. A complete replay of the event is available on YouTube, and photos can be viewed on Flickr.
Dean John A. Valenza, DDS, addressed the Class of 2021 to begin the program.
"When I first thought of my remarks for today, there was clearly only one place to start, and that was to thank you, the Class of 2021, your faculty, your family, your friends, for enduring a truly unique dental education experience," Valenza said. "I know the past year was certainly not what you expected when you started in the summer of 2019. Does it seem like it's been two years? But, Class of 2021, you've made it. While today is especially about individual achievement, it's also about what you've done as a class."
Dean Valenza shared comments from faculty about the graduating class. One said, "Thank you for being flexible during a year of change and uncertainty. Your collective resilience is a testament to your determination in making it to the finish line."
Another said, "They are resilient like healthy gingiva. Their two years changed so much from what they expected when they enrolled in the program. They adapted and worked with us to be successful, and they have maintained good attitudes and persevered."
Victoria V. Patrounova, RDH, MHA, associate professor and interim dental hygiene program director, served as the program's emcee. She and Brooklyn Santamaria, dental hygiene 2021 class president, took time to reflect on the past two years for the graduating class. Afterwards, those reminiscent words came to life with a student-compiled video comprised of photos submitted by the soon-to-be graduation class.
During the awards portion of the ceremony, winners joined Patrounova on screen for the presentation of certificates, plaques, and other items used to recognized their distinguished individual efforts. In total, 15 awards were presented in addition to gifts for the class officers and certificates from the Texas Dental Hygiene Association.
To conclude the ceremony, Raha Naderi, RDH, MEd, clinical assistant professor, was named the recipient of the Lorna J. Bruning Award for Outstanding Teaching. Chosen by dental hygiene students, Naderi was presented a framed certificate and will receive a cash prize.
Donna Warren-Morris, RDH, MEd, who retired as professor and dental hygiene program director on Jan. 1, 2021, delivered closing remarks.
"It's been a crazy two years that you guys have had and not at all what you planned on, but I think at this point, you're prepared for just about anything," Warren-Morris said. "I'm very pleased to have taught all of you.
"You've been a wonderful class. I wish I had an award to give every member of your class, and I wish I had an award to give every member of your faculty."