DH Class of 2022 raises over $1100 during fundraisers in November
Published: November 29, 2021 by Kyle Rogers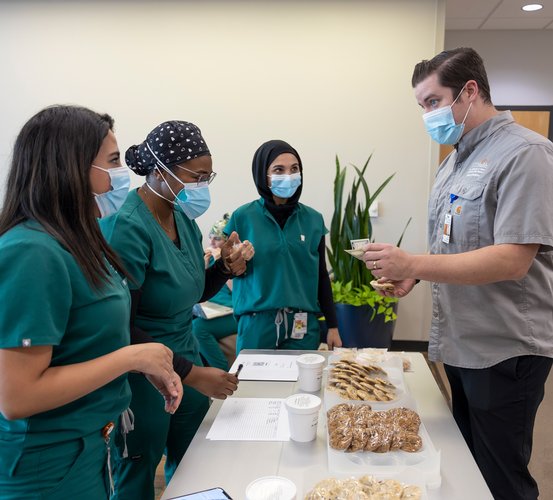 The Dental Hygiene Class of 2022 at UTHealth Houston School of Dentistry raised over $1,100 across three fundraisers in November.
The fundraising efforts featured sales of cookies, hot dogs, and crafts, all held at Alumni Circle on the fourth floor of the dental school for faculty, staff, students, and residents to stop by during their lunch hour. The $1,178 total funds raised will support needs of the second-year class, such as class activities, a graduation banquet, and purchasing of graduations stoles.
"As the president of the DH Class of 2022, I would like to say a huge thank you to all of the students who helped make these fundraisers a success," said Reham Abuabeileh. "It wouldn't have happened without their help and effort. These fundraisers required lots of planning and organization, so thank you.
"Also, I would like to thank everyone who stopped by to support the DH2 class. Thank you for taking the time to contribute and support the DH Class of 2022 for their future class and graduation activities. We're glad we have such supporting community at UTHealth Houston School of Dentistry. It's sincerely appreciated by each one of us."
The fundraisers offered different items for purchase and were spaced across the month with the bake sale Nov. 1, hot dog sale Nov. 12, and craft sale Nov. 22. Individually wrapped cookies and tubs cookie dough (make up to 22 cookies) were available at the bake sale, while hot dogs and combo packs were on sale at the hot dog sale. The craft sale featured tooth-shaped badge reels, scrub caps, car fresheners, earrings, bracelets, among other items. Payment was accepted via cash, CashApp, Venmo, and Zelle.