Diverse doctoral backgrounds lead to 'organized education' of students
Published: March 30, 2021 by Kyle Rogers & Bradi Zapata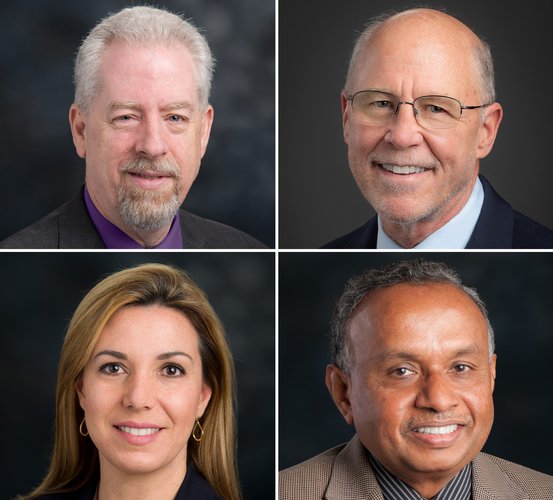 When people think of UTHealth School of Dentistry at Houston, dentists and dental hygienists come to mind. However, the faculty teaching this next generation of health care professionals is comprised of many diverse doctoral degrees, and each plays a unique role in the education of these students and patient care efforts at the school and beyond.
The American Dental Association, in short, defines organized dentistry as, "The combined efforts of all the organizations that work to positively contribute to the dental profession." At UTSD, the collaborative efforts of its doctors to educate students can be called "organized education."
Doctoral degrees among faculty include DDS (dental surgery), DMD (dental medicine), DSc (science), MD (medicine), PhD (philosophy), PharmD (pharmacy), and EdD (education), and the backgrounds of faculty dentists range from generalists to specialists to researchers.
"Over the last few years, we've put an emphasis on the collaborative efforts amongst all these different types of doctors," said Robert D. Spears, PhD, associate dean for student and academic affairs.
One example is the clinical applications course for first-year dental students. The small-group teaching effort is split with half the course instructors having a clinical background and the other half with a background in basic sciences. The goal of the course is for students to see how basic science knowledge is clinically relevant.
"Everything the students do in clinic relies on what they learned before clinic," said Ariadne M. Letra, DDS, PhD. "Basic science courses are the building blocks for students to learn about oral diseases and conditions and understand what to do when a patient is in the dental chair."
The diagnosis and treatment planning course for third-year dental students shows the reverse. The course is taught mainly by clinicians, but every Friday, instruction is given by a basic scientist to emphasize its importance when diagnosing and treating a patient. This integrated approach allows students to understand diseases on a cellular and molecular level before they have a patient in their chair who is providing details on the manifestation.
"When students go out into practice, they're not just taking care of patients' teeth, they're taking care of the entire patient," said Ralph A. Cooley, DDS, assistant dean for admissions and student services.
Often, dentists are the first clinicians to detect systemic conditions, because of oral manifestations found during biannual check-ups. Understanding basic science allows the dentist to be the "gatekeeper" of oral diseases and allows them to confidently diagnose, treat, or refer patients.
"It's important we interact with immunologists, microbiologists, and pharmacologists that can guide us in the new medications and treatments," said Nadarajah Vigneswaran, BDS, DrMedDent, DMD, director of oral and maxillofacial pathology. "We play a large role in teaching students about oral diseases in the entire mouth, because this not only effects the patients' oral health but their quality of life.
Since oral diseases can look similar, students are also advised to collaborate with primary care physicians to distinguish the different diseases and comprehensively provide the best diagnosis.
"We need the scientists and clinicians to come together to search and provide the best evidence-based care for our patients," Letra said. "As a faculty member, I need to communicate the highest-quality science, encourage students' inquisitive minds, and motivate them to know the biology behind a disease before moving on to patient care; this takes an integrated approach."
Academic instructors hope that by fostering these collaborative efforts in school, the student will have the confidence to treat more than just teeth and gums when in practice.
"I always go back to our mission statement, 'Improving oral health to improve overall health,'" Spears said. "As part of improving overall health, it's critical that our students retain the basic science information that's important to the health care of a particular patient."
Cooley adds, "We don't know where a student is going to go. Dental school is only the beginning; they could go into public health, private practice, specialty clinic, research, or even teaching. Having different backgrounds and perspectives from the doctors on faculty allow us to prepare students for whatever next step they choose."