Henson receives 2021 UT System Regents' Outstanding Teaching Award
Published: October 21, 2021 by Gustavo Huerta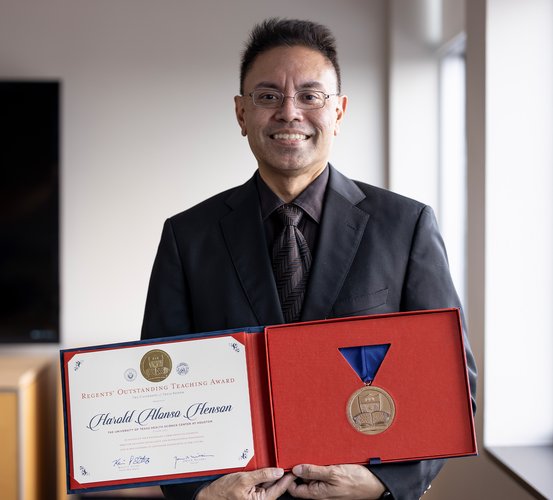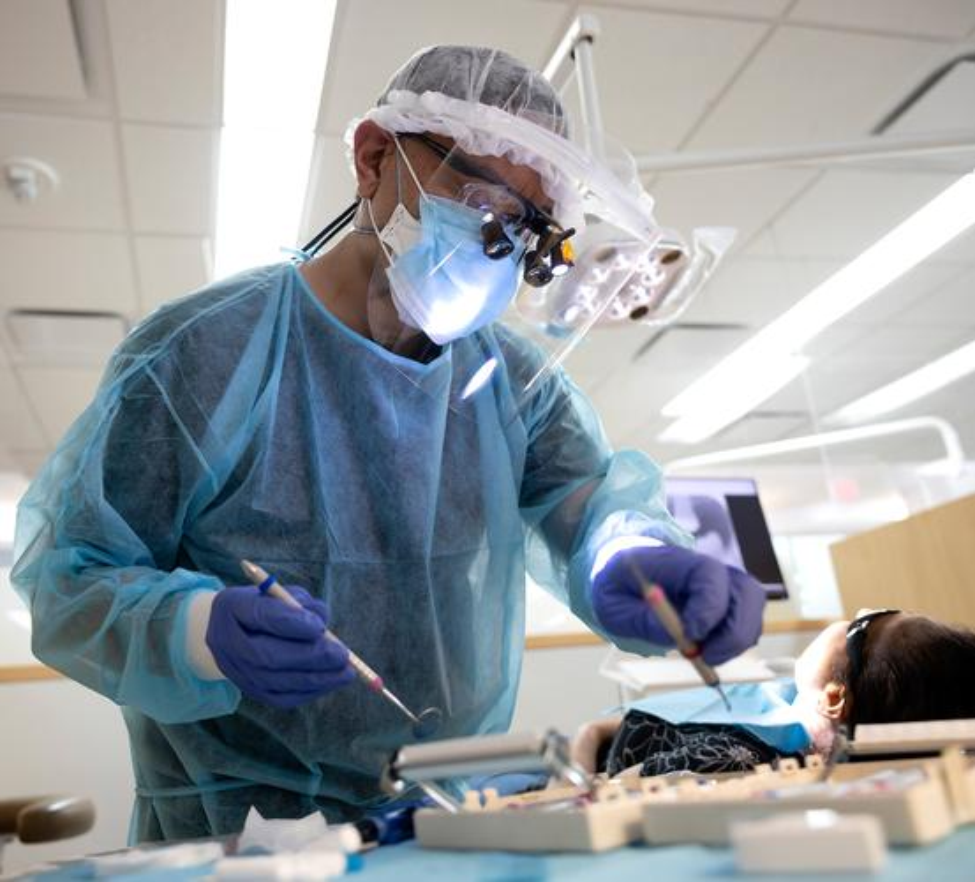 Harold A. Henson, RDH, PhD, associate professor and director of the Center for Teaching and Learning (CT&L) at UTHealth Houston School of Dentistry, has been named a recipient of the 2021 UT System Regents' Outstanding Teaching Award.
Henson was notified Thursday, Sept. 30, by Chairman of the Board of Regents Kevin P. Eltife and Chancellor of The University of Texas System James B. Milliken as one of 14 recipients. He was recommended for the award by Executive Vice Chancellor for Health Affairs John M. Zerwas, MD.
The University of Texas System Board of Regents established the annual Regents' Outstanding Teaching Awards program to honor extraordinary classroom performance and innovation in 2008. The award focuses on a commitment to teaching and delivering excellence to the learning experience through outstanding teaching, including effectiveness, innovation, and creativity.
This year, the program was particularly interested in faculty who developed innovations that were responsive to the needs of students during the COVID-19 pandemic.
In response, Henson adapted his teaching methods in spring of 2020 to improve teaching and learning during the pandemic. The dental hygiene program quickly pivoted in assessing clinical care without patient contact. Henson created the Dental Hygiene Process of Care (DHPC), a 50-question, multiple-choice examination that assessed the dental hygiene student's ability to determine a patient's dental hygiene treatment. The DHPC used several virtual Objective Structured Clinical Examinations during the testing session.
"I've been used to teaching online as a course director in our degree completion program, but teaching online for everything has been a shift," Henson said. "You don't get the same opportunity for connection and community when you're remote. When you can't see students' faces, it can sometimes feel like you have to feel your way through virtual interactions."
Previously, Henson worked in the K-12 system, but it wasn't until he began his teaching career at UTHealth that he found his passion in the university setting.
"I was a substitute teacher for Pasadena Independent School District, but I came to the realization that I was better suited to teach in a university setting," Henson said. "Teaching at the university level three times a week as part-time faculty helped solidify my goal to become a full-time university professor."
Henson's academic career with the UT System began in the fall of 1998 where he was a part-time clinic faculty member at UTHealth School of Dentistry (then UT Dental Branch) three days a week. As a new faculty member, Henson strived to gain a better teaching methodology by pursuing a master of education in allied health education and administration through the University of Houston and Baylor College of Medicine. After joining the Department of Periodontics and Dental Hygiene as a full-time faculty member in September 2003, Henson continued his graduate studies by earning a PhD in adult education at Texas A&M University, successfully completing the program in the summer 2014 while concurrently completing a certificate in college teaching.
When Henson was appointed director of the CT&L on Sept. 1, 2013, he made it his mission to assist faculty not only in the School of Dentistry but all faculty among the UTHealth schools by providing faculty development workshops. In addition, Henson co-developed and led the Academic Health Careers Fellowship Program with Carolyn P. Huynh, DDS, MEd, EdD, in January 2018, to assist future dental /dental hygiene faculty. The fellowship is a four-month professional development program designed to mentor clinical practitioners who are interested in pursuing an academic career.
"Dr. Henson's contributions are extensive and have led to the implementation of innovative approaches to teaching and faculty development," said Dean John A. Valenza, DDS, in his recommendation letter to UTHealth President Giuseppe N. Colasurdo, MD. "He has contributed to the successful development of multiple faculty members in the teaching arena and has contributed his knowledge and expertise across all UTHealth schools. Dr. Henson is genuinely a 'teacher of teachers.'"
This year's event will not be held in-person but rather virtually. A video announcing award recipients will be live-streamed at the November Board of Regents meetings. Despite the lack of an in-person celebration, Henson continues to feel elated after being named as one of this year's 2021 Regents' Outstanding Teaching Award recipients.
"If I look back at all my years of teaching, it makes me realize that this is what I was meant to do, and it's very honoring and humbling for the UT System Board of Regents to award me the academia equivalent to an Oscar or Academy Award," Henson said. "Education has always been and will continue to be an important part of my life, and it is an honor to be teaching at this institution."
Henson was one of two recipients of the prestigious Regents' Outstanding Teaching Award from UTHealth Houston. He was joined by Claire Narvaez Singletary, MS, CGC, a professor in the Department of Obstetrics, Gynecology, and Reproductive Sciences at McGovern Medical School at UTHealth Houston.