HSDA celebrates 10-year partnership with El Centro de Corazón
Published: July 01, 2020 by Kyle Rogers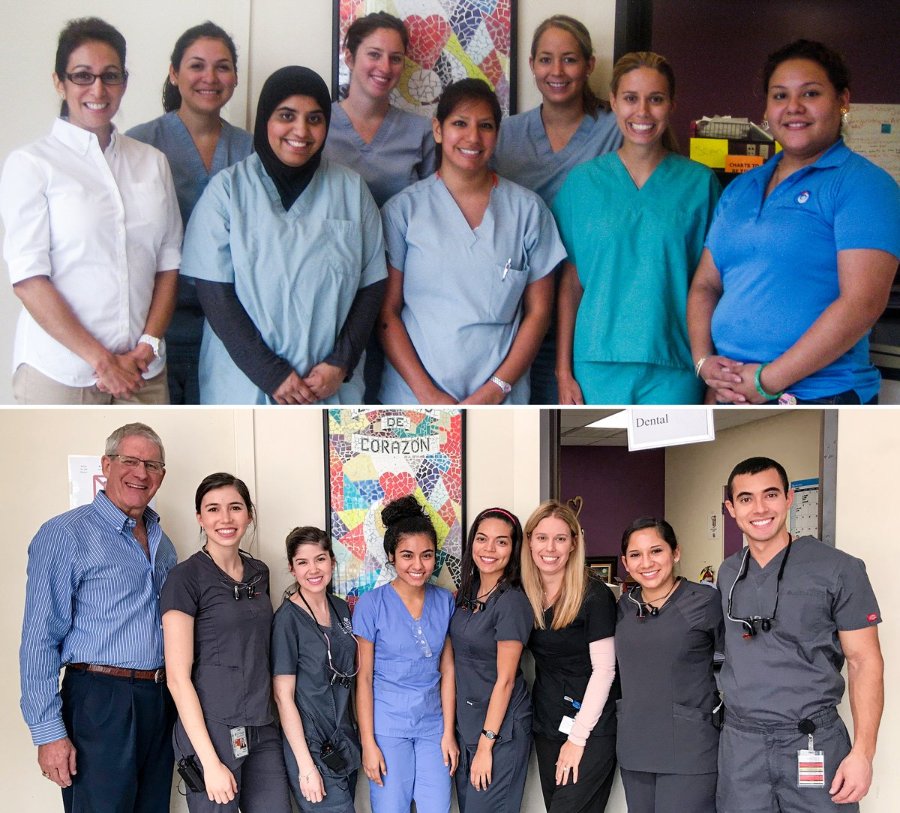 For Houston's East End residents, the Hispanic Student Dental Association Chapter at UTHealth School of Dentistry has been providing quality, low-cost care for over a decade through its partnership with El Centro de Corazón.
For dental and dental hygiene students, it's an opportunity to gain clinical experience in a community setting while volunteering for the student organization.
Over 500 patients have received $75,000 in total estimated care from HSDA members since 2010 at El Centro's Telephone Road location.
Averaging six Saturday visits each year, students see between eight to 10 patients from 8 a.m. to noon, providing preventive and limited restorative dental care and oral hygiene instruction.
To maximize use of the facility's three operatories, students come in groups of six that typically include three upperclassmen to deliver care and three underclassmen to assist. Visits are designated as "dental days" or "dental hygiene days." On dental days, services cost $10 per tooth for restorations or extractions, whereas hygiene days are $10 per appointment for cleanings and fluoride varnish applications.
The reduced prices are ideal for patients who live on a limited income, work for a low wage, or are senior citizens.
The services weren't always part of the HSDA/El Centro partnership. Originally, HSDA held educational days, with students providing oral hygiene instruction and nutritional counseling.
Margo Melchor, RDH, EdD, director of community outreach, recalls how a simple conversation with El Centro de Corazón Dental Director Heather Dent, DDS, helped launch a partnership.
"We were discussing the fact that El Centro offered medical services on weekends, but they didn't have any dental opportunities," Melchor said. "Our students are always looking for weekend outreach activities, so we explored getting the necessary credentialing agreements to allow UTSD to help."
With proper guidelines in place and Dent in attendance, students provide patient care under supervision of Melchor or Professor Philip Pierpont, DDS, who are HSDA faculty co-advisors. Melchor and Pierpont are credentialed through El Centro.
"It's been a great opportunity for students to continue to gain clinical experience and provide care outside of the school," said Melchor. "They get the chance to give back to the community, in addition to being able to work on their Spanish. Not all of our members are fluent, so this is great real-world practice in dealing with a language barrier."
For the East End community, the care has been a welcome relief.
"Most of our patients work in positions where they don't have paid time off, so Saturday care is extremely beneficial for them," Dent said. "The services provided by HSDA members have meant so much to this community. Every time the students come, their patients are so grateful and very happy with the care they're receiving."
Over the years, Dent has noticed many repeat patients. "They'll come to a hygiene day for a cleaning and then come back on a dental day for a restoration."
The Saturday experience has been just as beneficial for HSDA members. As in UTSD's off-site rotations, students have a chance to practice with different instruments and materials from those found inside a school setting. In addition, they see a different side of dental practice.
"Volunteering helps students get a better idea of where they want to focus their care after graduating," Pierpont said. "Outside of private practice, there are opportunities to work community practice, public health care, or even just being involved in a community health center."
Pierpont calls volunteering "hearts-on service" and believes helping others brings personal satisfaction.
"Winston Churchill once said, 'We make a living by what we get, but we make a life by what we give.' I think a lot of students come to UTSD with a desire to give back, and I've been happy to help facilitate HSDA's community service efforts," said Pierpont.
Ten years into their successful partnership, HSDA and El Centro hope to continue meeting that desire to give back for years to come.