Incoming students' FAQs addressed ahead of 2020-21 academic year
Published: July 13, 2020 by Kyle Rogers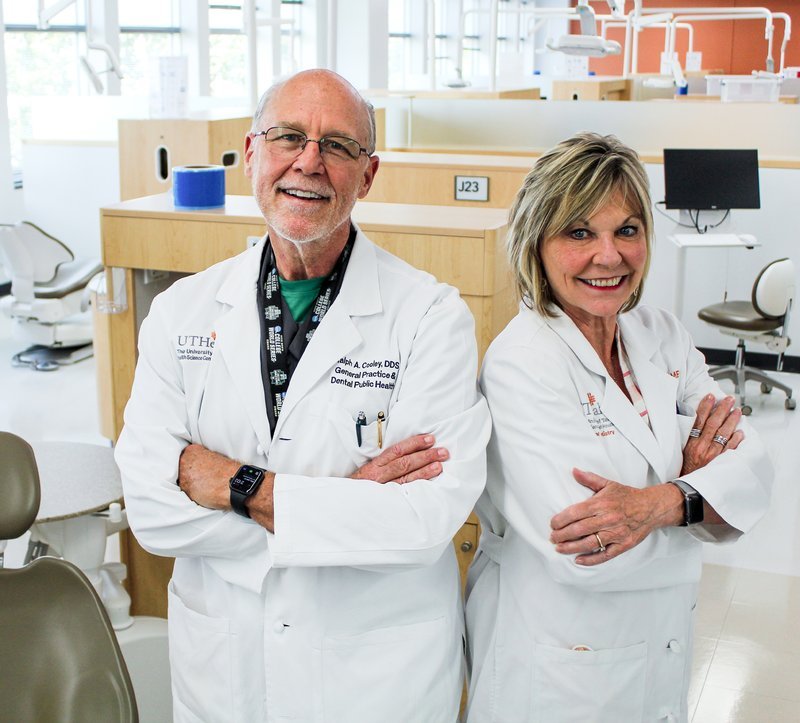 New students about to enter UTHealth School of Dentistry at Houston always have questions, and that's true this year more than ever.
Knowing or finding answers is part of the job for Ralph Cooley, DDS, assistant dean for admissions and student services, and for Donna Warren Morris, RDH, MEd, director of the Dental Hygiene Program.
When asked about the most frequently asked questions from UTSD's newest students — who will be the Dental Class of 2024 and the Dental Hygiene Class of 2022 — Cooley and Morris came up with the following list. (NOTE: Though accurate on the date of publication, information is subject to change).
Q: What will the fall semester look like? Will students be in the building or will classes be held online?
A: With safety as our top concern, the content of our education and patient care this fall will generally be as originally planned, with a few modifications:
Didactic learning will be held online, with flexibility for course directors to use hybrid teaching models as needed;
In-person labs and simulations will occur in a split-class, small group, or hybrid format;
Students will be paired during direct patient care as it resumes in a staged, controlled fashion.
Q: With didactic classes being held online, will we still need to purchase operative materials from the bookstore?
A: Yes. The materials and supplies needed for the courses will remain the same.
Q: With online classes, will my tuition be reduced?
A: No, tuition will not change. However, what could change are some of the fees associated with the cost of attendance. There are no additional costs if a course is held online.
Q: Is orientation going to be virtual?
A: No. The current plan is for orientation, scheduled Aug. 11-14, to be held in person. Decisions are still being made on how this will take place, and students will receive more information over the course of the summer.
Q: Will the white coat ceremony be held?
A: Yes, but it has been postponed indefinitely.
Q: What about Welcome Weekend?
A: Due to the COVID-19 pandemic, Welcome Weekend has been canceled, with no plan to reschedule.
Q: Have all the scholarships been awarded for the coming year?
A: UTSD has already awarded scholarships to its incoming class of students, but don't feel discouraged. These scholarships account for only about 5% of what's available to students across the four-year dental program, and dental hygiene students will have additional scholarship opportunities before the second year.
Q: What are my financial aid options?
A: Crystal Zarate, administrative assistant in the Office of Student and Academic Affairs, sent all incoming students a letter about their respective financial aid opportunities. Those who need financial aid should contact Student Financial Services and answer a series of questions to help determine the amount of aid needed, as well as eligibility for grants and outside scholarships.
Q: What do I do if I haven't heard from Student Financial Services?
A: Be patient. Student Financial Services started contacting students around the middle of June. In addition, more information will be coming via email from the Office of Student and Academic Affairs.
Q: Does the school offer options for housing?
A: Yes. Housing for UTHealth students is available through Auxiliary Enterprises.
Q: Does UTSD have a private area for nursing mothers?
A: Yes. A private, secure room is available on the second floor next to the bookstore. For more information, access or accommodations, contact the Office of Student and Academic Affairs, 713-486-4151.
Q: What kind of laptop do I need to handle class work and patient care information?
A: Incoming students do not need to purchase a new laptop. Any laptop can be used. When students arrive for orientation, the Office of Technology Services and Informatics (TSI) will do a complete evaluation of each laptop to confirm that the software is up-to-date and capable of handling encrypted patient information.
Q: Can I buy a laptop if I want to?
A: Yes. Financial aid is available through Student Financial Services to help cover the cost.
Q: As an accepted dental student, I need to collect teeth. What if I have issues collecting before the start of the fall semester?
A: We understand closures from the COVID-19 pandemic have caused issues with this. Students will have plenty of time to collect teeth during the fall semester. Teeth are not used until the spring semester.
Q: Do I need to take a COVID-19 test before arriving for orientation?
A: No. The test is not required, but everyone entering the School of Dentistry building must go through a COVID-19 screening.
Q: Do incoming students need to present their immunization records?
A: Yes. All immunization requirements still stand, but a COVID-19 test is not required.
Q: What advice would you give incoming students?
A: Make sure all necessary arrangements, especially housing, are resolved before orientation starts. Then enjoy the rest of the summer, and be fresh and ready to go in August.