Lewis receives 2020 President's Award for Leadership
Published: November 02, 2020 by UTHealth Staff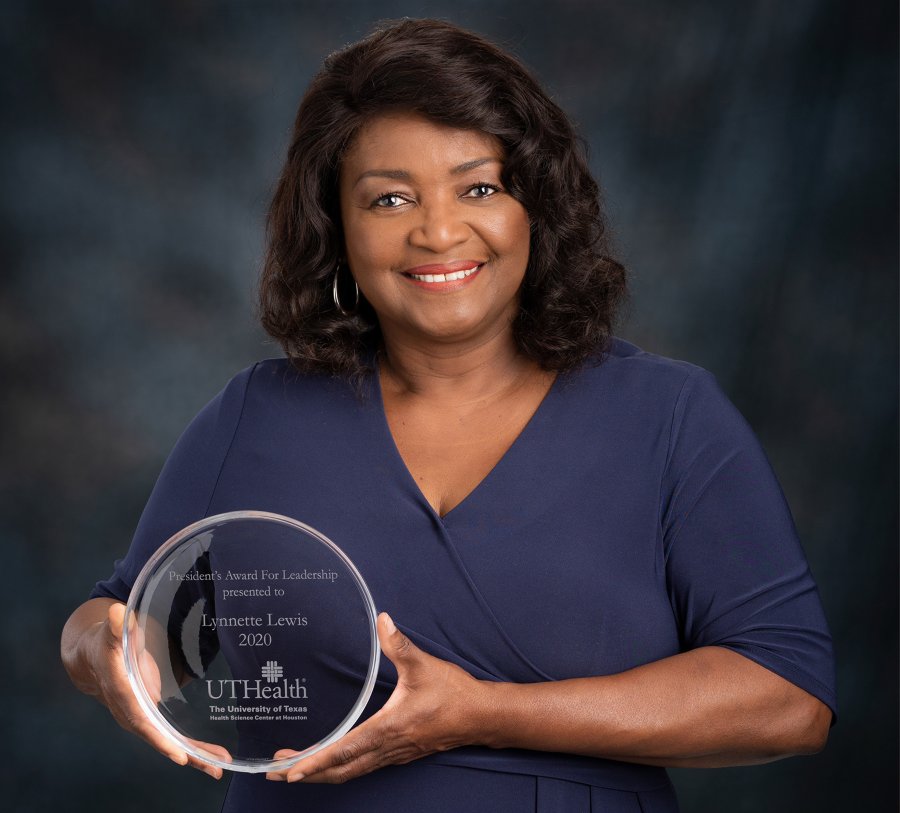 School of Dentistry Director of Administration Lynnette Lewis, MBA, SPHR, has received the 2020 President's Award for Leadership, which recognizes exceptional leaders from across the UTHealth campus.
Lewis, who was named the recipient in the category of management/administrative and professional, serves in the Office of the Dean and is involved in strategic planning as well as finance. She is also involved with the school's Diversity Council, which organizes the annual diversity week and other activities on campus.
"This will mark the fourth decade Ms. Lewis has worked for the university," said Kevin Dillon, UTHealth senior executive vice president and chief operating officer. "Long-term employees are the backbone of UTHealth, and Ms. Lewis is always ready to share her hard-earned knowledge with others."
Nominators commented on Lewis' devotion to mentoring, training, and being an effective leader.
"Ms. Lewis has enveloped the characteristics of a true visionary leader," one nominator wrote. "She's professional, accountable, and stands on the principle of providing excellence to everyone she serves. She's trusted and unquestionably has the very best interest of the institution, the faculty, staff, students, and bigger community within each decision she makes."
Nomination letters emphasized Lewis' impact on those around her, and her ability to shape a positive working environment and culture.
"While our daily work can sometimes appear like a small pebble being dropped in the water, it's evident that the pebbles contributed by Ms. Lewis have caused a ripple effect, creating a wave of impact that touches our faculty, staff, students, and each of the lives we are tethered to beyond these walls," one nominator wrote.
Lewis said it was an honor to receive the award, inspired by the late Michael Jimenez, whom she described as embodying fairness, integrity and professionalism.
"Through the years, I've learned that skill and personality can get you into a leadership position, but it's your trust and confidence in those you lead and their trust and willingness to follow you that gets the work done," Lewis said. "I've come to understand that when I treat people — not the way I want to be treated, but the way they want to be treated — they excel. If a person wants to be a leader, treat them as if they already are — and they will become that. People need respect, encouragement, and opportunity."
Other President's Award recipients included Manuel "Manny" Leston, community outreach officer at UT Police; and Teng-Yuan "Erica" Yu, PhD, RN, associate dean and chair of the Department of Undergraduate Studies at Cizik School of Nursing. The President's Award for Leadership was given out in three categories — classified staff (Leston), management/administrative and professional (Lewis), and faculty (Yu).
"It is truly a privilege to honor this year's awardees," said UTHealth President Giuseppe N. Colasurdo, MD. "Each of them showcases the commitment to service that underlies the UTHealth mission. Year after year, the passion and loyalty of our employees drives the university to be a leader in education, research, and health care."
The President's Awards for Leadership were established in 2006 in honor of Jimenez, former vice president and chief human resources officer at UTHealth, based on the qualities of leadership he embodied: consistent demonstration of leadership through service, compassion, and ethical standards.
The awards are traditionally presented at the annual STAR Awards luncheon to honor the memory of Jimenez, but due to the pandemic this year's awardees will be honored virtually.