Library & Leaning Commons to reopen June 1
Published: May 25, 2021 by Kyle Rogers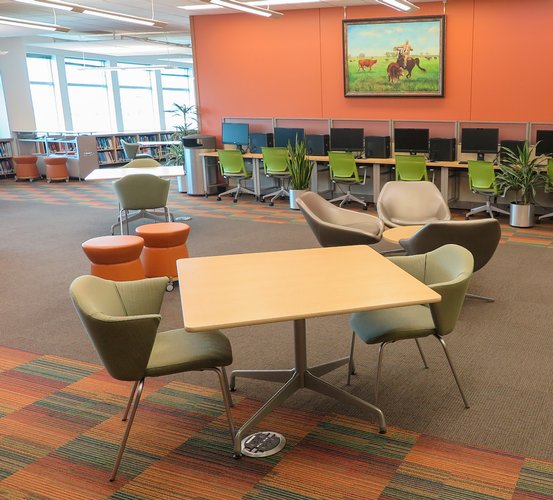 The Library and Learning Commons at UTHealth Houston School of Dentistry will reopen Tuesday, June 1. Renovations started in late November 2020 to increase capacity and functionality.
In total, 1,835 square feet of space were repurposed to create an independent study room and additional group study room, as well as the installation of a new ceiling to upgrade light fixtures to light-emitting diode (commonly known as LED) display.
"This renovation was done to improve functionality," said Brady Smyth, senior facilities construction project manager at UTHealth. "The space had some individual study carrels in it already, but this remodel expands that substantially."
The independent study space, which replaces the computer training room, can house up to 53 study carrels. However, due to the ongoing COVID-19 pandemic, the room holds 30 carrels with only 20 in use to allow for proper social distancing.
The creation of an additional group study room gives the library six total with three on either side of the facility.
Additional renovations included the removal of several bookstacks. The volumes of journals on these bookshelves have been sent to the Joint Library Facility, a combined effort from The University of Texas System and The Texas A&M University System for off-site storage of library resources. Housed on the Texas A&M campus, copies of stored resources are available through inter-library loan.
Planning for the renovations began in 2019. Upgrades were made possible through the LERR (Library Equipment Repair Rehabilitation) Fund.
The Library and Learning Commons is located on the fourth floor of the School of Dentistry, and summer hours are 8 a.m. to 5 p.m. Monday through Friday.