Melville, Young receive AAOMS Clinical Research Award
Published: September 21, 2023 by Kyle Rogers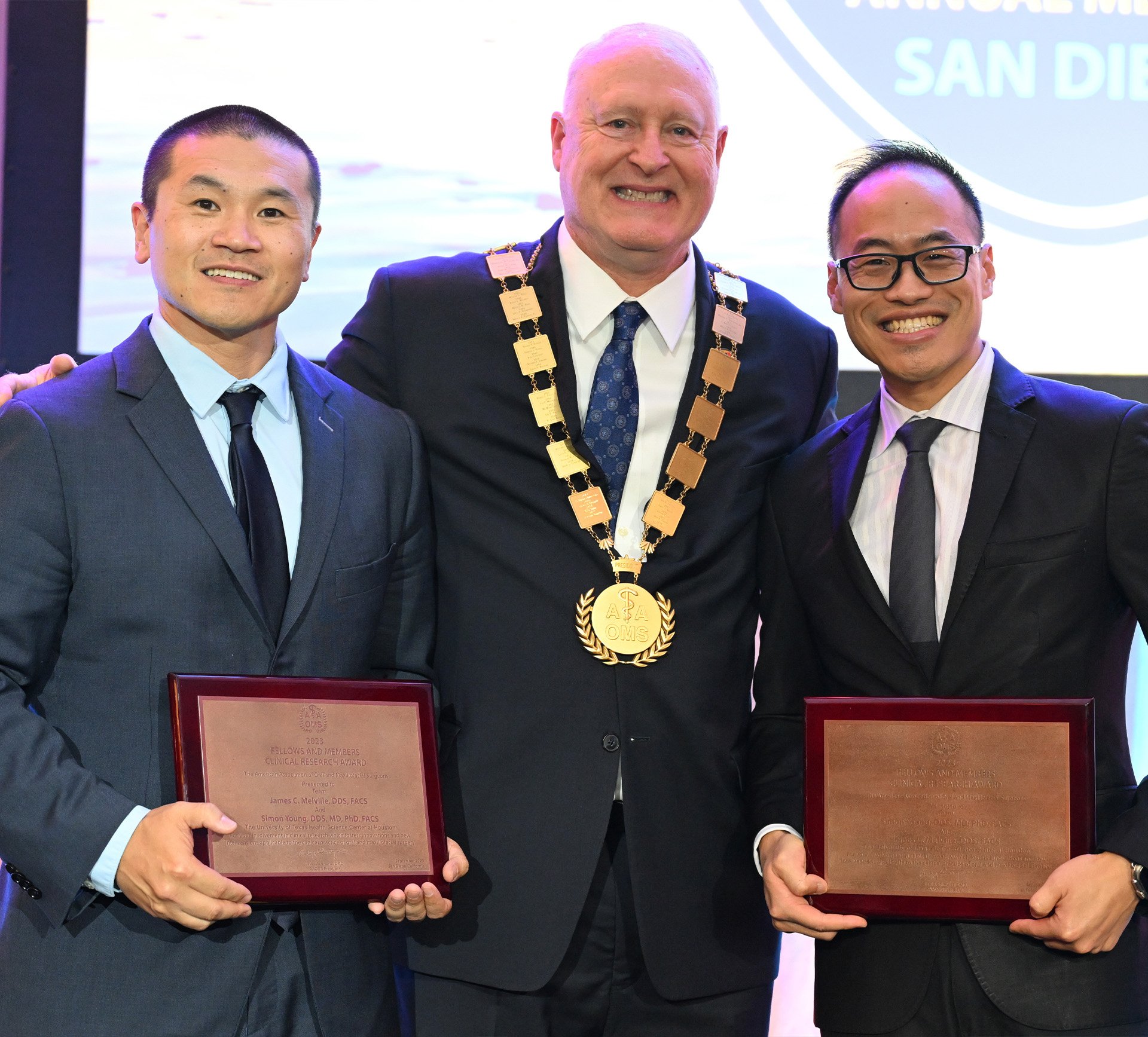 Associate professors James C. Melville, DDS; and Simon W. Young, DDS, MD, PhD, from the Bernard and Gloria Pepper Katz Department of Oral and Maxillofacial Surgery at UTHealth Houston School of Dentistry have jointly received the 2023 Clinical Research Award from the American Association for Oral and Maxillofacial Surgeons.
The two were recognized during AAOMS' 105th Annual Meeting Opening Awards Ceremony on Sept. 20 at the Hilton San Diego Bayfront.
The Clinical Research Award recognizes fellows and members who are engaged in clinical research which fosters innovations and new diagnostic and therapeutic interventions applicable to the clinical practice of oral and maxillofacial surgery. The award comes with plaques, and recipients were not required to pay a registration fee to attend the annual meeting.
Melville and Young were recognized for their work in the field of tissue engineering.
Young has been working on bone tissue engineering projects for 15 years, dating back to his time as a PhD candidate, developing preclinical models to test out various strategies to enhance maxillofacial bone regeneration.
Melville has generated many clinical studies as a basis for the growth factors of jaw reconstruction.
Together, Melville and Young have conducted research to validate the use of growth factors using preclinical modes, and the body of works generated in these clinical studies show mandibular bone regeneration using tissue engineering is a reality.
Melville earned a doctorate in dental surgery at the University of Michigan School of Dentistry in 2005. He completed a general practice residency at the University of California, San Francisco in 2006 and a residency in oral and maxillofacial surgery at the University of Miami/Jackson Memorial Hospital in 2012, followed by fellowships in oral, head, and neck oncology, and microvascular reconstructive surgery. He joined the UTHealth Houston School of Dentistry faculty in 2014.
Young holds a doctorate in dental surgery from the University of Toronto (2003), doctorate in philosophy from Rice University (2008), and a medical doctorate from McGovern Medical School at UTHealth Houston (2011). He completed his oral and maxillofacial surgery residency at UTHealth Houston School of Dentistry in 2013 and held a post-doctoral research fellowship at Harvard School of Engineering and Applied Sciences from 2013-15. He joined the UTHealth Houston School of Dentistry faculty in full-time in 2015.
The Opening Awards Ceremony also saw Jose M. Marchena, DMD, MD, associate professor, named the 2023 recipient of the AAOMS Humanitarian Award for Fellows and Members.