Movember at UTSD: Psi Omega, ASDA plan activities
Raising awareness of men's health issues
Published: November 06, 2019 by Rhonda Whitmeyer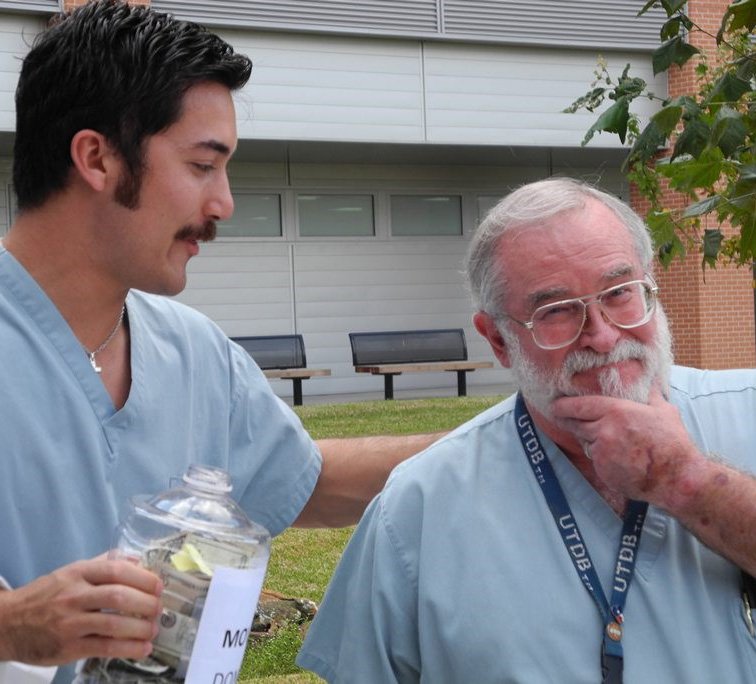 Psi Omega Fraternity and the American Student Dental Association at UTHealth School of Dentistry at Houston are partnering again to sponsor a Movember campaign.
Movember is an annual event involving the growing of mustaches during the month of November to raise awareness of men's health issues, such as prostate cancer, testicular cancer, mental health, and men's suicide. This year, events are planned throughout the month to raise funds and spread awareness to help change the lives of men around the world.
A Nov. 5 Lunch-and-Learn program in the Fullerton Classroom (SOD 4310) kicked off the campaign with a presentation about the cause and how to get involved.
During the week of Nov. 11-15, the five group practices will compete to raise funds, with the winners getting breakfast at rounds and the privilege of deciding how the beard of Professor Gary Frey, DDS, will be styled at the "Shave the Date" event later in the month. Frey is chair of the Department of General Practice and Dental Public Health.
On Nov. 14, the "Dodge for a Cause" Dodgeball Tournament at UTHealth Recreation Center will have students and faculty competing on teams, with all proceeds going to the Movember Campaign. The fee is $70 per team, and participation is open to all UTHealth schools. Register at Go.uth.edu/Dodgeball.
The grand finale is the Nov. 20 "Shave the Date" event beginning at 5 p.m. in The Cooley Center courtyard, where all participants who grew mustaches or beards for Movember will be shaved, including Frey, who has agreed to let the group practice that raises the most money decide what the barber should do with his beard. Food, drinks and a raffle also will be available.
As an additional fundraiser, students are selling long-sleeved, Movember-themed T-shirts for $25 (plus $2 for sizes 2XL or 3XL), with all proceeds going to the campaign. Visit Go.uth.edu/Movember-shirt for more information or to place an order.
NOTE: When ordering, it is not necessary to fill out the "school or org info" section; they will all be shipped to the dental school. Purchasers not affiliated with the School of Dentistry should email Rachel.G.Finelli@uth.tmc.edu to ensure delivery.