October means flu vaccinations for UTSD employees, students
Published: October 01, 2020 by Rhonda Whitmeyer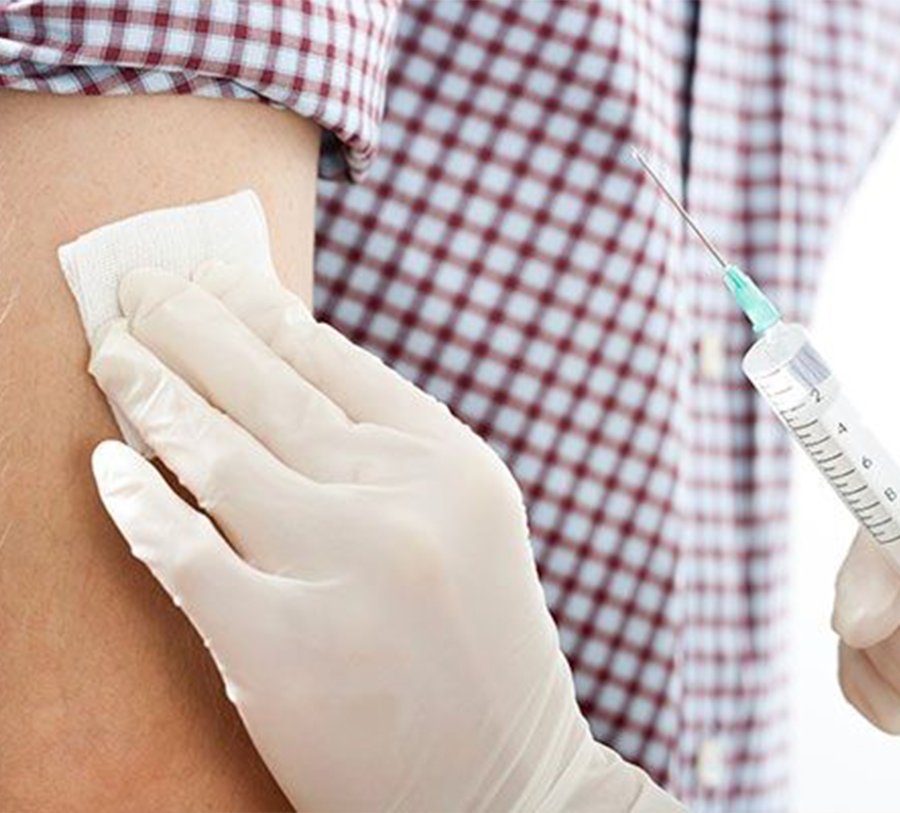 A typical influenza season begins around Nov. 1 and lasts through March 31, but may hit sooner or last longer. That's why October is a good time to get vaccinated, and clinical staff from UT Health Services will be at the School of Dentistry in coming weeks to do just that.
This year, vaccination dates have been planned to allow for social distancing as faculty, staff, students, residents, and preceptors come for their shots. Everyone must present a valid UTHealth badge.
Vaccinations are free for students and will be provided at no charge for employees who bring a paper copy of their UT SELECT insurance card (front and back). Participants who don't have UT SELECT may be vaccinated free if they provide a paper copy of their health insurance card (front and back). Individuals who don't bring a copy of their health insurance card may pay $36 by cash or check to receive a flu shot.
NOTE: Clinical personnel should review the Office of Patient Care policy on the UTSD intranet.
UT Health Services had planned to begin by vaccinating faculty, staff, residents and preceptors on Tuesday, Oct. 6, but the vaccine shipment has been delayed, so the Oct. 6 session has been canceled and will be rescheduled. Other scheduled dates include:
Tuesday, Oct. 6 Canceled; Will Be Rescheduled: Faculty, staff, residents, and preceptors

Wednesday Oct. 14: DDS 1 and DDS 3 students ONLY
11 a.m. to 1:30 p.m., Garza Classroom (SOD 4340)
Thursday, Oct. 15: DH 2, DDS 1 and DDS 3 ONLY
11 a.m. to 1:30 p.m., Garza Classroom (SOD 4340)
Wednesday, Oct. 21: DDS 2 and DDS 4 ONLY
11 a.m. to 1:30 p.m., Garza Classroom (SOD 4340)
Thursday, Oct. 22: DH 1, DDS 2, and DDS 4 ONLY
11 a.m. to 1:30 p.m., Garza Classroom (SOD 4340)
Another option is to visit UT Health Services in University Center Tower, 7000 Fannin St., Suite 1620, during normal business hours (8 a.m. to 4 p.m. Monday through Friday), up until 30 minutes before closing. The office closes from 12-1 p.m. for lunch.
Employees with UT SELECT insurance may also be vaccinated free at area pharmacies by showing the UT SELECT enrollment card and providing the information required for billing UT SELECT, including:
Subscriber ID
Relationship to the subscriber
Date of birth
Sex
UTHealth employee dependents.
UT Health Services will immunize dependents age 18 and older covered by UT SELECT insurance. Covered dependents under 18 will need to be vaccinated by their personal health care provider or another provider of influenza vaccinations.
About the vaccine and flu season
The flu vaccine purchased this year is the Fluzone® quadrivalent vaccine manufactured by Sanofi Pasteur. The quadrivalent formulation of egg-based influenza vaccines for the U.S. 2020-2021 influenza season contains the following:
-- A/Guangdong-Maonan/SWL1536/2019 (H1N1) pdm09-like virus
-- A/Hong Kong/2671/2019 (H3N2)-like virus
-- B/Washington/02/2019-like virus (B/Victoria lineage)
-- B/Phuket/3073/2013-like virus (B/Yamagata lineage)
This vaccine is administered intramuscularly. The vaccines are inactivated and may contain preservatives, mercury, or latex. Thimerosal is only in the multidose vial of Fluzone® quadrivalent vaccine.
In addition to getting vaccinated, please remember simple measures you can do to protect yourselves and others from viruses such as influenza:
-- Cover your nose and mouth with a tissue when you cough and sneeze, then dispose of the tissue in a wastebasket.
-- Cough or sneeze into your upper sleeve if you don't have a tissue.
-- Wash hands or use hand sanitizer frequently, especially after you cough or sneeze.
-- If you're sick, please stay at home.
The U.S. Centers for Disease Control website has posted frequently asked questions (FAQs) for the general public and more detailed information for health care professionals.