Office of Technology Services and Informatics wins 2019 holiday decorating contest
Published: December 20, 2019 by Rhonda Whitmeyer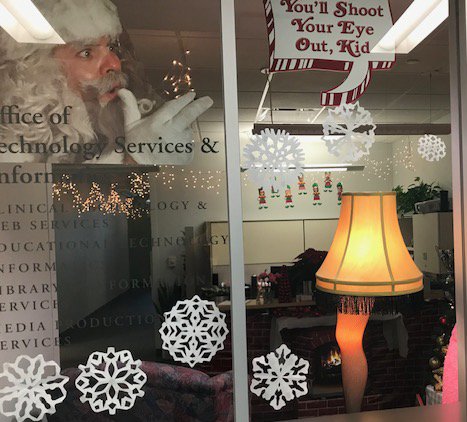 The defending champions in UTSD's annual Holiday Decorating Contest won first place again in 2019 when the Staff Relations Council announced the winners at the annual Holiday Breakfast in The Cooley Center. The SRC sponsors the contest and organizes the breakfast event for faculty and staff.
The Office of Technology Services and Informatics won first place with the theme of "A Christmas Story." Second place went to the Research Office, where the theme was the movie, "Frozen," while the Office of Patient Services won third place with a theme based on the "Candy Land" board game.
In the Small Door and Window Category, the Patient Care Coordinators' suite won first place, with the Special Patient Clinic as first runner-up.