Orange Practice named inaugural Digital Dentistry Practice of the Year
Published: November 18, 2020 by Kyle Rogers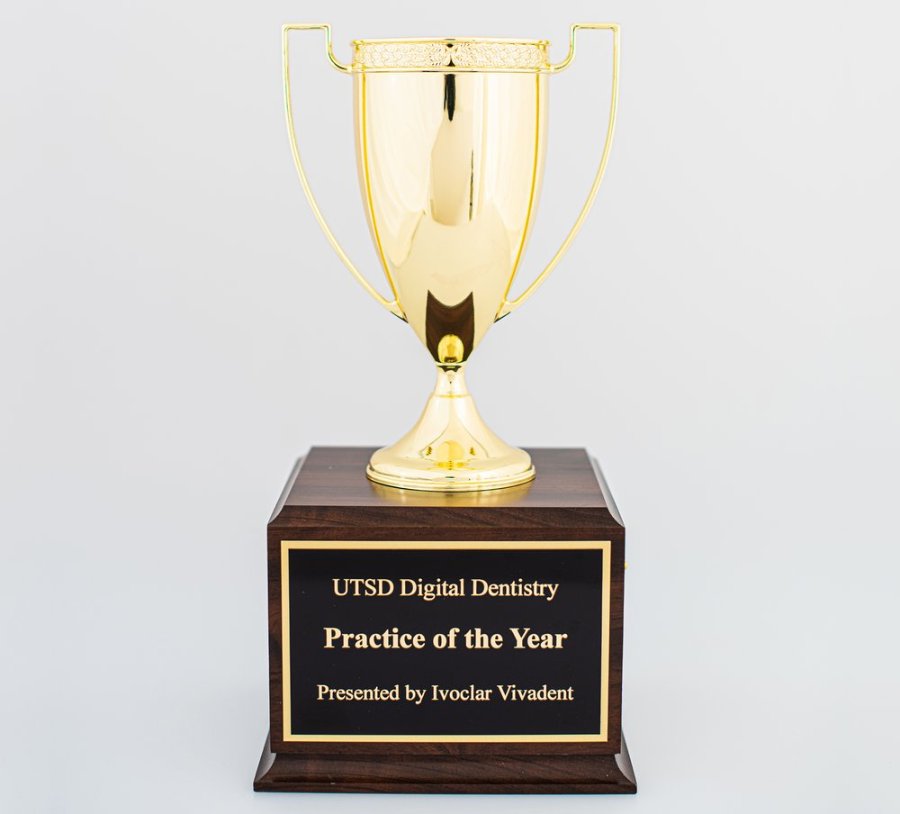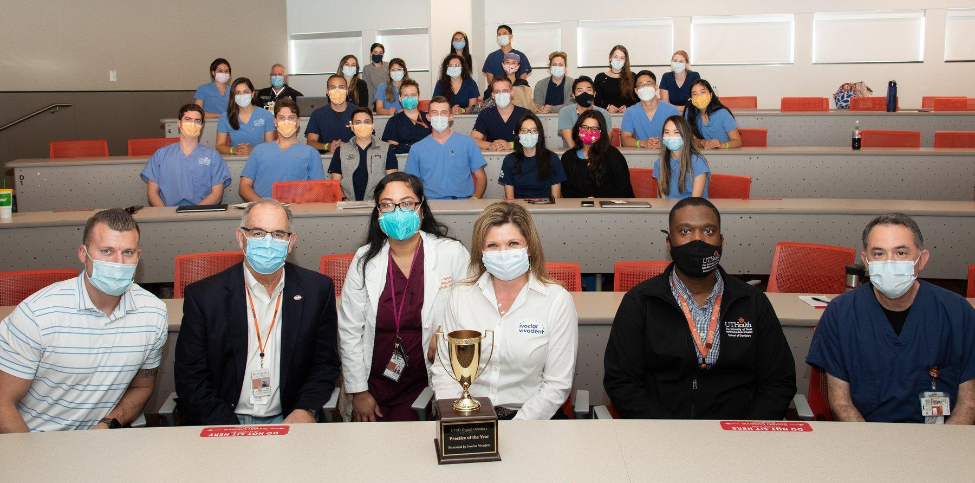 Dental students in the Orange Practice at UTHealth School of Dentistry at Houston have been named the inaugural Digital Dentistry Practice of the Year for the 2019-20 academic year.
The award is a new tradition created by Director of Digital Dentistry Michelle Thompson, DDS, and sponsored by Ivoclar Vivadent. The UTSD Digital Dentistry Practice of the Year trophy is awarded to the group practice that completes the highest number of computer-aided design/computer-aided manufacturing (CAD/CAM) cases during the academic year. CAD/CAM software is used to digitally design dental restorations such as crowns and bridges.
Thompson and representatives of Ivoclar Vivadent presented the trophy during Orange Practice's treatment planning conference in early November.
"I'm so proud of the students," said Orange Practice Director Stephen Laman, DDS. "It's really neat that they can be recognized with this honor. The quality of their work and their willingness to embrace CAD/CAM technology is impressive."
Between the five group practices (Blue, Green, Orange, Red, and Yellow), postgraduate programs, and UT Dentists, over 220 CAD/CAM cases were completed before COVID-19 forced clinical activity to be reduced to emergencies for patients of record in March. Orange Practice completed 50 CAD/CAM cases.
"We were looking for a way to recognize the practices for the number of cases they complete," Thompson said. "This trophy is a friendly competition between faculty and their students to encourage them to utilize the technology."
The trophy will reside in the Orange Practice alcove on the second floor during the 2020-21 academic year.
"Now Orange Practice's challenge is keeping the trophy for this year," Thompson added.
In 2019, UTSD announced a $2.5 million investment to be distributed through 2023 to make sure students are familiar with taking digital impressions, milling restorations, and using 3D-printing technologies — all essential tools of the modern dental practice.