Orthodontist Fred Garrett named honorary alumnus for 50 years of service to School of Dentistry
Published: August 20, 2019 by Rhonda Whitmeyer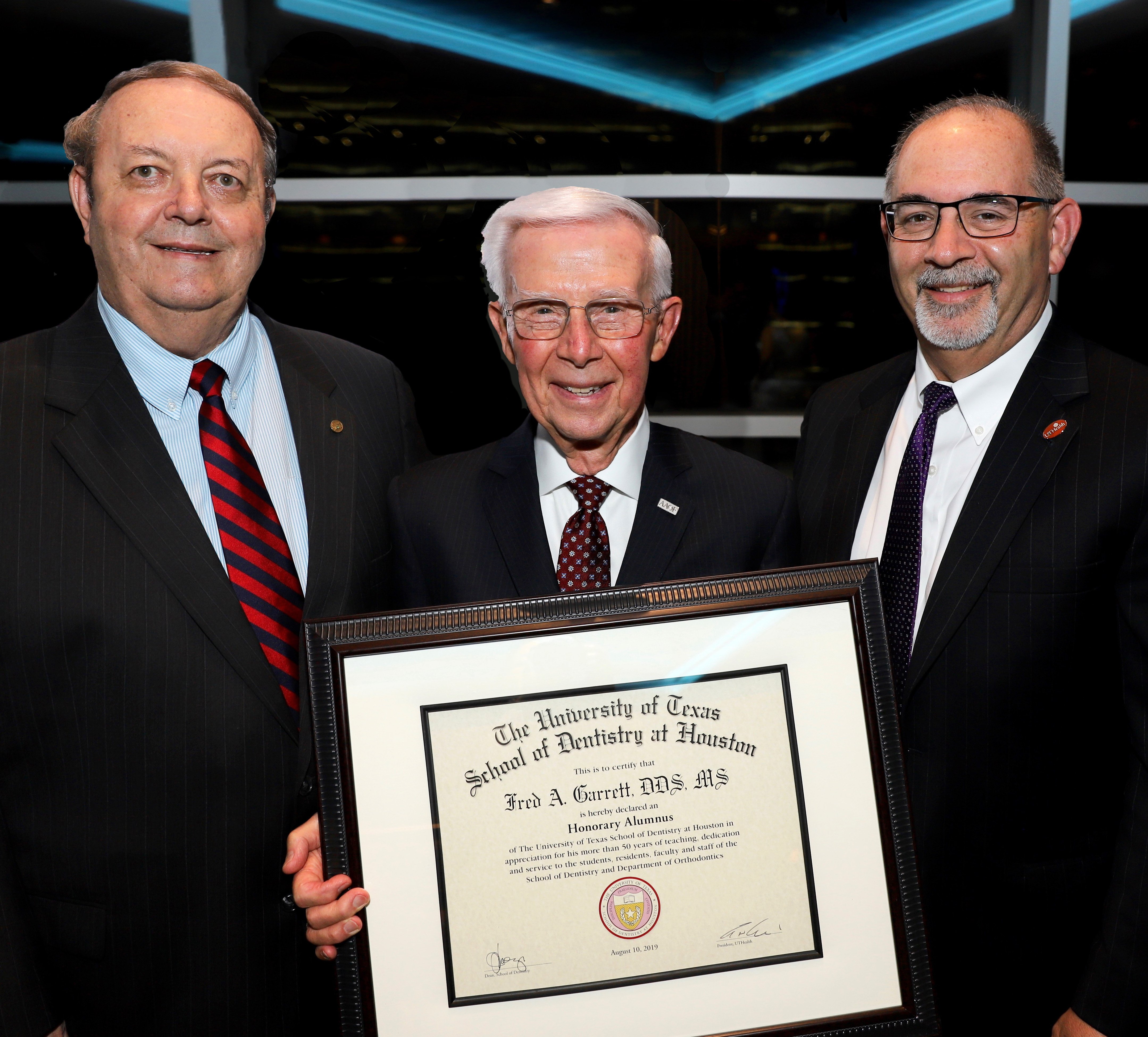 The University of Texas School of Dentistry at Houston (UTSD) has awarded honorary alumnus status to Clinical Professor Fred Garrett, DDS, MS, of Sugar Land in recognition of his 50 years of service to the school, which is part of UT Health Science Center at Houston (UTHealth).
A board-certified orthodontist, Garrett began teaching in the Graduate Orthodontic Program in 1968 and saw his 50th class of orthodontic residents graduate Aug. 10, 2019 in a special ceremony in the Texas Medical Center. Members of that class include Mason Borth, DDS, MSD; Alexander Edelmann, DDS, MSD; Nathan Larson, DMD, MSD; Marian McCarty, DDS, MSD; Alissa Morris, DMD, MSD; Hailee Rask DMD, MS; and Sonny Wong DDS, MSD.
School of Dentistry Dean John Valenza, DDS, used the occasion to recognize the unsuspecting professor.
"Dr. Garrett's alma mater, Washington University School of Dentistry, closed in 1991," Valenza said. "Since then, he's found himself to be an alum without a school, even though he has always had UTSD Houston as a place to call home. So on behalf of the residents, students, faculty, and staff, Fred, I would like to officially welcome you as an alumnus of UTSD."
It was the first honorary degree the school has ever bestowed on a dental professional, Valenza said, but the extraordinary honor recognizes decades of devotion. Garrett has served on the UTHealth Development Board and the School of Dentistry's Advisory Board, and he twice lead the Department of Orthodontics as interim chair and program director. With a gift of $500,000 in 2011, he and his wife Dianne created the first endowed chair in UTSD's history.
Garrett thanked Valenza and UTHealth President Giuseppe Colasurdo, MD, for the unexpected recognition. "It has been a real honor and pleasure to teach on the orthodontic faculty for the past 50 years, and for Dianne and I to have been able to endow the school's first chair," he said. "I really do consider UTSD as my dental home."
Jeryl English, DDS, MS, professor and chair of the Department of Orthodontics, said Garrett has been an outstanding clinician and teacher in the orthodontic program for half a century.
"Clinical practice and teaching have been the focal points of his career, both of which he continues to pursue," English said. "When you meet people like Dr. Garrett, who are dedicated to improving the orthodontic specialty, it improves everyone."
Over the years, Garrett's colleagues have honored him with the Dale B. Wade Award of Excellence in Orthodontics from The American Board of Orthodontics in 2008, the Eugene and Pauline Blair Distinguished Service Award from the AAO Foundation in 2012, and the James E. Brophy AAO Distinguished Service Award in 2002.
Earlier this year, Garrett was a special honoree and history-maker at UTHealth Houston's annual STAR Awards Luncheon, where faculty and staff are recognized for leadership and length of service to the university.
UTHealth President Giuseppe Colasurdo, MD; Chief Operating Officer and Senior Vice President Kevin Dillon, MBA, CPA; and Michael Blackburn, PhD, executive vice president and chief academic officer, were on hand to congratulate Garrett and others celebrating 35, 40, 45 or 50 years of service — with only Garrett in the 50-year category. When he was called to the front of the room for a photo with UTHealth's senior leadership team, he received a standing ovation from his university colleagues.