Popular storytelling series takes speakers, listeners 'Behind the Smile'
Published: November 04, 2019 by Rhonda Whitmeyer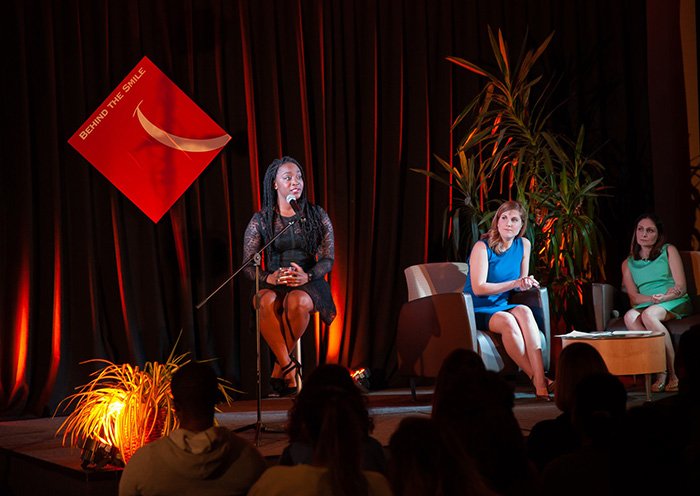 HOUSTON -- Every chair in the audience was full when the room went dark except for a dais where a stool and microphone held the spotlight. The Cooley Center — so often the site of ceremonies and meetings — had been cast in the unfamiliar role of coffee house.
As a slate of storytellers stepped up to the mic, each with five minutes to speak, the audience followed the narrative with attentive silence at times, chuckles and laughter at others. Now and then, some wiped away tears.
Ninety minutes later, the inaugural presentation of "Behind the Smile: Stories in and out of Dentistry" was over, but its impact would ripple through UTHealth School of Dentistry for months to come.
That first event in November 2018 was followed by another in March 2019 and a three-story "mini" event during the annual faculty and staff retreat in May. The response was so positive that the following day, organizers announced the next program: "Behind the Smile: Spooky Edition," set for Oct. 30.
"I think the original estimate for the first program we did was that maybe 20-30 people would show up," said Dean John Valenza, DDS. Instead, when tickets sold out and the room filled to capacity, "we were turning people away."
UTSD is believed to be the first dental school to embrace storytelling as a tool for team-building and clinician well-being, following the example of an increasing number of medical schools. Unlike most of them, UTSD has not required that stories have a clinical focus, as preclinical students and nonclinical staff and faculty would be less likely to participate.
Storytelling came to the School of Dentistry through the efforts of Whitney Vrazel, DDS '19 (then a fourth-year dental student) and Associate Professor Shalizeh (Shelly) Patel, DDS, MEd, who joined forces to promote storytelling as a way to head-off burnout, increase empathy, and promote ethical decision-making. They co-wrote a proposal to host an event at the school, winning the support of Dean John Valenza, DDS, and the school's PACE Center.
Vrazel became interested in storytelling after attending a narrative medicine event. "I thought we should be doing this in dentistry," she said. "Storytelling is something we do every day. It's human nature; we want to be heard, and in listening, we learn to walk in someone else's shoes."
Patel drew inspiration from a speech by former U.S. Surgeon General Vivek Murthy, MD, at a National Academy of Medicine event in 2018. She was there with dental student Anacristina Chapa, whose video on clinician burnout had won recognition from the academy.
Murthy spoke of being an attending physician at Yale, where he made rounds regularly with residents, medical students and faculty, yet didn't really know any of them, just as they didn't know him. "So he decided that on Fridays, instead of talking about patients, they would talk to each other," Patel said. "They would tell stories about themselves."
In time, members of the group grew closer, and Murthy said the way they treated patients and worked together improved. "It was the power of storytelling," Patel said, "and I knew I wanted to do that with my students."
So far, every Behind the Smile event has been a sell-out with positive feedback from audience and storytellers alike, and that success has drawn attention far beyond campus. The NAM Action Collaborative on Clinician Well­Being and Resilience invited Patel to host a cross-disciplinary storytelling event, modeled after the School of Dentistry's program, a national meeting in Chicago in May 2019.
Wherever the venue, Patel and Vrazel believe storytelling can break down barriers as speakers and listeners get caught up in stories and feel a greater sense of community.
"Life gets hard, life gets busy, you're always trying to get things done, and while we interact as professionals, it's always at a superficial level," Patel said. "Based on how many entries we got and on how many people have told me they're going to be at these events, there's a need to connect at a deeper level."