School of Dentistry's first Diversity and Inclusion Week deemed a success
Published: February 19, 2019 by Rhonda Whitmeyer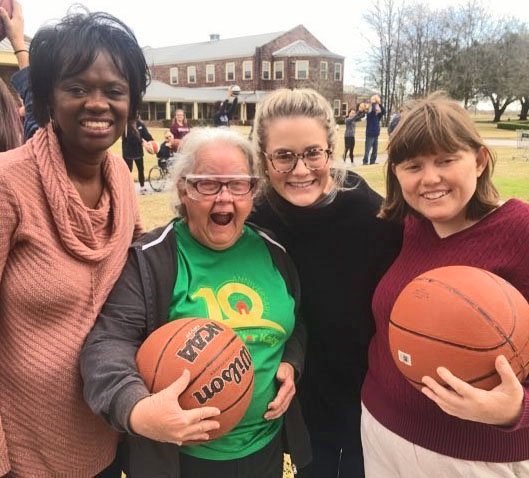 With a slate of activities as diverse and inclusive as the theme itself, UTHealth School of Dentistry at Houston's inaugural "Diversity and Inclusion Week" seemed to have something for everyone, and that's just what the planners had in mind. Additional photos are posted on Flickr.
With the support of Dean John Valenza, DDS, the School of Dentistry's Diversity Council organized the activities that began with the Monday, Jan. 21, holiday honoring Dr. Martin Luther King, Jr.
On Tuesday, Jan. 22, Sonya G. Smith, EdD, JD, senior vice president for access, diversity and inclusion for the American Dental Education Association, delivered the week's keynote presentation, "A Diversity Conversation: Promoting a Humanistic Environment and Well-Being Through Diversity and Inclusion."
Wednesday, Jan. 23 was designated as "No Strangers at UTSD Day," with everyone encouraged to wear a self-personalized name badge and learn the name of someone new. At the end of the day, Department of Endodontics Support Assistant Ethel Espree won recognition for "going above and beyond" to get know colleagues outside her designated work area.
An international potluck luncheon on Thursday, Jan. 24 drew faculty, staff and students together to share a meal while participating in dialogue through "Rise Up: A Diversity and Inclusion Forum" presented by Clinical Assistant Professor Esmeralda Diaz, RDH, BSDH.
The "Color Palettes: Diversity Tree Paint Bar" made Friday, Jan. 25 unique, as faculty, staff and students were encouraged to stop by the Fullerton Classroom to contribute to a collective art project: a collage depicting a "tree of diversity, inclusion and humanism." Associate Professor Dharini van der Hoeven, PhD, created the tree that supported others' expressions of the unity theme.
Diversity Week concluded Saturday, Jan. 26, with UTSD students and faculty volunteering at two community outreach events off campus: a health fair organized by the African Christian Fellowship, and a diversity event at the Brookwood Community in Brookshire, organized by MOSAIC. MOSAIC provided more than 150 oral hygiene kits containing toothbrushes, toothpaste and floss to distribute at both events.
At the health fair, six UTSD students assisted Associate Professor Ezinne Ogbureke, BDS, DMD, in providing 67 oral cancer screenings over the course of the day. Dental students Bernice Bamgbade, Temi Joseph, Miriam Ohakam, and Toyin Aweda, plus dental hygiene students Dominique Pettway and Tocarra Taylor also distributed oral health educational materials.
"It was a great opportunity to interact with the community and give dental education," Ogbureke said. "The participants were very appreciative of the presence of UTSD students at the event. The ACF intends for this to be an annual event and has invited UTSD to participate next year."
At the MOSAIC diversity event in Brookshire, the goal was to introduce UTSD students to the residents of Brookwood, and vice versa. Brookwood is a residence facility for adults with special needs.
Associate Professor David Fray, DDS, MPH, said UTSD students plan to return to the facility in coming weeks for oral health activities, and to be successful, "we first need to get to know people and have friendships before looking into their mouths.
"The citizens of Brookwood were so enthused to get to interact with our students," he said. "We're teaching our students how to incrementally introduce oral health and build a bond of trust."
UTSD volunteers at Brookwood included dental students Stacy Diep, Rachel Finelli, Laura Santo Salvos, and Sunny Larwood, with faculty participation from Fray, Clinical Associate Professor Ben Warner, MS, DDS, MD; Clinical Assistant Professor Joe Piazza, DDS; and Clinical Assistant Professor Thomas Harrison, DDS.
Houston is the most diverse city in North America, Warner noted, and the School of Dentistry has faculty and students from around the world. "MOSAIC is a reflection of the collaborative volunteer spirit that unites our students and faculty to serve our community," he said. "Our outreach to Brookwood is characteristic of what we nurture all year."
The School of Dentistry's first Diversity and Inclusion Week was intended to emphasize the importance of maintaining and enhancing diversity, inclusion and humanism, said Associate Dean for Professional Development and Faculty Affairs Lisa Cain, PhD.
"It also provided educational information and the opportunity for faculty, staff, students and community members to unite and enact the principles of love, fellowship and respect for all individuals, regardless of discipline, status or differences," she said. "UTSD will definitely do this again in 2020."
Valenza credited the UTSD Diversity Council for organizing the week's activities. Council members include:
Lisa Cain, PhD, Professor and Associate Dean for Professional Development and Faculty Affairs
Nicole Chapman, Program Manager, Professional Development and Faculty Affairs
Ralph Cooley, DDS, Associate Professor and Assistant Dean for Admissions and Student Services
David Fray, DDS, MBA, Associate Professor, MOSAIC Representative
Carolyn Huynh, DDS, EdD, Associate Professor, Faculty Senate Representative
Jennifer Imani, Dental Student Representative
Kimberly Johnson, Administrative Manager, Staff Relations Council Representative
Lynnette Lewis, MBA, SPHR, Director of Administration, School of Dentistry
Amber Lovatos, RDH, BSDH, Assistant Professor, Dental Hygiene Faculty Representative
Kristen Valenzuela, Dental Hygiene Student Representative.