Students volunteer at local health drive with UTHealthCares
Published: March 08, 2021 by Kyle Rogers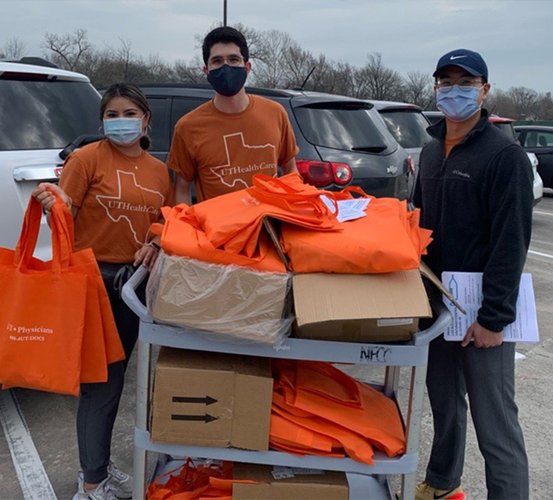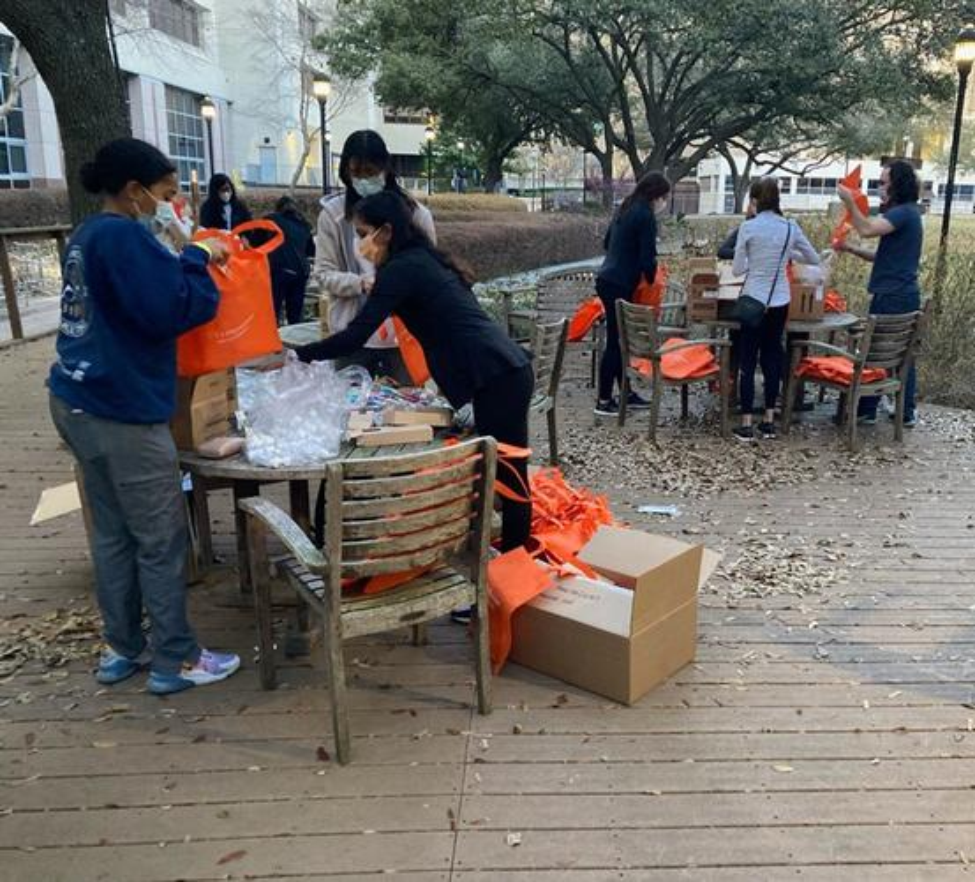 Second-year dental students from UTHealth School of Dentistry at Houston participated in a local health drive in early March.
Participation was through UTHealthCares, a student-led, volunteer organization composed of students from UTHealth's six schools designed to uniquely address the health concerns of Houston's underserved populations through community engagement.
Taking place March 5, UTHealthCares collaborated with UT Physicians and Commissioner Adrian Garcia of Harris County Precinct 2 to participate in a food distribution event at the Northeast Community Center.
Students Thanh Le, Anissa Rodriguez, and Diego Rivas joined volunteers to distribute over 200 care packages. The bags contained dental supplies, hand sanitizers, and educational pamphlets about COVID-19, health precautions, and information regarding local vaccine registrations (for those currently eligible). Classmates Dominique Angibeau and Pooja Krishnaswamy helped organize packages and tend to other logistics in advance of the event.
On the day of the drive, cars lined up in the parking lot, as volunteers visited in a safe, socially-distant manner to deliver a care package, explain its contents, and answer health-related questions. Many drive attendees did not have access to or did not know how to access CDC guidelines or vaccine registration sites, including one gentleman who learned his at-risk, 80-year-old mother qualified for the vaccine. Others started the registration process immediately from their cars.
"It was great to give back to the community," Rivas said. "A lot of older adults, who really need vaccines, didn't know where to get them, and many didn't know where to look on the internet. People were grateful to receive phone numbers they could call to get scheduled."
While UTHealthCares played a small role during the event, the volunteers and organizers made a lasting impact with the care packages and information provided to the community.