The new normal: School of Dentistry makes big changes to fight spread of COVID-19
Published: April 21, 2020 by Kyle Rogers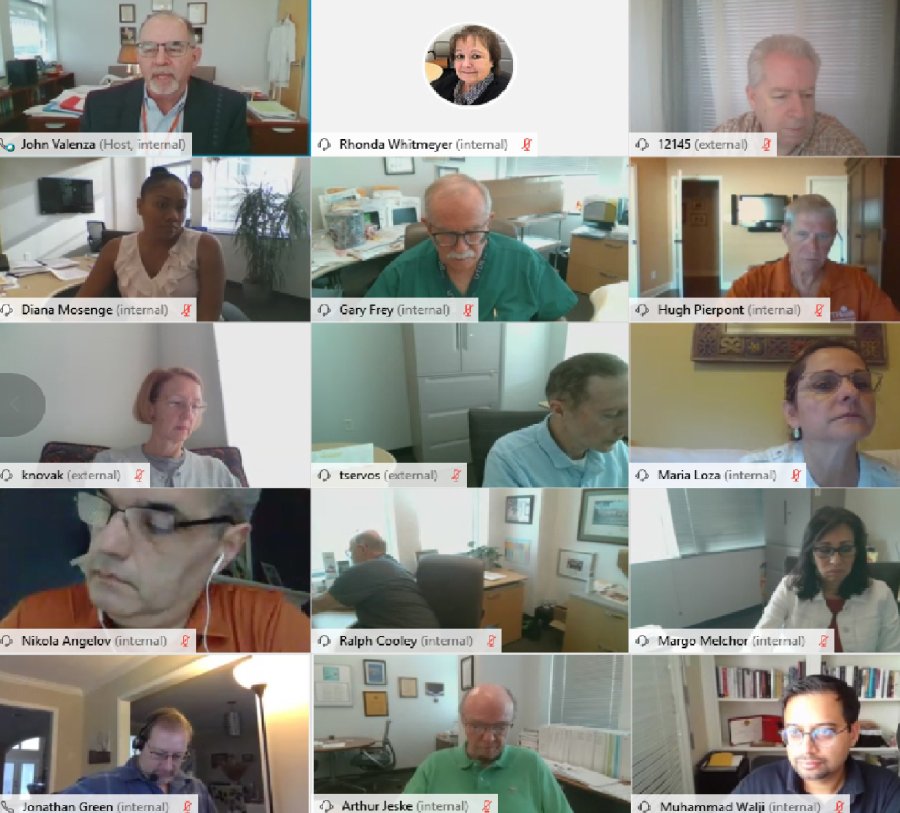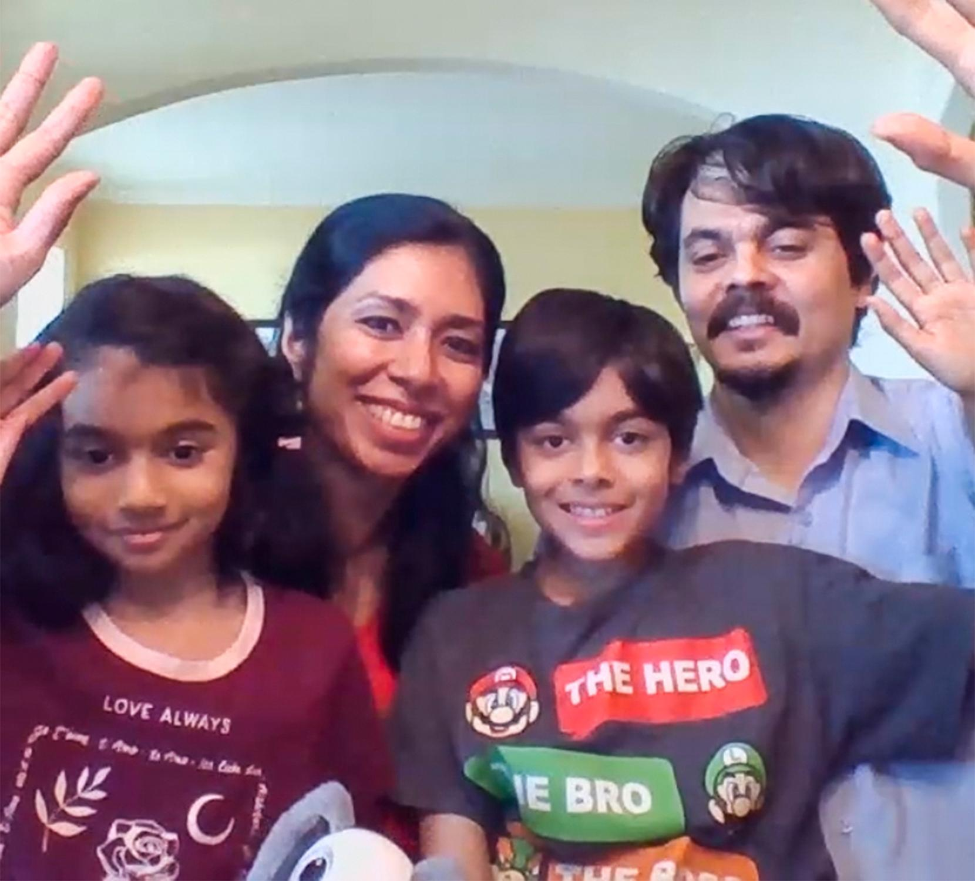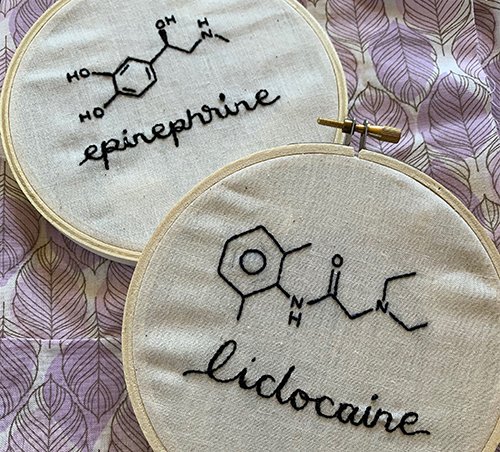 COVID-19 has forced unprecedented changes to daily life. To comply with national, state, and local mandates, UTHealth School of Dentistry at Houston has had to adapt to a "new normal" amid this pandemic.
The new normal means getting used to informal. With virtual classes and video meetings, classmates and coworkers are getting a unique view into the lives of those they would normally only see in the classrooms or hallways.
For some, this means wearing business attire above the waist and more casual or comfortable clothing below, or forgoing makeup.
For Associate Dean for Student and Academic Affairs Robert Spears, PhD, MS, it means keeping his webcam turned off so people aren't distracted by his cat walking across his desk at home. For Associate Professor Shelly Patel, DDS, MEd, and Assistant Professor Natalie Pereira, DDS, it means taking breaks to make lunches or get snacks for their respective girls, who have been known to pop up in the background of their mothers' video conferences.
Going online
The arrival and spread of COVID-19 in the Houston area coincided with UTSD's spring break, giving course directors and faculty contributors a few hectic days to create online curriculum that hadn't exist before. UTSD shifted to remote learning when classes resumed March 23.
The Office of Technology Services and Informatics and the Center for Teaching and Learning have championed the move to remote learning via software education for both students and instructors. Through Cisco Webex, Panopto, Canvas, voice over PowerPoint, and Top Hat, information can be presented from a distance in a variety of ways.
"I've had to tap into my creative thinking more often to come up with ideas for a virtual clinical curriculum," said Amity Gardner, DDS, director of clinical education. "It's important that everyone have their video on, because part of this virtual clinic is about reconnecting with everyone. You get to see a little bit of each students' 'personal space' and they get to see mine."
Spears agreed. Video helps him connect with students, he said. "Before I start every lecture, I always get on about 15 minutes early and pick different people in the classroom to check in and ask, 'How are you doing?' and 'How's life?' as a way to stay engaged."
As expected, the move to online learning caused a surge in web traffic. In the School of Dentistry's first week back from spring break (March 23-27), UTHealth had just under 35,000 users connect to Webex. From March 30 to April 5, over 4,700 Webex sessions were held, and in that same span at UTSD, more than 1,100 hours were viewed on Panopto.
"Essentially, we've held to the idea of keeping everything as normal as possible; we're just moving the venue," said Educational Technology Manager Richard "Hal" Halpin, MEd, EdD. "This is something we've considered in every decision we've made so far, and we'll continue to do so to keep everyone engaged, motivated, and on task."
Remote learning
Student Council President Andrew Mai, a third-year dental student, said the shift to online didactic courses has been successful so far. "This could be a positive change for our school, and it may stimulate a new learning medium. I find it easy for us to ask questions."
Advanced education programs have also moved online at UTSD. The Advanced Education in General Dentistry program is one that's seen strong engagement, which Spears attributes to case studies.
"Because didactics are case-based, they're in more of a discussion format, and I believe that really lends itself to being done from a distance," Spears said. "The residency program already has a limited class size, so everything is small-group teaching."
On March 27, second-year dental students in Pediatric Dentistry II became the first UTSD class to take an online exam using ExamMonitor, a remote-proctoring feature in ExamSoft®. The test, covering local anesthesia, space maintenance, radiographs, oral surgery, and prescription-writing, proceeded without major issue.
"Every year this is a challenging test for dental students, so there was an added concern with holding it online," said Brett Chiquet, DDS, PhD, assistant professor in pediatric dentistry. "Hal [Halpin] and Patrick Finnerty were great and only received a couple of frantic emails and phone calls, but were able to handle all of the problems so exams were completed within two and a half hours, and I was able to grade the fill-in-the-blank questions and post grades by that afternoon."
Overall, students polled rated the ease of adjusting to online learning as an 8.0 on a scale of 1-10.
Adjusting to being remote
The stay-at-home order hasn't come without monotony. To break up the static routine of sitting in front of a computer, students have picked up hobbies, including puzzles, cooking, writing, as well as yoga, running, and other forms of exercise as an escape.
"Recently, I find myself reaching out to classmates more, possibly because I'm not seeing them on a daily basis," Mai said. "The online platform has enabled us to study online with each other."
In addition to baking "a lot of baguettes" and taking her dog out for frequent runs, Dental Class of 2022 President Deya Pajarillo has turned to embroidery. "Now, it's my sole practice for keeping up my hand skills," she said.
Clinic closures have greatly impacted hands-on practice, and the Department of Periodontics and Dental Hygiene has looked into creative ways around this.
"We've incorporated some small-group presentations and discussions, which have been very beneficial for our students," said Dental Hygiene Program Director Donna Warren-Morris, RDH, MEd. "We've been discussing patient cases, tobacco cessation, and motivational interviewing. Additionally, students have instruments and typodonts at home and can practice while watching an instructor online. Then, they're watched and given individual feedback."
Khairunisa Hashmani, RDH, MA, assistant professor and clinical coordinator in dental hygiene, discussed openness and flexibility with students during this time.
"We have open forum for questions and regularly send out emails to keep them motivated and reminded we are here, and we understand," Hashmani said. "We're also not loading them with more work, and we've extended deadlines for turning in assignments, as we know that many are with children."
Dual roles
Having children at home is something many faculty and staff members have had to adjust to as well, with school and daycare closures.
Dharini van der Hoeven, MSc, PhD, and Ransome van der Hoeven, PhD, are colleagues in the Department of Diagnostic and Biomedical Sciences, and husband and wife at home. They are tag-teaming work and parenthood.
"I was aiming for the perfect balance when this all unraveled and very soon realized that is not possible," Dharini van der Hoeven said. "An advantage of being in academia is flexibility in work schedule. For both Ransome and I, we are embracing that flexibility and have been able to split the time we spend on work, versus our two kids, accordingly.
"I start early and work till midday while he takes care of the kids, and then we switch roles. When we have lectures or meetings outside of our new 'work hours,' we adjust and help out."
Even so, it's not a perfect system, she added.
"Our daughter has barged in on several virtual meetings, so now we begin our Webex conversations by noting at any minute a kid may come crashing through the room, and [we] apologize ahead of time."