UTPD adds a workstation; increases presence on Cambridge Street
Published: April 15, 2019 by Faith Harper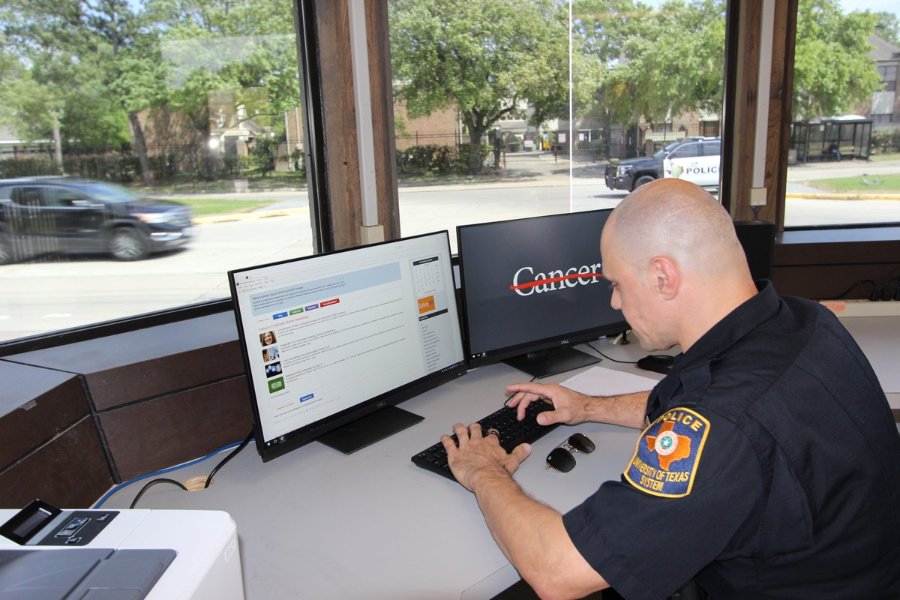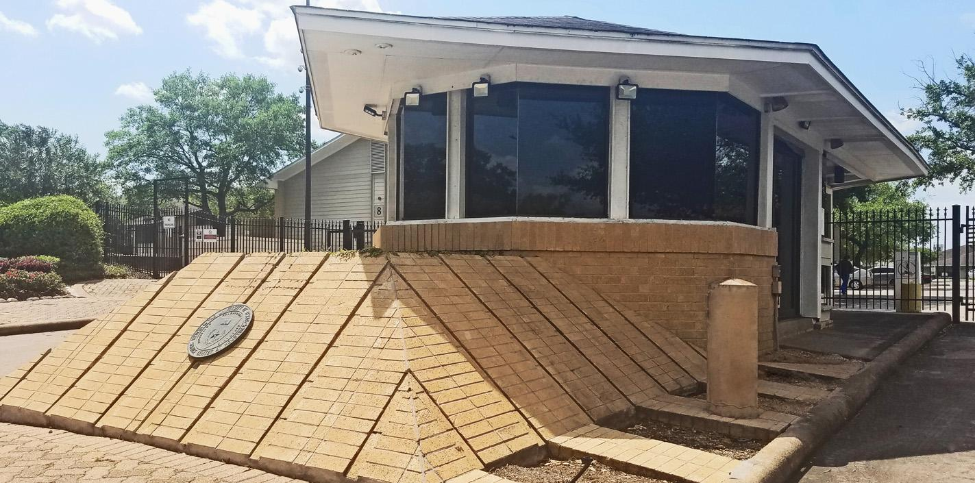 The University of Texas Police Department at Houston has converted an aging guardhouse on the UTHealth south campus into a comfortable place for officers to complete reports, which has the added benefit of increasing the department's police presence in the area.
More than 20 years ago, a guardhouse on the Cambridge Street side of University Housing (7900 Cambridge St.) was the main location for entering and leaving the apartment complex. But after two expansions, the main, staffed entrance was moved to El Paseo Street, leaving the Cambridge side vacant.
The guardhouse was recently converted into a police workstation, where officers can complete incident reports and watch traffic on Cambridge through the front windows. The house sits between a METRO bus stop and a UTHealth shuttle stop.
"We wanted to develop more of a police presence on the south campus, which encompasses a mix of UTHealth and MD Anderson facilities, as well as our only housing facility on campus," Assistant Chief Paul Cross said. "We wanted to provide an area where officers could be present in the area and still get shift work done as needed."
While the facility will not be staffed 24/7, the increased police presence is expected to be a crime deterrent, Cross said, adding, "This gives us better visibility and the ability to watch out for potential crime threats."
While the UTHealth campus maintains a safe environment with a low crime rate, the neighboring areas are prone to burglaries, muggings, and other crimes.
"There have been many crime surveys that show a visible police presence significantly reduces crime in the area," he said. "People don't commit crimes in front of a police officer."
Cross thanked UTHealth Auxiliary Services, UTHealth Facilities, Planning and Engineering, and MD Anderson Information Technology for helping to get the old guardhouse in working order.
Personal safety tips:
Be aware of your surroundings and the people around you – especially if you are alone or it is dark. Avoid using headphones, cell phones, or other mobile devices while walking, driving, or jogging.
UTPD strongly suggests that you do not walk alone at night, but do stay in lighted walkways or call UT Police to request an escort to get you safely to your vehicle.
If someone in a vehicle stops and asks for directions, answer from a distance. Do not approach the vehicle.
Do not display cash openly, especially when leaving an ATM.
Hold your purse and valuables tightly and close to your body. Keep your wallet in a front, buttoned pocket (or inside coat pocket) and carry as little cash as possible.
Trust your instincts. If you feel uncomfortable in a place or situation, leave right away.
Think twice before fighting; property can be replaced – your life cannot.
Remember if you "see something, say something." If you see any suspicious behaviors or vehicles, contact UT Police immediately at 713-792-2890.