UTSD hosts 6th annual Give Vets a Smile
Published: November 09, 2020 by Kyle Rogers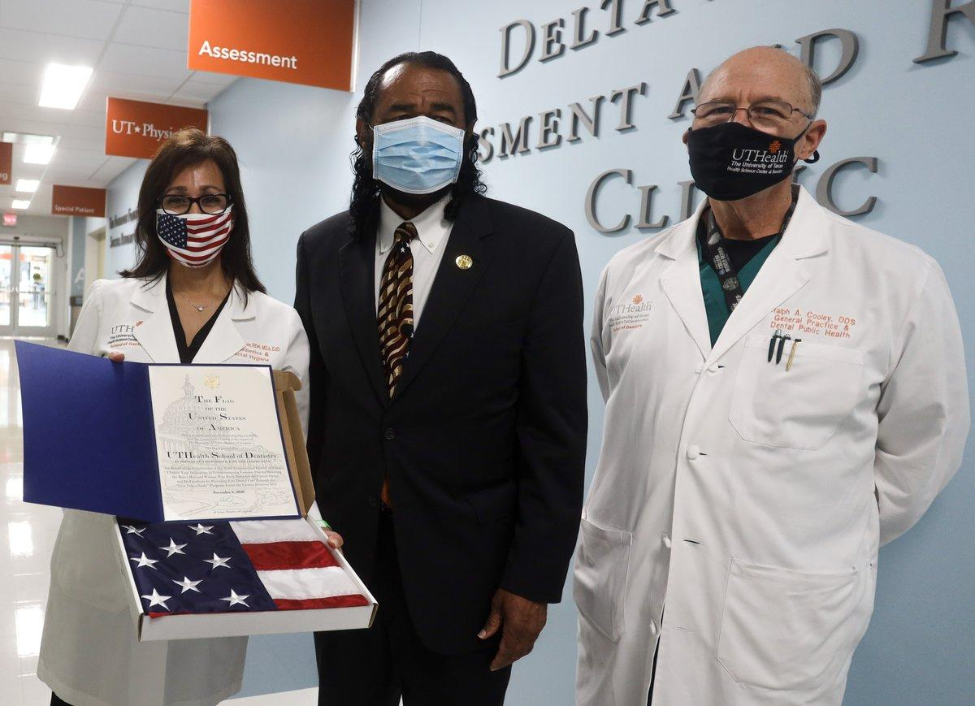 More than 65 U.S. military veterans received free urgent, palliative, therapeutic, and/or preventive dental care during the sixth annual "Give Vets a Smile" event Nov. 6 at UTHealth School of Dentistry at Houston. See photos at Go.uth.edu/GVAS2020-photos.
"This annual event is a great opportunity to provide a charitable contribution to the men and women who have served our country," said Margo Melchor, RDH, EdD, community outreach director for UTSD.
Second-year dental hygiene students and residents from the Advanced Education in General Dentistry, General Practice Residency, and Graduate Endodontics programs provided 350 treatments valued at a record $54,175. Through this event, UTSD has provided over $214,000 of free care (through 1,981 treatments) since 2015.
Cizik School of Nursing at UTHealth was responsible for identifying and registering veterans in advance of the event, which was by invitation only. On the day of treatment, nursing students volunteered to assist with COVID-19 screening as well as take vital signs. Veterans were seen by a dental resident, dental student, and/or dental hygiene student based on dental care needs after individual X-rays and assessment.
The veterans in need were identified by Camp Hope, Catholic Charities of the Archdiocese of Galveston-Houston Women Veteran Services, The Council on Recovery, De George at Union Station, Easter Seals Greater Houston, Harris County Precinct 2 Veteran Services, and U.S. Vets-Houston.
"I'm at the brink of tears, because for almost 40 years of my life, I didn't take my mouth seriously," said Nichole Griffin, a U.S. Army veteran who served from 1991-96. "I was scared of the dentist; I didn't brush well. When I heard about this, I wanted to be here and be the first in line.
"I've been homeless. I've been out there, and it's ok to come get help. It's ok to let someone do something for you, so that you can go back out and better help serve somebody else."
Support for the event was provided by Amegy Bank and volunteers from the UTHealth Office of Diversity and Equal Opportunity.