White coat ceremonies welcome new students
Published: August 16, 2019 by Rhonda Whitmeyer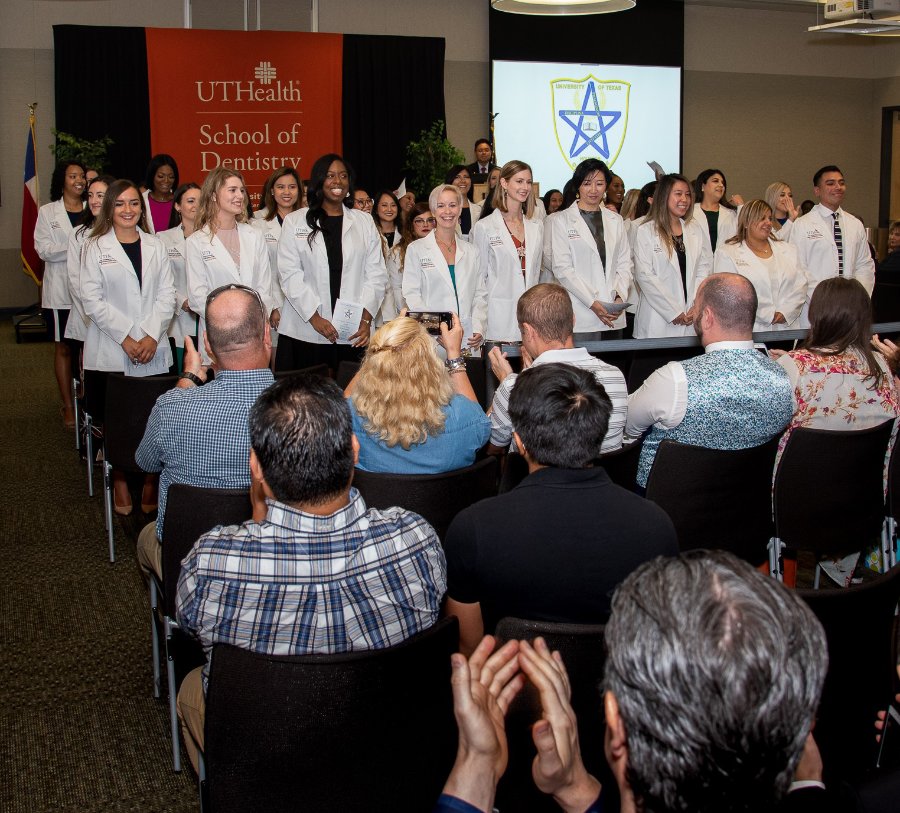 Nearly 150 UTHealth School of Dentistry at Houston dental and dental hygiene students donned the white coats of health care professionals in special ceremonies Aug. 9 in The Denton A. Cooley, MD and Ralph C. Cooley, DDS University Life Center.
As friends and family members watched in person or via Facebook Live, 105 dental and 41 dental hygiene students stepped onto stage individually to be helped into the coats. Photo albums from both events are posted on Flickr.
At the dental ceremony, keynote speaker and alumnus W. Kenneth Horwitz, DDS, of the Class of 1961 encouraged the practice of ethical dentistry and drew smiles as he described the rigors of professional school.
"On Monday, you'll start the four-year curriculum of hell of dental school," he said, "and as you progress, I'm sure you'll experience some trepidation that makes you dream of law school, medical school, or even business school … but don't fret; I know you've made the right decision."
Dean John Valenza, DDS '81, said the school received nearly 1,500 applications from potential students hoping to be part of the Class of 2023. Of those admitted, one has a PhD; seven have master's degrees; and 49 have relatives in a dental profession.
Valenza also spoke to the Dental Hygiene Class of 2021 at their white coat ceremony the same day.
"You're in a unique environment that most dental hygiene students in the U.S. don't have the opportunity to experience," he said, "and that is: learning in a dental school setting."
Dental Hygiene Program Director Donna Warren Morris, RDH, MEd, echoed that point, noting that of 328 dental hygiene programs in the U.S., only 18 are based in dental schools, and UTSD has the only one in the Houston area.
Keynote speaker Wanda Johnson Stanzel, RDH, of the Class of 1958 entertained the audience with stories of being a dental hygiene student shortly after the program opened in 1955.
Though customs and traditions have changed, certain things remain timeless. "The people who will be your patients will look up to you and remember you for years, and it is so rewarding," Stanzel said.
The UTSD Alumni Association provided the personalized white coats for the DDS ceremony. Event sponsors included the UTSD Family & Friends Association (Platinum), Texas Section of the American College of Dentists (Gold), Greater Houston Dental Society (Silver), and Houston Academy of General Dentistry (Silver).
The dental hygiene ceremony received support from the Class of 2020, the Student Chapter of the American Dental Hygienists' Association, the PACE Center at UTSD, and GSK.