Women in Medicine Month: Women in Dentistry Q&A Series
Published: September 30, 2021 by Kyle Rogers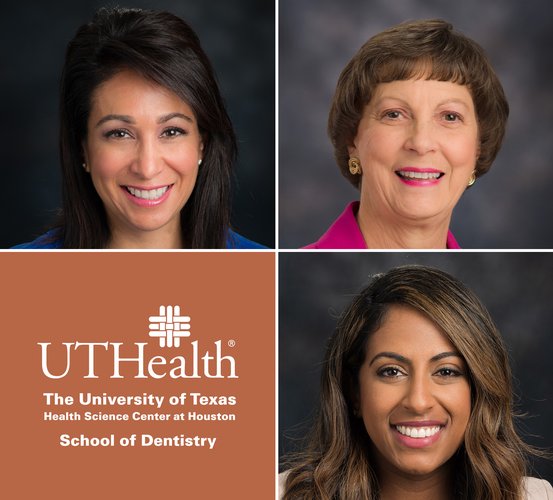 In honor of Women in Medicine Month, the PACE Center sent out a call in September to women at UTHealth Houston School of Dentistry to participate in a Q&A series. Learn more about Associate Professor Margo Y. Melchor, RDH, EdD, director of community outreach; Clinical Assistant Professor Debra G. Stewart, DDS, mobile dental van clinical coordinator; and Sarah N. Arafat, DDS, second-year pediatric dentistry resident.
Margo Y. Melchor, RDH, EdD
What made you choose to pursue a career in dentistry?
"I chose a career in dental hygiene because of my first dental hygiene experience as a patient at The University of Texas Dental Branch when I was young girl. During that time, my parents did not have dental insurance, so the Dental Branch was a great option for my mother to provide preventive dental care for me. The dental hygiene students were wonderful in explaining the procedure and providing oral hygiene instructions that I wanted to do what they were doing when I grew up. This impression lasted throughout my formative years. I always think it would be great if there was an opportunity to locate my student providers so I could tell them of the impact they left upon me!"
What drew you to your specialty?
"Dental hygiene is a career that plays a significant role in dentistry. Dental hygienists are not only providers, but also educators. In addition, the relationships they develop with the patients are very rewarding since they usually see the dental hygienists more often than the dentist for their recare appointments."
What would you say is the biggest accomplishment of your career?
"I am fortunate to say I have several accomplishments in my career. The role at UTHealth School of Dentistry as the director of community outreach reminds me of how I have come full circle in my life. I started as a patient at The University of Texas Dental Branch, later became a dental hygiene student, was the first dental hygienist in the new Advanced Education in General Dentistry Program, became a dental hygiene faculty member, and now assist underserved, uninsured individuals with obtaining dental care via our community service learning rotations, mobile dental van program, and special outreach events.
"In my leadership career, I was a founding member of the Houston Hispanic Dental Association and a few years later held the position of president of the national Hispanic Dental Association.
"As for locally, I was recognized by Comcast in 2020 with the Hispanic Hero Award, an award that goes to community leaders for service.
"Lastly, I am very proud of the appointment by Gov. Greg Abbott to serve as a Texas State Board of Dental Examiner, and this year was reappointed for a second term for six years."
What's the best part about what you do every day?
"The best part of my day is that it is never the same, and I love every aspect of my roles. From teaching, coordinating projects for special outreach activities such as Give Vets A Smile and Give Kids A Smile®, seeking and identifying offsite community partnerships for service learning sites for our students or other projects, and assisting with obtaining funding for community outreach endeavors such as financial assistance for special populations including survivors of domestic violence, veterans, and children via grants, endowments, identified donors, etc. When I hear how grateful these patients are for care provided via the mobile dental van program, School of Dentistry clinics, and special events, this truly indicates a 'teamwork' approach to assisting with eliminating oral health disparities."
Who are some of your mentors?
"Internally at the School of Dentistry, Dr. Phil Pierpont has been an instrumental mentor for nearly 20 years. As the Hispanic Dental Association faculty advisor, he became a great support system for me in this role when he served as the associate dean of student affairs and alumni affairs. From there, it evolved to seeking his opinion and guidance career path, educational pursuits (MEd and EdD), and leadership aspirations. Now, I have the pleasure of having him as not only my mentor and friend but as my co-advisor of the HSDA! In addition, Mrs. Nina Bay-Infante, past dental hygiene program director, was an excellent mentor within my role in dental hygiene education. Her guidance, leadership skills, compassion, availability, encouragement and supportive of pursuing advanced education, and/or leadership opportunities helped frame my career path.
"Outside of the School of Dentistry, I sought mentorship from two hygienists that served in education and leadership. I became introduced to Mrs. Kathy Alvarez when she was the HDA president — my aspirations in leadership began when I witnessed her in this role and the fact that she had also been a American Dental Hygienists Association president — an excellent opportunity to seek guidance to model her leadership skills and professionalism. At the beginning of my teaching career at the School of Dentistry, I had the opportunity to meet Dr. Ann Espolarich at a school meeting. I admired the fact that she was a clinician, educator, and leader. At the time, I was working in private practice and part-time as a clinical assistant professor. From that day, she has been nothing but encouraging and supportive of me in my endeavors in academia and leadership.
"With the support, mentorship, and friendship of these individuals, I am where I am today because of them AND will always be grateful! The best part, is that I keep in contact with them to this day!"
What are some examples of how you mentor now?
"From Dr. Pierpont's mentorship, I saw the value in recognizing and assisting dental and dental students or residents' talents and abilities by submitting them for awards and providing letters of recommendations for residency programs, leadership roles, or other academic pursuits. Therefore, I made it a point to make if given the opportunity to assist anyone who reached out to me, I would certainly do so! Just recently, I was awarded the Dean's Excellence in Mentoring (link). This unexpected recognition was due to two dental hygiene alums who joined the dental hygiene faculty. One of them, reached out to me about five years ago when she was thinking about a career in academia and asked my advice/guidance which began a mentorship relationship. I'm proud to say she is now a full-time dental hygiene faculty member and on her way to pursuing a doctoral degree."
What does the industry need to do to continue improving the workplace for women?
"My only recommendation for improvement would be to promote and support advanced education."
What advice would you give a young girl who wants to be a dentist or dental hygienist?
"Pursue that initial goal regardless of the obstacles or time it takes to achieve it!"
Debra G. Stewart, DDS
What made you choose to pursue a career in dentistry?
"It all started when I was three and ended up losing a front tooth from a fall and had to wear a retainer with a front tooth. I was very interested in what the dentist was doing, asked a lot of questions, and then asked for a RED tooth. It took a while and a lot of convincing but the dentist finally talked me out of the red tooth. He put something red where my tooth would be, and I decided that did not look good, so I settled for a white tooth. I was very proud of my retainer and never broke it. This sparked my interest in teeth and dentistry, and this interest carried on to where my parents worked. My parents worked at the Detention Home in Austin, and back in those days, I went to work with my mother. In those days, there was no CPS, so the neglected children were taken to the Detention Home until they could work out where they would go. I always helped these children brush their teeth and found out that many of these neglected children did not even have a toothbrush at home and did not know what to do with one. I spent many hours and helped a lot of children learn the importance of taking care of their teeth. Even at this young age, I had empathy and compassion for these children and wanted to help them have good teeth. My mom said she should have known then that I would be a dentist."
What drew you to your specialty?
"I wanted to do general dentistry to be able to do everything in my practice. I had learned from dental assisting that the patients liked to stay at the office as much as possible and not have to keep going to a specialist. There is a point in time when they do need to see the specialist, but I wanted to do as much as I could at my office and not have to send them out unless it was necessary. You definitely have to know your limitations. I had been a dental assistant throughout high school, college, and dental school and loved doing all the different procedures. I loved working with children and wanted to be able to treat children and still treat all other ages. I always took the extra time to listen to my patients and find out exactly what they were looking for and why. My practice was family oriented, and I loved treating the children and starting them out on the right foot with oral health care. I also loved all the other procedures, all the different patients, and this gave me a wide realm of dentistry and a variety of treatment to perform. I felt it was a great mix for me and I loved it!"
What would you say is the biggest accomplishment of your career?
"I have several accomplishments in my career.
"Having been president of both the Greater Houston Dental Society and the Houston Academy of General Dentistry. I was also a vice president on the Texas Dental Association Board of Directors. These positions were a great honor and gave me a lot of knowledge, met a lot of people, and developed some lifelong friendships. This was in a time when very few women were on the dental boards of associations, so we paved the way for others.
"Along with that, it was an honor to have been a national speaker at so many dental meetings here in the U.S., Canada, Barbados, and Mexico. I really enjoy teaching and furthering the knowledge of so many dentists, dental assistants, and receptionists who work in this wonderful profession of dentistry.
"And now it is a great privilege for me to be the clinical coordinator of the Mobile Dental Van Program; for not only do I get to educate our dental students, but at the same time help the patients in Orange, Texas, and Jasper, Texas. What a great and unique opportunity."
What's the best part about what you do every day?
"I love to help people and give them back their smile or get them out of pain. I live my dream every day by changing smiles and changing lives. I always enjoyed the children and starting them out on the right foot with taking care of their mouths and showing them that dentistry can be fun and the importance of keeping their mouths healthy. For those children and adults that came in and were scared, I worked with them to gain their confidence and show them that dentistry is not as scary as they thought. We would work through whatever was creating the issue and they took steps with me to learn to trust again. I wanted them to feel comfortable about coming to the dentist and have a positive experience. All of this carries over with the patients on the Mobile Dental Van.
"It is a wonderful opportunity for me to be the faculty on the Mobile Dental Van, and I absolutely love working with the dental students and taking care of the patients in East Texas. Not only do we help the patients, but we also educate our dental students about community service and public health, and they get to see what the real world of dentistry is really like.
"The students learn a lot and get to see patients and do treatment that they do not get to do at the dental school. They see many complex medical histories and learn to treat these patients. The students take a lot of knowledge and lifetime experiences with them to use not only at the dental school when they get back but also once they have graduated.
"As for the community, they have access to dental care and learn how to take care of their teeth and mouth and how important this is, along with receiving dental treatment.
"It is a tremendous experience for our dental students, and they tell me how much they have learned from the rotation and how much it meant to them to have the great opportunity to do treatment on the underserved patients in these communities.
"I get a great feeling and sense of satisfaction knowing that I am serving a dual purpose by helping the patients in these communities and at the same time educating our dental students. What a unique opportunity!"
Who are some of your mentors?
"Dr. Jerry Long, Dr. Frank Eggleston, Dr. Steve Schwartz, Dr. Maxine Feinberg, and Dr. Kathleen Roth."
What are some examples of how you mentor now?
"A lot depends on who you are mentoring; students, other faculty members, an outside dentist, etc. but there are basics to use. Sometimes they just want someone there for support and encouragement, and others may actually want you to help them with their goals, promotions, papers, etc. This is important to know what the mentee is looking for. I always want to help the person and be there for them.
"First, I want to develop and build a relationship. I like to sit and talk and find out what we have in common and what it is that they are looking for in a mentor and how I can help. I like to always clarify the expectations and roles so each knows what to expect. Then we will develop a plan and goals, so we know where we are headed. This helps in developing what steps we will need to take in order to reach the goals or is it they just want a mentor as a friend to give them some support and encouragement when they need it. Sometimes they just need to ask you questions or run things by you to see if they are on the right track. I always am there to give support and encouragement and check on their progress, and see if they have any questions or what they may need help with to reach their goals. I like to have meetings periodically to see the progress or just sit and talk. Here and there we may go get something to drink or go out for a meal. The mentoring never stops and some great relationships and friendships will develop."
What does the industry need to do to continue improving the workplace for women?
"Everyone always needs to be treated equal. More leadership positions and opportunity. Flexibility in when, where, and how they work. Professional development seminars. Luncheons now and then for camaraderie. Seminars for women on other things not just dentistry. Massage chairs to get massages for everyone."
What advice would you give a young girl who wants to be a dentist or dental hygienist?
"It is a wonderful profession. You will make lasting friendships and relationships. You will be helping people and giving them a great smile! It is one of those professions that will allow you to have a family and still be able to work. You need to work hard at your studies and get good grades, be involved in other activities, volunteer at a dental office when you are old enough to learn more, and find a dentist to be a mentor. If you are doing a science project, do something about the mouth or teeth or some of the new things in dentistry.
"You may want to consider learning Spanish for this could help you a lot in your practice and communicating with your patients.
"You will work with your hands, have a keen eye for details, do some problem solving, and educate your patients.
"Art classes or any arts and crafts things like knitting, sewing, origami, sculpting, etc. will be great help with some hand skills for dentistry use a lot of artistic ability in what we do.
"Once in high school and college you will also want to see what the dental schools' requirements are and what courses and activities you need to take and do to get into dental school. Apply early, have good letters of recommendation, and write some great essays showing your passion and why you want to be a dentist.
"There were not very many women in dental school or dentistry in my day, and I feel we paved the way for women in dentistry today. There were very few women back then, so it was not easy to find a woman dentist to be your mentor, but today we are the mentors for those dental students and dentists who have graduated after us."
Sarah N. Arafat, DDS
What made you choose to pursue a career in dentistry?
"I knew I wanted to be in health care and be a direct provider to help those in need. Dentistry was the best for me. As a woman in medicine, I can pursue both my professional and personal passions without compromising family life."
What drew you to your specialty?
"I love dentistry and knew I loved working with children. It was perfect fit. I am so happy and honored to be part of the Advanced Education in Pediatric Dentistry Program."
What would you say is the biggest accomplishment of your career?
"Pursuing this highly sought-after specialty while also being a new mom. It's been a very trying time, but it's also been my biggest accomplishment to date."
What's the best part about what you do every day?
"Seeing the children and using behavior guidance techniques to change their perception of the 'big scary doctor's office.' Here we play games, sing songs, watch TV, and even have prizes and stickers! We have fun every day."
Who are some of your mentors?
"All my mentors I have found within UTHealth School of Dentistry. It has been such an incredible experience being taught by some of the most talented women. Dr. Shelly Patel has been my guiding light for so many years, not just for professional life but also personal. I feel so lucky to have her in life. She teaches me so much just by being her."
What are some examples of how you mentor now?
"I try to be a mentor to all the young professionals that have asked for my guidance. I often let them know that I too am trying to figure things out, but we can always figure things out together! I speak of my experiences, what has helped me get to where I am, and how to pursue professional passions while balancing family life."
What does the industry need to do to continue improving the workplace for women?
"It needs to be more inclusive. I feel as though there are gaps in making women feel safe in her working professional environment. For example, mental health days are needed, especially for all the women that wear so many hats (mother, wife, professional, etc.). A day or even a couple hours to herself during the week would help her be a better version of herself, to refresh, regain, and recharge."
What advice would you give a young girl who wants to be a dentist or dental hygienist?
"Talk to female dentist and hygienists. Get their perspective — What helped them get to where they are, how to pursue the respected field, and how do they feel about their professions. The more information the better."