AHCFP fellows embrace virtual shift
Published: May 29, 2020 by Bradi Zapata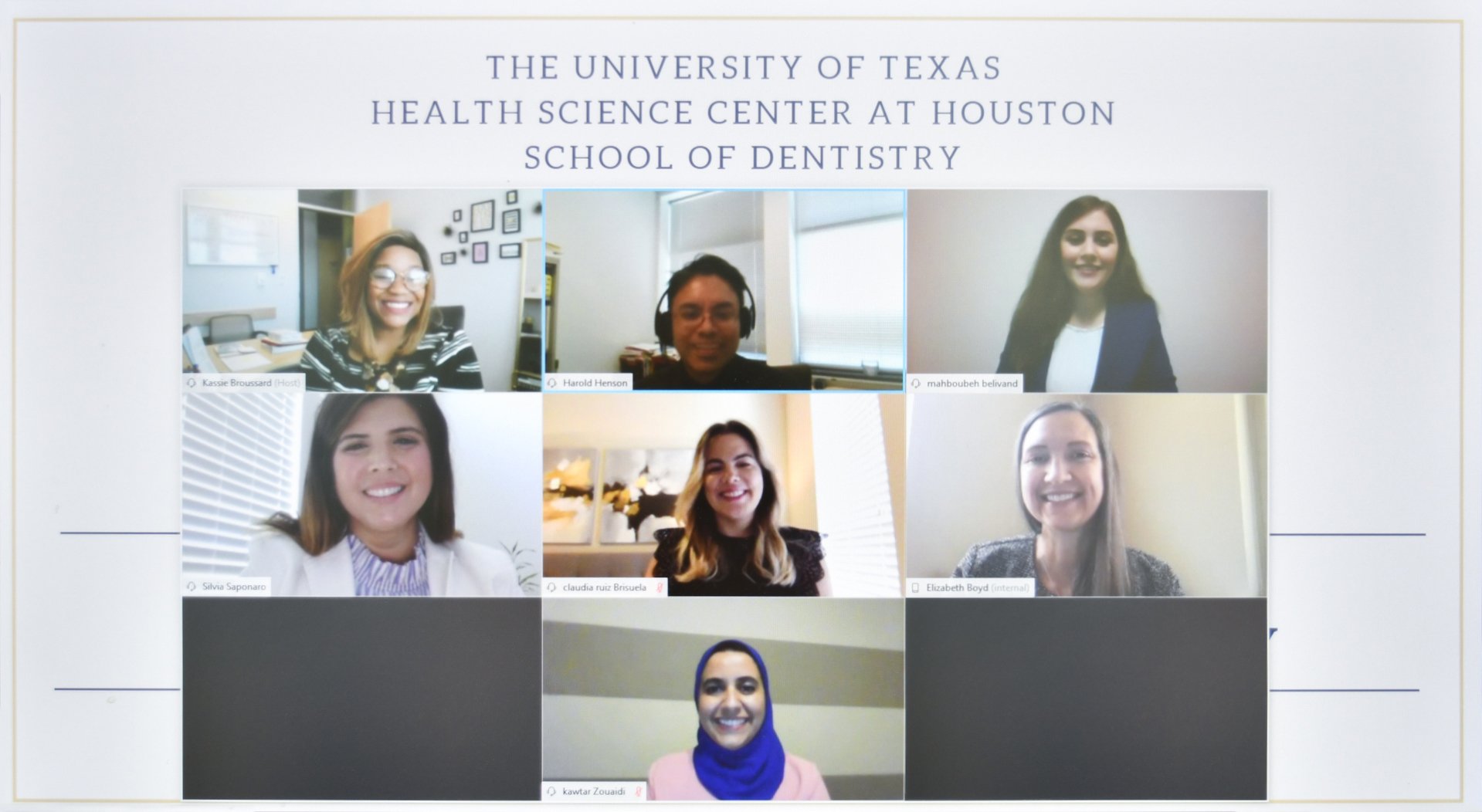 Laughter, applause, and sighs of relief filled the screens of many on May 1, as the four-month 2020 Academic Health Careers Fellowship Program (AHCFP) concluded. The trajectory of this year's program was unconventional, since UTHealth School of Dentistry at Houston took it online to accommodate a smaller class size, reduced timeline, and stay-at-home orders in response to COVID-19.
AHCFP, hosted by the School of Dentistry's PACE Center and the Office of Professional Development and Faculty Affairs, introduces dental practitioners to the current reality of a career in academia. Fellows observe student-teaching in a clinical setting, conduct research, connect with a UTSD faculty mentor, and present a capstone project.
"This program is kind of like a test drive before private practitioners change their careers to academia," said Co-Director Harold Henson, RDH, PhD, associate professor and director of UTSD's Center for Teaching and Learning. "In order to excel, I think you really have to be passionate about teaching, and this program provides that overview."
Alongside Henson, co-director Associate Professor Carolyn Huynh, DDS, MEd, EdD created a new, technology-based outline for the program in response to COVID-19.
"I think the pandemic will cause some permanent changes to how we live and operate," Huynh said. "Not only did we shorten the program from six to four months, but the fellows also got to experience what life was like before and during COVID-19. We bonded closer as we went through the storm together, so that made it special."
For the of 2020, the shift to virtual learning also meant being creative with their time and various roles at home.
"In my case, I'm a wife; I'm a mom of three children; I'm an AHCFP fellow; I'm a student at the UTHealth School of Public Health; and I'm a graduate research assistant at UTSD," said Kawtar Zouaidi, DMD. "Juggling these tasks was challenging, even before COVID-19, but with the stay-at-home and work-from-home orders, it seemed impossible to deal with all of these roles."
As it turned out, meeting that challenge may have extra benefits this year, because they were able to learn how to be faculty members in an era where virtual learning may be the new normal.
"I think the COVID-19 pandemic has given a big stimulus to technology," Zouaidi said. "During the fellowship, we talked a lot about how Generation Z was born in the late 90s technological era and are very tech-savvy. We need to adapt our teaching to this generation, because traditional lectures in classroom settings aren't what they're looking for. The pandemic gave us a big picture of how teaching will evolve in the upcoming years."
In addition to the online lectures, the AHCFP's Capstone Completion and Celebration Ceremony became a webinar. During the event, the co-directors reminisced about their time with the fellows, and Dean John Valenza, DDS, shared words of wisdom on pursuing a career in academia.
After the fellows presented their scholarly capstone projects, Huynh and Henson presented completion certificates as applause and graduation tunes played in the background.
"As someone whose only experience was being a student, there's a huge void between knowing what it takes to be an educator and doing it," said fellow Elizabeth Boyd, RDH, BSDH. "I think there's a misconception that if you're tired of your career you can just teach, but it's not that easy. This program was extremely helpful in teaching me what it would mean to shift gears and actually pursue a teaching position."
Administrators plan to meet in the coming months to discuss a date to launch the third year of AHCFP during spring 2022.