2017 Student Research Showcase
Annual event celebrates discovery at UTSD
Published: November 13, 2017 by Rhonda Whitmeyer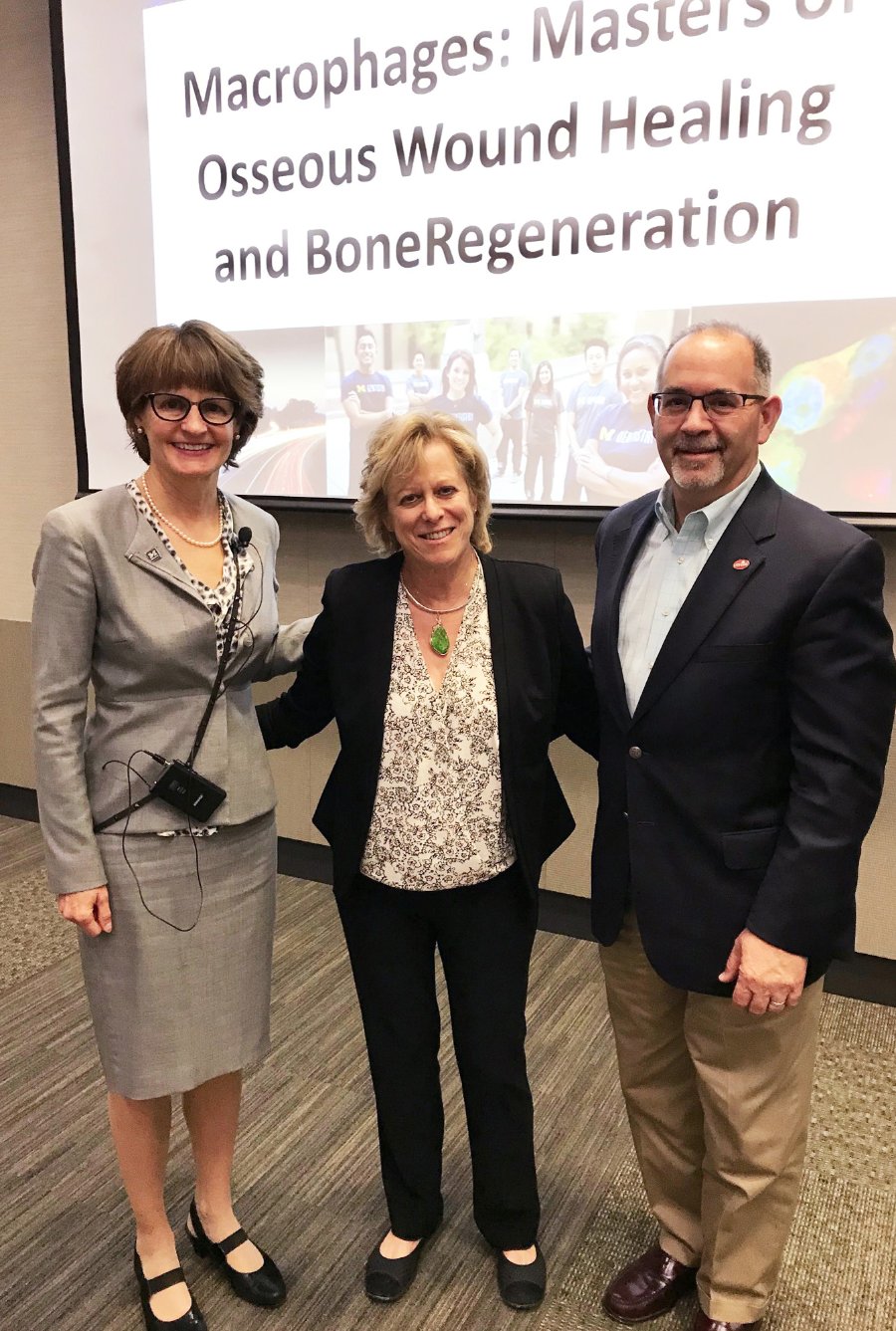 Science was the star attraction at the 2017 Student Research Showcase Oct. 24 in The Denton A. Cooley, MD and Ralph C. Cooley, DDS University Life Center. Thirty-eight students and more than 25 faculty mentors who connected through UTHealth's Summer Research Program had a chance to report their findings and compete for awards from the UTSD Office of Research.
The auditorium was packed to hear the invited speaker, University of Michigan School of Dentistry Dean Laurie McCauley, DDS, MS, PhD, discuss "Macrophages: Masters of Osseous Wound Healing and Bone Regeneration." She described the curious connections between macrophages, wound healing and bone regeneration, and reported on promising efforts to mimic and harness those interactions.
UTSD's Student Research Showcase is now in its seventh year and continues to grow in popularity. Its student researchers have opportunities throughout the year to present their findings at local, state, national and international meetings.
This year, award-winning students and their projects and mentors were:
First Place: Keagan Foss, "Molar Furcation Assessment Via Clinical Exam, Intraoral Radiography and CBCT;" Dr. Wenjian Zhang and Dr. Bing-Yan Wang, mentors;
Second Place: Thuy Trang (LeAnn) Truong, "Novel Mode of EGFR Inhibition to Overcome Acquired Resistance in Treatment of Oral Cancer;" Dr. Dharini van der Hoeven, mentor;
Third Place: Abbey Janssen, "Introducing the Oral Microbiome into the Model Organism C. elegans;" Dr. Gena Tribble and Dr. Ransome van der Hoeven, mentors; Ikechukwu Osemene, co-author.
The School of Dentistry's Office of Research awarded cash prizes of $150, $100 and $75 to Foss, Truong and Janssen, respectively. Foss will also receive the American Association for Dental Research Student Research Day Award of $500 and complimentary registration for the 2018 AADR General Session and Exhibition in Fort Lauderdale, Florida.
The Office of Research also awarded nine $50 prizes for the best oral presentations, and Foss, Truong and Janssen won awards in this category as well. Additional oral presentation winners included:
Biomaterials I: Megan Short, "Impact of Accelerated Aging on the Dimensional Accuracy of 3D Printed Orthodontic Models;" Dr. Kurt Kasper, mentor;
Biomaterials II: Suneil Tandon, "Speed Enhancement for Mandibular Versus Maxillary Kinesiologically Designed Mouthguard-Wearers;" Dr. Michael Miller, mentor;
Dental Public Health: Nicholas Rodriguez, "Assessing Oral Health Literacy Among Adults in Houston Community Dental Clinics;" Drs. Ana Neumann and Deborah Franklin, mentors;
Vulnerable Populations and Systemic Health: Jojo Omaghomi, "Association of Diabetes with Endodontic Pathologies: A Retrospective Cohort Study Using a Dental Data Repository;" Dr. Ariadne Letra, mentor;
Molecular Mechanisms/Gene Polymorphisms: Amanda Barba, "Association of IFT88 Gene Polymorphisms in Nonsyndromic Multiplex Cleft Lip/Palate Families;" Dr. Ariadne Letra, mentor;
Molecular Mechanism/ Infection and Inflammation: Gilberto Garcia, Jr., "Enterococcus faecalis Epb pilus Is Required for Binding to Dentin;" Dr. Ransome van der Hoeven, mentor.