UTSD student wins AADR's National Student Research Group Award
Published: November 21, 2018 by Rhonda Whitmeyer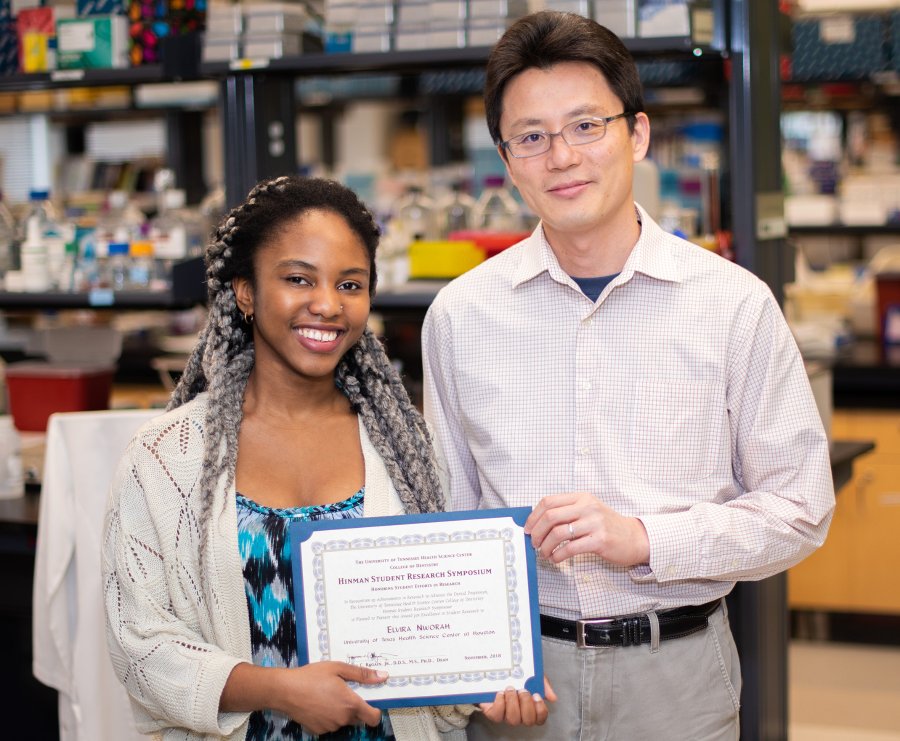 Elvira Nworah, a first-year dental student at UTHealth School of Dentistry at Houston, won the American Association for Dental Research National Student Research Group Award at the 2018 Hinman Student Research Symposium in Memphis, Tenn.
Her project, directed by Associate Professor Junichi Iwata, DDS, PhD, used a systematic review and consequent bioinformatics approach to identify microRNAs (miRNAs) that regulate expression of genes involved in cleft lip.
Nworah and Iwata found that over-expression of miR-124-3p down-regulated expression of seven cleft lip-associated genes, resulting in a proliferation defect in cells isolated from the developing mouse lip.
The study increases knowledge of lip morphogenesis and may lead to new clinical approaches for diagnosis and prevention of cleft lip.
The University of Tennessee College of Dentistry and the Hinman Dental Society co-sponsor the symposium, which features oral and poster presentations of research projects by dental students and graduate trainees from dental schools across North America. This year, 108 students represented 56 dental schools in 32 states, Puerto Rico, and six Canadian provinces.
Other students representing UTSD were Andrew Martinez, Rob Nelson, Rebecca Vaughn, Yu Chen Chien, and Victor Vinh. Associate Professor Shawn Adibi, DDS, was also in attendance representing UTSD faculty.
Support for the event also comes from the National Institute for Dental and Craniofacial Research, the ADEAGies Foundation, Procter & Gamble Co., the University of Tennessee College of Dentistry Alumni Association, and the Tennessee Dental Association Foundation.