Clinical trial now underway, testing a promising new presurgical treatment for oral cancer
Published: December 07, 2018 by Rob Cahill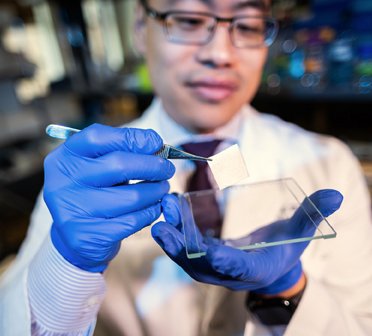 Oral surgeons at UTHealth School of Dentistry at Houston are participating in a multicenter, Phase 1/Phase 2 clinical trial of a drug-releasing patch designed to shrink oral cancer tumors prior to surgery.
"The holy grail of oral cancer care is to find a drug that makes it disappear permanently. We're not there yet but the entire field is making remarkable progress," said Simon Young, DDS, MD, PhD, assistant professor in the Department of Oral and Maxillofacial Surgery at UTHealth School of Dentistry.
Oral squamous cell carcinoma is a particularly deadly form of cancer with an overall five-year survival rate of about 50 percent, according to multiple studies.
The American Cancer Society predicted that in 2018, more than 51,000 people would get cancer of the mouth and throat, and 10,000 would die. The tongue, gums, tonsils, floor of the mouth and the back of the throat are the most common sites for cancer, followed by the lips and salivary glands. Alcohol and tobacco are risk factors, and treatment options include surgery, radiation, and chemotherapy.
In the clinical trial, oral surgeons will apply a postage stamp-sized patch containing the cancer-killing drug cisplatin directly to the malignant growth. In all, 12 adhesive patches will be applied and removed during office visits in the three weeks leading up to surgery.
Privo Technologies designed the patch to deliver a high concentration of cisplatin directly to the primary tumor. In this way, the patch could possibly reduce the risk of medication-associated side effects, Young said. "Because only a small percent of the medication goes in the bloodstream, we can significantly increase the dosage at the site of the tumor."
Enrollment has begun, and researchers hope to recruit about 30 patients. Some patients will receive 12 equal applications prior to surgery. Others will start the same treatment schedule, but doctors may vary the dosage depending on their response.
Six months after surgery, patient outcomes will be evaluated to check for possible side effects, said Young, who sees patients at UT Dentists and is affiliated with Harris Health System and Memorial Hermann-Texas Medical Center. He is also on the faculty of The University of Texas MD Anderson Cancer Center UTHealth Graduate School of Biomedical Sciences.
The study has been approved by the Food and Drug Administration as a combined safety and efficacy clinical trial. Enrollment information and criteria are available at ClincialTrials.gov.
Young's collaborators in the Department of Oral and Maxillofacial Surgery at the School of Dentistry include Assistant Professor James Melville, DDS, and Associate Professor Jonathan Shum, DDS, MD.