Wynkoop garners John P. McGovern Outstanding Teaching Award
Published: May 03, 2022 by Kyle Rogers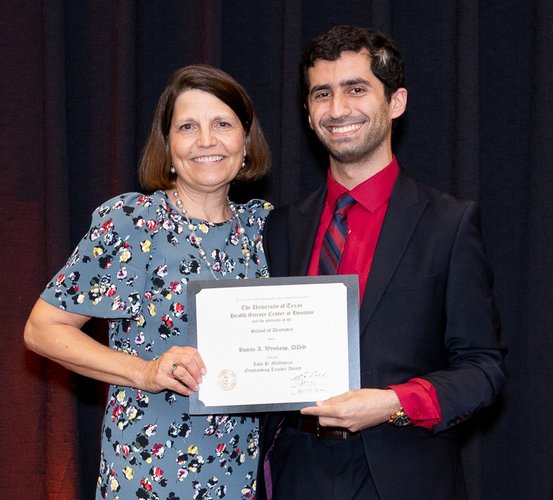 Assistant Professor Bonita A. Wynkoop, RDH, DDS, TTS, has been named the 2022 recipient of the John P. McGovern Outstanding Teaching Award at UTHealth Houston School of Dentistry.
Chosen by third- and fourth-year dental students, the McGovern Award recognizes excellence in clinical teaching. Wynkoop's honor was recognized during the School of Dentistry's annual DDS Senior Awards in late April.
"I was very surprised to learn I'd been honored with this award, especially since I've only been a School of Dentistry faculty member for a few years," Wynkoop said. "I always thought these types of awards went to the more seasoned, long-term professors. It's humbling and gratifying for me to see the positive, impact I've had on the students in such a short time."
Her student nominators wrote, "She willingly takes time to stay after hours to complete lab work, discuss, clinic cases, and answer questions. She takes time to get to know patients and encourages us to do the same. She cares for her students' personal lives and well-being."
For Wynkoop, who joined the Department of General Practice and Dental Public Health in 2019, her philosophy in clinical teaching is for students to treat patients as if they were caring for themselves.
"It is important to me that I instill my philosophy for treating patients on as many students as possible," Wynkoop said. "If the quality of work is good enough for you, then your patient will be happy with it also."
However, clinical teaching comes with a learning curve, and this lends itself to another of Wynkoop's philosophies.
"Students don't know what they don't know yet," she said. "It's my job to help them understand what they're doing, so they can recognize when something isn't right. I think that's the hardest part as a student, being taught to look at things from different perspectives. A patient can feel a hair in their mouth, so they're definitely going to feel an overhang or rough spot in a filling. It's critical students learn to pay attention to fine details and is a must for all dentists."
As a 1992 alumna of The University of Texas Dental Branch (now the School of Dentistry), Wynkoop found it gratifying to see several faculty members she regards as mentors still at the dental school when she returned in 2019. Among these faculty were Leslie "Les" Fullerton, DDS, MSD; Arthur Jeske, DMD, PhD; Sheila Koh, DDS; Cleverick "C.D." Johnson, DDS, MS; H. Philip Pierpont, DDS; and the late Rodney F. Beetar, DrOdont, DDS, MS. Wynkoop also credits Koh for helping her adjust to the School of Dentistry as her first faculty mentor.
Wynkoop is the first attending in the Yellow Practice. She is a member of the School of Dentistry's Admissions Committee, member of the Department of General Practice and Dental Public Health Faculty Search Committee, co-director of the Clinical Prosthodontics 4005 course, assists with diode laser training for residents and fourth-year dental students, and recently obtained a certification through the University of Texas MD Anderson Cancer Center as a tobacco treatment specialist.
The McGovern Award comes with a cash prize. Previous winners include:
Long D. Tran, PharmD, DDS, 2021
Dianna M. Arriaga, DDS, MEd, 2020
Cleverick (C.D.) Johnson, MS, DDS, 2019, 1993
Dan Bentley, DDS, 2018
Rodney Beetar, DDS, MS, 2017, 2012, 2010, 1996, 1989
Amity Gardner, DDS, 2016
Ralph Cooley, DDS, 2015
Trevor Treasure, DDS, MD, MBA, 2014
Debra Stewart, DDS, 2013
Dan Bentley, DDS, 2011
Shiwei Cai, DDS, PhD, 2009
Robert (Rod) Dosch, DDS, 2008
Donald Belles, DDS, MS, 2007
Richard Bebermeyer, DDS, MBA, 2006, 1990
Gary Frey, DDS, 2005
Donna Warren Morris, RDH, MEd, 2004, 2002
Gene Stevenson, DDS, MS, 2003
Jayne McWherter, RDH, MEd, 2001
Maribeth Stitt, RHD, MEd, 2000
Jeffrey Chang, DDS, 1999
Sam Adkisson, DDS, 1998, 1994, 1992, 1985
Leslie Roeder, DDS, 1997
Edmund Strickler, DDS, 1995
Cornelius Sullivan, Jr., DDS, 1991
Kenneth Porter, DDS, 1988, 1986
Willis Smith, DDS, 1987
Clyde Coe, DDS, 1984