2019 Teaching Awards: UTSD students honor Clark, Johnson, Lovatos
Published: November 06, 2019 by Rhonda Whitmeyer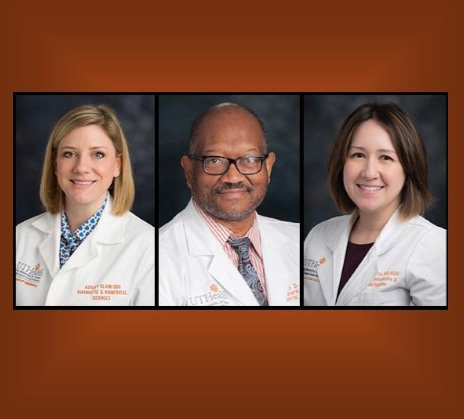 Each year, students at UTHealth School of Dentistry nominate their favorite professors for teaching awards, and for 2019 the winners are Associate Professor Ashley N. Clark, DDS; Professor Cleverick (C.D.) Johnson, DDS '86, MS; and Assistant Professor Amber L. Lovatos, RDH, BSDH '13.
Third- and fourth-year dental students chose Johnson to receive the John P. McGovern Outstanding Teaching Award, which recognizes excellence in clinical teaching. Johnson directs the Urgent Care Clinic, and his work there is what prompted 46 students to sign his nomination form.
"What sets Dr. Johnson apart and makes him deserving of the McGovern Award is that he demands we treat each person as a human being and not just as a patient," the nominators wrote. "… When we approach each patient, he tells us to not only look at the radiographs. He asks us to watch the way [patients] walk, listen to how they talk, and delve more into the person's story to find out why they are there. … Our time with Dr. Johnson will be our fondest memories at this school for this reason."
First- and second-year dental students chose Clark as winner of the John H. Freeman Award for Faculty Teaching, which recognizes excellence in preclinical teaching. Clark is an oral pathologist in the Department of Diagnostic and Biomedical Sciences.
The nominator described Clark as accessible, open to questions, funny, smart, and knowledgeable. "In addition, she is super organized and punctual with grading and uploading PowerPoints and providing us with other resources because she genuinely wants us to succeed."
Dental hygiene students chose Lovatos as winner of the Lorna J. Bruning Award for Outstanding Teaching. The award recognizes dental hygiene faculty who demonstrate knowledge, competency and enthusiasm for teaching dental hygiene while encouraging critical thinking. Lovatos is in the Department of Periodontics and Dental Hygiene.
The nominator wrote that Lovatos "demonstrates excellent competency in the dental hygiene practice," with enthusiasm for the profession that shows in her teaching style. She was also praised for exhibiting compassion and fostering a creative learning environment, encouraging questions, and for being accessible by phone or email.
The McGovern, Freeman and Bruning Awards each come with a cash prize. The winners will not be eligible for the awards again until 2021.