UTHealth, Rice researchers: One injection stops this cancer, may prevent recurrence
Published: April 30, 2018 by Rhonda Whitmeyer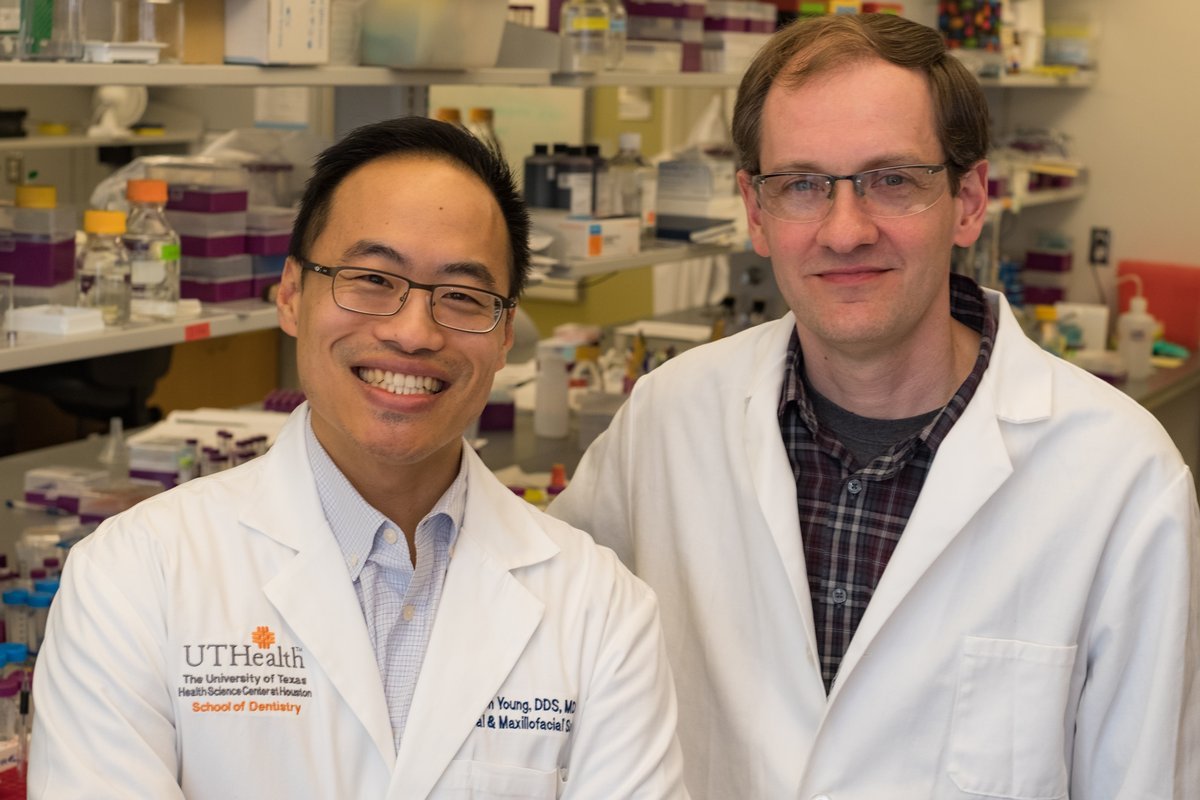 Researchers at The University of Texas Health Science Center at Houston (UTHealth) and Rice University saw survival rates for mice with head and neck cancer improve dramatically after the animals were injected with a slow-release, drug-loaded hydrogel that spurs the immune system to attack malignant tumors. Results of the study appeared in the journal Biomaterials earlier this year.
UTHealth Assistant Professor of Oral and Maxillofacial Surgery Simon Young, DDS, MD, PhD, and Rice University chemist and bioengineer Jeffrey Hartgerink, PhD, used a multi-domain peptide gel to deliver ADU-S100, a new type of immunotherapy drug from a class of "stimulator of interferon gene (STING) agonists." Young and Hartgerink call the drug-gel combination "STINGel." A patent is pending and will be shared by UTHealth and Rice.
Young said Novartis and Aduro Biotech recently developed ADU-S100 at great expense, and while it has shown potential for treating melanoma, the drug alone has not worked well against head and neck cancer in mouse models.
Even so, he and Hartgerink saw characteristics in the gel and ADU-S100 that might work well together.
"The drug molecule is small and negatively charged, and the hydrogel can be engineered to be positively charged, thus allowing for controlled release of the drug," Young explained.
Hartgerink developed his multi-domain peptide gels years ago at Rice and has been testing them in tissue-regeneration experiments. Young, a Rice alum and former student of Hartgerink's, remembered "Jeff's gels" and in 2016 suggested trying them in immunotherapy.
They infused the gel with ADU-S100 to form STINGel, then injected it into a few test mice with tumors. The results left the team astonished.
"Normally, if you don't treat mice with tumors, they die in about three weeks," Young said. "After we injected STINGel, amazingly, 80 percent of our mice remained alive and tumor-free. I mentioned this to some colleagues and they couldn't believe it. Some even joked that I must have accidentally mixed up the experimental groups."
The mice were still doing well at the 100th day, when they were again injected with cancer cells. The tumors didn't return — suggesting that even after only one injection, the mice had developed immune system memory against the cancer.
Hartgerink and Young expanded and repeated the study, achieving the same results. That's when they applied for the patent and submitted their data for publication.
As a physician and oral surgeon, as well as bioengineer, Young knows all too well the toll cancer exacts in human suffering.
"For head and neck cancer, pretty much everyone gets some kind of surgery, which may be debilitating, depending on how big the tumor is," he said. "Then they may get chemotherapy or radiation as well, based on how much the cancer has spread and whether it's reached lymph nodes or nerves. So if you can localize toxicity of treatment to a small area with a single injection, that would be transformational."
He and Hartgerink are now focused on understanding exactly how STINGel works — which is a good place to be, scientifically speaking. "We've already seen that it works," Young said. "Now we need to figure why it does what it does."
Their research to date has been supported by grants from the OMS Foundation, National Institutes of Health, the Welch Foundation, the National Science Foundation and the Mexican National Council for Science and Technology.