Tran garners John P. McGovern Outstanding Teaching Award
Published: June 03, 2021 by Kyle Rogers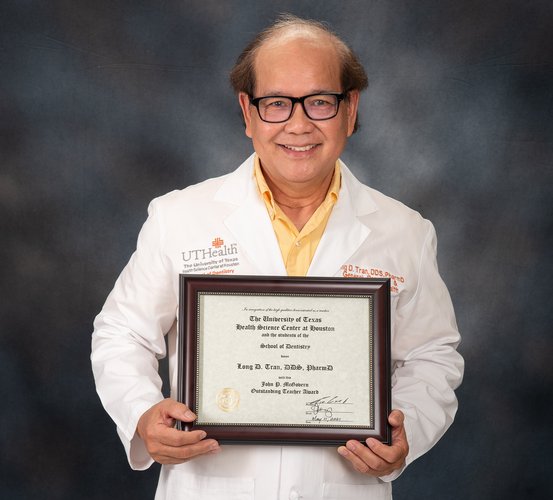 Clinical Associate Professor Long D. Tran, PharmD, DDS, has been named the 2021 recipient of the John P. McGovern Outstanding Teaching Award at UTHealth Houston School of Dentistry.
Chosen by third- and fourth-year dental students, the McGovern Award recognizes excellence in clinical teaching. Tran's honor was highlighted during UTHealth School of Dentistry's annual DDS Senior Awards in May.
His student nominators wrote, "Dr. Tran is an admirable dentist, one that many students look up to. He is very knowledgeable and proficient in various aspects of dentistry, but most importantly, he has an immense passion for teaching. Not only is Dr. Tran a teacher, but he is an inspirer and a great mentor. He treats his students with care and compassion.
"He would always stay after clinic hours to explain and show his students how to do better, in order for them to maximize their true potential and be the best clinicians they can be. He would encourage his students to work hard and try to give the best care."
Tran, who is a part-time faculty member in the Department of General Practice and Dental Public Health, started at UTHealth School of Dentistry in 2001, assisting one day a week. A practicing general dentist in Houston since 1991, he has assisted four days a week for the last four years.
Tran has worked in the Urgent Care Clinic and for the last 10 years has assisted with Green Practice.
"The dental school was so good to me when I was here, I wanted to give something in return," Tran said. "When I came back, even just one day a week, I had a goal — train students to be the best. From being out in practice, I know what students need to be equipped with. My intention has always been to train students as much as I can, so they can be the best possible dentist when they leave here."
Tran said he was surprised to win the award and is grateful for the kind words written by his student nominators.
"To hear the kind words from the students means a lot to be, because I devote my time when here to them; everything I do here is for the students. I don't think of anything else except how to make them better. If that means they need extra time during lunch or late afternoon, I will do that. Every question they throw at me, I try to answer as best I can," Tran said.
Originally a pharmacist in Vietnam, Tran immigrated to the U.S. in 1975. He received a doctorate in pharmacy from the University of Nebraska Medical Center College of Pharmacy in 1980 and went on to work as a clinical pharmacist in the Memorial Hermann Health System. He completed his doctorate in dental surgery from UTHealth School of Dentistry (then UT Dental Branch) in 1991.
Tran said his mentors, the late Rudolph S. "Rudy" Fulton, DDS, and W. Clyde Hooper, DDS, set the standard of teaching for him when he was a student. A standard he continues when working with students 30 years later.
The McGovern Award comes with a cash prize. Previous winners include:
Dianna M. Arriaga, DDS, MEd, 2020;
Cleverick (C.D.) Johnson, MS, DDS, 2019, 1993;
Dan Bentley, DDS, 2018;
Rodney Beetar, DDS, MS, 2017, 2012, 2010, 1996, 1989;
Amity Gardner, DDS, 2016;
Ralph Cooley, DDS, 2015;
Trevor Treasure, DDS, MD, MBA, 2014;
Debra Stewart, DDS, 2013;
Dan Bentley, DDS, 2011;
Shiwei Cai, DDS, PhD, 2009;
Robert (Rod) Dosch, DDS, 2008;
Donald Belles, DDS, MS, 2007;
Richard Bebermeyer, DDS, MBA, 2006, 1990;
Gary Frey, DDS, 2005;
Donna Warren Morris, RDH, MEd, 2004, 2002;
Gene Stevenson, DDS, MS, 2003;
Jayne McWherter, RDH, MEd, 2001;
Maribeth Stitt, RHD, MEd, 2000;
Jeffrey Chang, DDS, 1999;
Sam Adkisson, DDS, 1998, 1994, 1992, 1985;
Leslie Roeder, DDS, 1997;
Edmund Strickler, DDS, 1995;
Cornelius Sullivan, Jr., DDS, 1991;
Kenneth Porter, DDS, 1988, 1986;
Willis Smith, DDS, 1987;
Clyde Coe, DDS, 1984.