Dental Class of 2021 recognized at virtual DDS Senior Awards
Published: May 20, 2021 by Kyle Rogers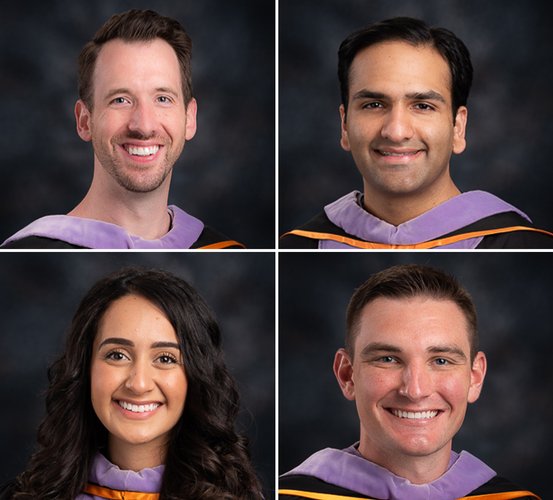 Four days before commencement, the Dental Class of 2021 was celebrated at UTHealth Houston School of Dentistry's annual DDS Senior Awards. The graduating class elected for a virtual program.
Premiering May 19 as a live event via YouTube, students were encouraged to host watch parties with their classmates for the awards ceremony.
Dean John A. Valenza, DDS '81, addressed the Class of 2021 to begin the program.
"Tonight's event, the Senior Awards banquet, is especially about individual achievement, but it also represents a milestone for all of our graduates that you're about to complete one of the most intense and rigorous curricula of any professional school, and on top of that, enduring the historic events of the past four years, like Hurricane Harvey, a pandemic, and, most recently, a winter storm; a truly remarkable achievement in it of itself," Valenza said.
Valenza shared comments from faculty about the graduating class. One said, "The Class of 2021 is accomplished, enthusiastic, energetic, and expectant. They moved through their training unwilling to be overwhelmed."
Another said, "There were many hurdles for the Class of 2021. However, they managed to jump them all, and they did this by working together and helping each other to achieve their goals."
Dental class officers shared congratulatory messages with their classmates and were the first to call them all doctors.
Professor David F. Fray, DDS '79, the program's special guest, shared an excerpt from the anonymous poem, "Work of the Soul."
We fix something specific.
We serve always the something:
wholeness and the mystery of life.
Fixing and helping are the work of the ego.
Serving is the work of the soul.
When you help, you see life as weak.
When you fix, you see life as broken.
When you serve, you see life as whole.
Fixing and helping may cure.
Serving heals.
"Will you be a fixer or a healer?" Fray said. "I ask that within the context of your dental career. As you move forward, I want you to daily think about will I serve, or am I here to fix? Our focus could be on the fixing of a tooth, but our overall value is the wholeness of the person and how we can serve that person."
During the awards segment, names and head shots of recipients displayed on screen next to the award name and the presenting party or sponsor. In total, 54 awards were bestowed upon members of the class.
To conclude the program, two faculty members were recognized with the announcement of the 2021 awards for outstanding teaching. Presented by Student Council President Daisy Montano, a third-year dental student, the award winners were:
Long D. Tran, DDS | John P. McGovern Outstanding Teaching Award
Michele R. White, DDS | John H. Freeman Award for Faculty Teaching
Chosen by the students, the recipients will receive cash prizes and framed certificates.
Professor Robert D. Spears, PhD, associate dean for student and academic affairs, delivered closing remarks.
"We want to congratulate everyone who was involved in this, not just our award winners, but all of you on accomplishing such a huge achievement of getting to this [doctorate of dental surgery] degree," Spears said. "Remember from day one, we talked about making progress to your dental degree. You've achieved that, and it's such a fantastic accomplishment."