Houston's mayor kicks off Diversity and Inclusion Week at School of Dentistry
Published: February 06, 2020 by Rhonda Whitmeyer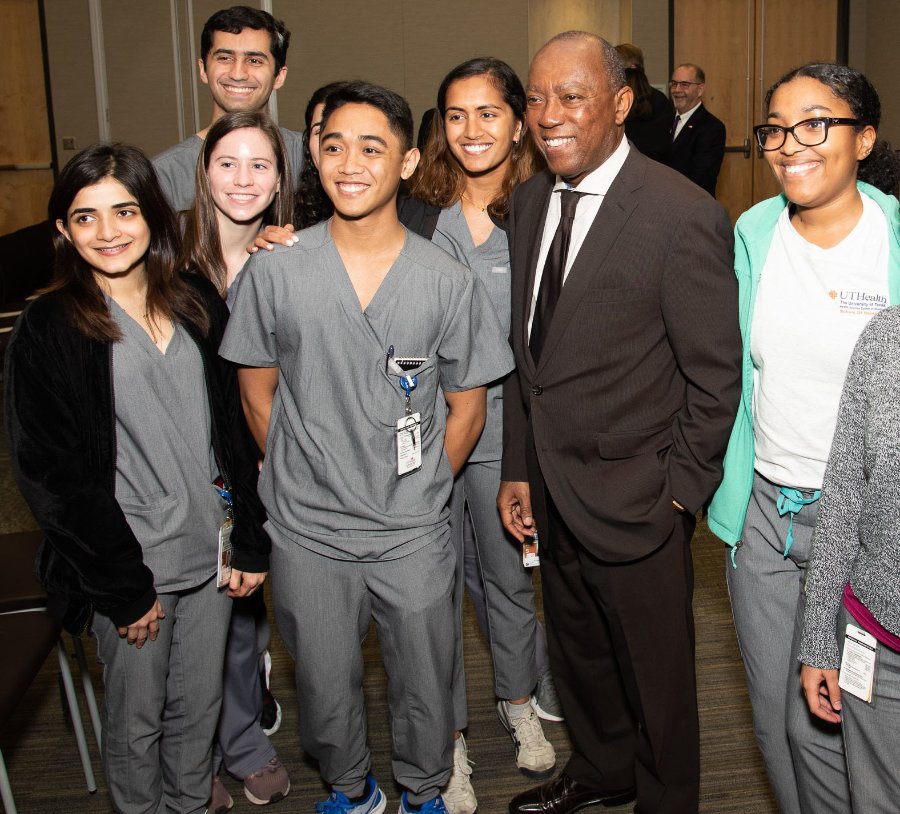 The second annual Diversity and Inclusion Week (Jan. 27 through Feb. 1) at UTHealth Houston School of Dentistry brought a definite change of routine to the school — all in the interest of understanding other cultures and perspectives.
Houston Mayor Sylvester Turner set the tone with his keynote speech on the first day, describing his experiences growing up poor in the Acres Homes community of Houston.
A childhood bicycle accident left him with a broken front tooth that his widowed mother couldn't afford to fix, so from sixth grade on, Turner tried not to smile. He was in high school when a church helped him connect with a dentist.
"On Saturdays, there was a doctor near there, a black doctor, and he took a liking to me," Turner recalled. "He said, 'Sylvester, you can't keep going like that. Why don't you come by my office and let me fix that for you? Tell your mother it's not going to cost anything.' Well, he did fix it, and let me tell you, it changed everything, so I smile all the time now."
The mayor thanked UTHealth for providing care in underserved communities like Acres Homes, where UT Physicians Multispecialty Victory Clinic is making a difference.
"You can be diverse, but separate, segregated and apart," he said. "The question is: Can we be diverse and be inclusive? The very fact that [UTHealth is] highlighting diversity and inclusion in this way speaks volumes."
Tuesday was "Exhibit Kindness Day" at the school, followed on Wednesday by a presentation featuring American Council for the Blind Texas Chapter President Peggy Garrett, who described the challenges that came with losing her vision. She urged "TABs (temporarily able-bodied individuals)" to be inclusive and alert to unnecessary barriers, "because being part of the disability community is the one thing anybody can join anytime."
Wednesday activities also included "Fashion of the World," with employees and students modeling clothing from their country of origin or ancestral homeland.
An "International Potluck Luncheon" on Thursday brought everyone together to sample favorite foods of various ethnic origins. As people ate, UTSD alumni Cynthia Corral, DDS; Austin Faulk, DDS; and Daniella Saldana-Farias, DDS; led the "Rise Up: Diversity and Inclusion Forum" with a presentation on LGBTQ+ issues in dentistry, also sharing information about the Houston Equality Dental Network.
Among Friday's diversity and inclusion activities was a panel discussion on the diversity of hair, led by Associate Professor Cameron Jeter, PhD.
On Saturday, Feb. 1, Jeter joined faculty colleagues David Fray, DDS; Ben Warner, DDS, MD; Esther Kuyinu, DDS and Lisa Cain, PhD in accompanying approximately 20 dental and dental hygiene students to Noah's House, an independent community living facility for single adults with intellectual disabilities. The goal was to meet residents and help establish bonds of trust by talking, playing board games, and participating in a wellness exercise before providing oral health instruction and extra-oral screenings.
Diversity and Inclusion Week was organized by the School of Dentistry's Diversity and Inclusion Council and sponsored by the Office of the Dean and the Office of Professional Development and Faculty Affairs.