From new concept to program director, Patrounova's journey through dental hygiene
Published: October 28, 2021 by Kyle Rogers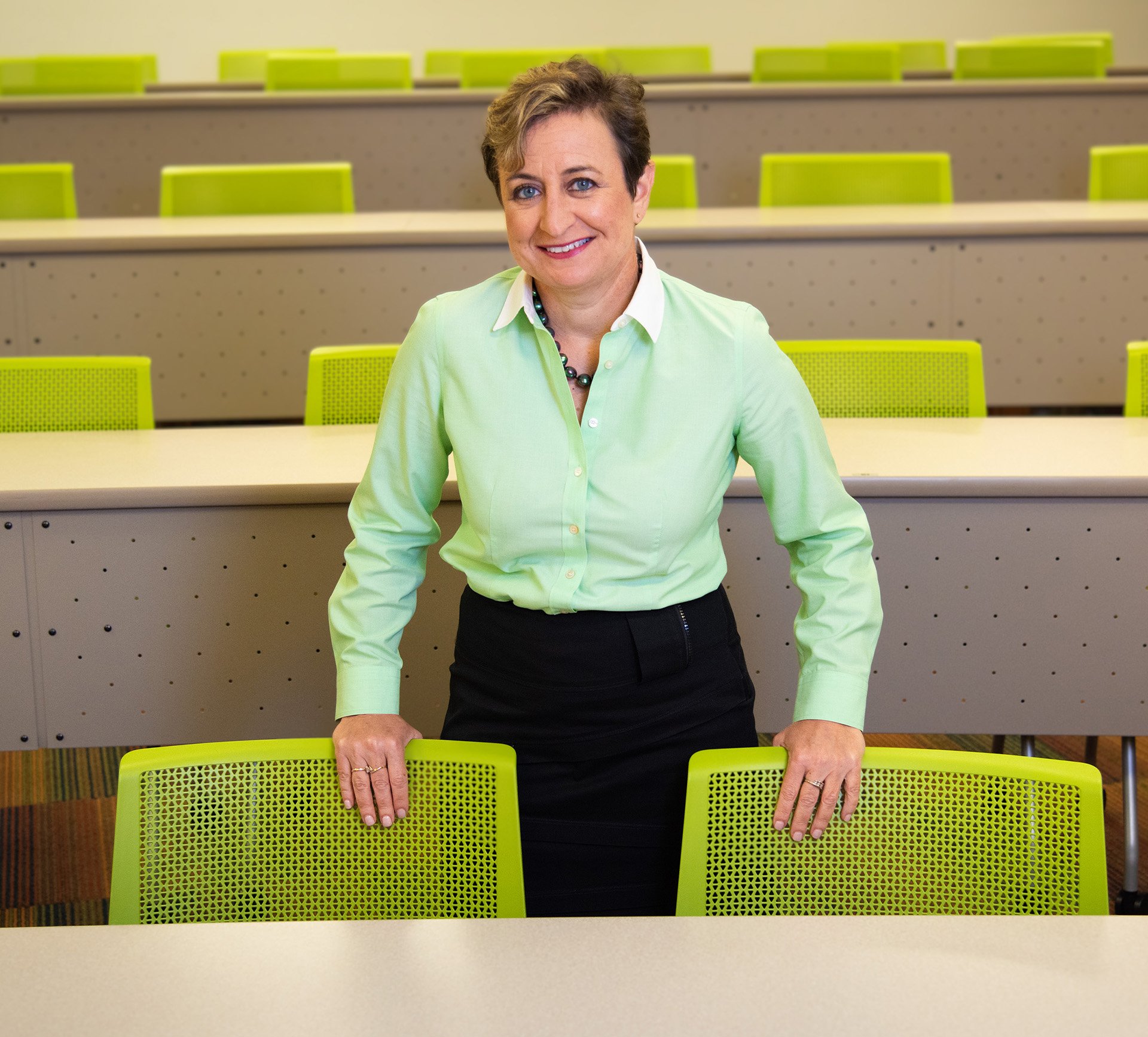 As an immigrant from Russia, among many things, the field of dental hygiene was foreign to Associate Professor Victoria Patrounova, RDH, MHA, when she came to the U.S. in 1993. Nearly two decades later, she's proud to be serving as the director of the Dental Hygiene Program at UTHealth Houston School of Dentistry.
Patrounova was named the program's director effective July 16, 2021, after previously serving as the interim director since Jan. 1 of that year.
"Becoming the director of the Dental Hygiene Program is a great accomplishment for me on many levels," Patrounova said. "My parents, Vladimir and Zoya, were in higher education, teaching in the college and university setting. I guess you could say I'm continuing that tradition, although in a different field.
"Prior to coming to the U.S., I grew up and studied in Russia, where, like many countries overseas, they had a surgical model for dentistry. That means, you only saw a dentist when something hurt. The idea of dental hygiene and preventative care was very new to me. The instruments were new. The concepts were new. It was all so different from how I was taught."
With a dental degree from Russia she couldn't use, Patrounova found herself starting over in her mid-20s. From taking standardized tests, like the SAT, to a proficiency assessment called Test of English as a Foreign Language, also known as the TOEFL® exam, it was during this time in her early years stateside she decided to explore dental hygiene.
"I had a good knowledge of dental anatomy, head and neck, and basic sciences, so I embraced the challenge," Patrounova said.
Patrounova received a certificate in dental hygiene at UTHealth School of Dentistry (then UT Dental Branch) in 1999. She practiced as a dental hygienist in Houston, later completing a master of healthcare administration degree from Texas Woman's University in 2007.
"When I completed my master's, I remember my mother, asked, 'What are you going to do with that?' I said that maybe I will go into education, and she just said, 'Yeah, that's better than being a manager,'" Patrounova joked.
She joined the faculty at UTHealth School of Dentistry in 2009 and was reminded of a promise she and her classmates made when they were dental hygiene students.
"The Dental Hygiene Program at UTHealth School of Dentistry has always had a great reputation, but when I was a student, I had a group of friends, and we always talked about what we would change if we could." Patrounova said. "We told each other, 'We will come back and make this better.' Out of everyone in that group, I was the only one who came back."
As director, she has a list of three goals she'd like to see accomplished over the next year.
The first goal is to connect and engage the dental hygiene alumni base.
"I'd like to make The University of Texas at Houston Dental Hygiene Alumni Association more visible and be able to tap into our alumni audience to create a mentoring and socializing resource for recent graduates."
Another goal is to be a new site for professional development among the dental hygiene community. Patrounova hopes to develop workshops utilizing the advanced education and experience of her faculty.
"I want our faculty to be educators of educators," she said. "We have a lot of potential in this area, as our faculty have a lot of knowledge. It will be my job to provide opportunities for all faculty to utilize their full potential."
In August 2021, the Dental Hygiene Program kicked off its new master of science degree in dental hygiene. The inaugural MSDH cohort features four students, all alumni of the Dental Hygiene Program in Elizabeth Alvarado, BSDH '13; Megan Gardner, BSDH '21; Courtney Roth, BSDH '06; and Desiree Swauger, BSDH '14.
"The MSDH program is picking up the torch from Professor Donna Warren-Morris, RDH, MEd, when she retired in January 2021. It was her vision to open the master's program. However, due to the ongoing COVID-19 pandemic, the start of the program was postponed a year. My goal is to continue to grow this program in the years to come, starting with our second cohort in summer 2022.
"It is an honor and a big responsibility to be part of a faculty who are embracing new challenges — such as starting the MSDH program — while dealing with the uncertainties of teaching during the pandemic, but I am grateful for this opportunity to lead the Dental Hygiene Program in this time of change."