Summer Research Program goes virtual, sees huge response
Published: September 09, 2020 by Kyle Rogers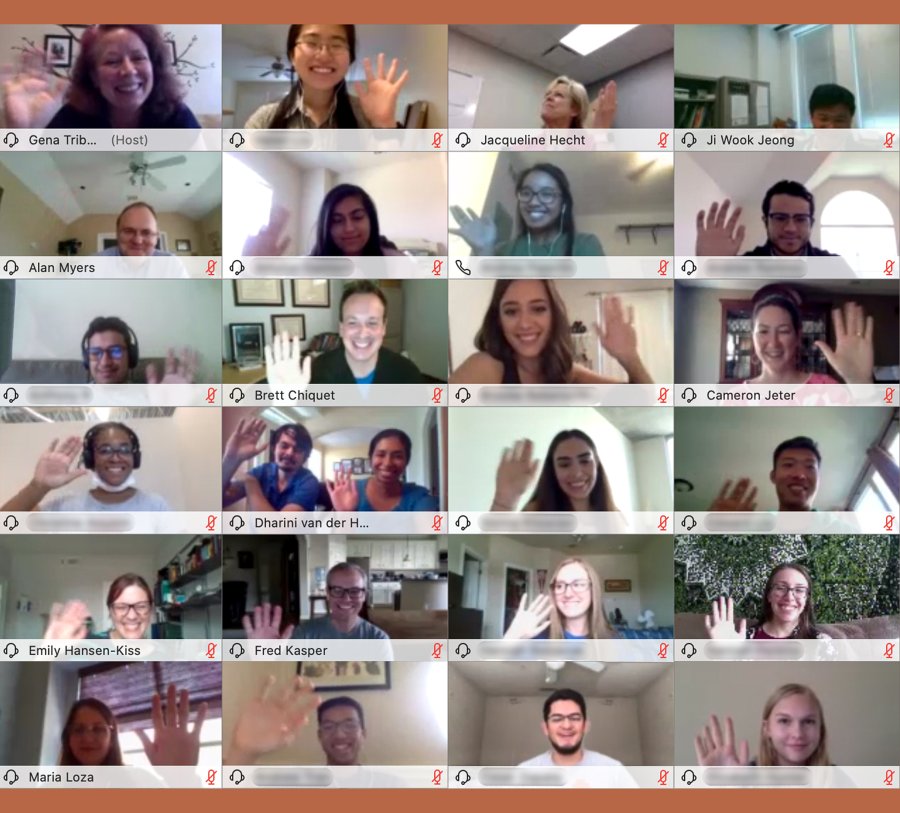 Research continues, even in the face of a pandemic, and that's just what 48 students and their 34 faculty mentors proved during UTHealth School of Dentistry at Houston's annual Summer Research Program.
Spanning June 1 to July 31, the program provides an opportunity for dental students to get hands-on experience with research. However, due to COVID-19, being "hands on" wasn't an option. For Gena Tribble, PhD, student research coordinator and associate professor in the Department of Periodontics and Dental Hygiene, this meant exploring remote options.
"We really didn't feel like we could do in-person research at the dental school," Tribble said. "Discussing various what-if scenarios, we asked ourselves what research opportunities could be provided virtually, [then we] sent out a call to faculty, 'Does anyone have any ideas for remote projects?'"
An April 7 email with a one-week deadline was sent to UTSD faculty, asking four questions:
Are you willing to mentor a student(s) this summer?
If yes, what's the research area of interest and resources needed in order to succeed remotely?
Are you interested in creating an online learning module and area of interest?
Are you interested in presenting your research and topic material?
The overwhelmingly positive response became what Tribble referred to as a "turning point" for the summer program.
"This program only happens if we have faculty willing to work with students," she said. "The faculty stepped up and just knocked me out with their willingness to participate and all of their ideas.
"We had people who've been helping with this program for years recommit, but we also had those who never volunteered before say they're interested. We even had some, who had one project in mind, that were willing to come up with other ideas to help meet the research demands of the students."
With faculty volunteers and ideas to boot, students were gauged on their interest in the summer program, and again, the response far surpassed expectations. Typically, the research program accepts 30-40 students. This time, over 50 students applied.
In total, 48 students were sponsored with $1,500 stipends. The research cohort was comprised of 21 returning dental students, a record-high 24 incoming dental students, and three students from SODSurp, UTSD's summer undergraduate research program in partnership with McGovern Medical School.
Research included case reports, gene reviews, analysis of existing data and images, projects using electronic health record (EHR) data, online surveys, and systematic reviews and data-mining of literature.
"We've never said 'No,' to remote database-based research," Tribble said. "We've always had six or seven people doing data analysis-based projects and encouraged EHR-type research, but this was the first summer we've done the whole program that way.
"With 48 students, you'd better have lots of different angles. We really diversified our portfolio as to the types of remote research we're able to do."
In addition to the numerous research projects, students and mentors took part in several remote learning modules via Canvas, providing insight on effective research skills. They also attended two online seminars per week over Cisco Webex given by a member of the dental faculty on different topics in dental research.
More so than any other year, Tribble says the 2020 Summer Research Program was a tremendous accomplishment for students and their mentors.
"I think it's the most successful Summer Research Program we've ever had," she said. "We accommodated more students, while at the same time innovating the types of projects we do, and developing the Canvas platform to deliver unified training to everybody. That's something we've never done before; and we did it because we had to innovate and make this meaningful. These students got to see the breadth of what dentistry is about."
The program usually concludes by inviting everyone at UTHealth to the annual UTSD Student Research Showcase, where students convey findings through posters and oral presentations in The Denton A. Cooley, MD, and Ralph C. Cooley, DDS, University Life Center.
Due to COVID-19, the 2020 Student Research Showcase will be a virtual event on Oct. 20. Using the presentation software Prezi, students will display their posters individually, while select students will present oral seminars through Webex.
The Student Research Showcase always features a guest speaker; this year, Professor Dana T. Graves, DDS, DMSc, vice dean for scholarship and research director at Penn Dental Medicine, will deliver the William T. Butler Distinguished Lecture.