Butler Society, OMS co-host biopsy course for dental students
Published: March 16, 2018 by Mallory LaSalvia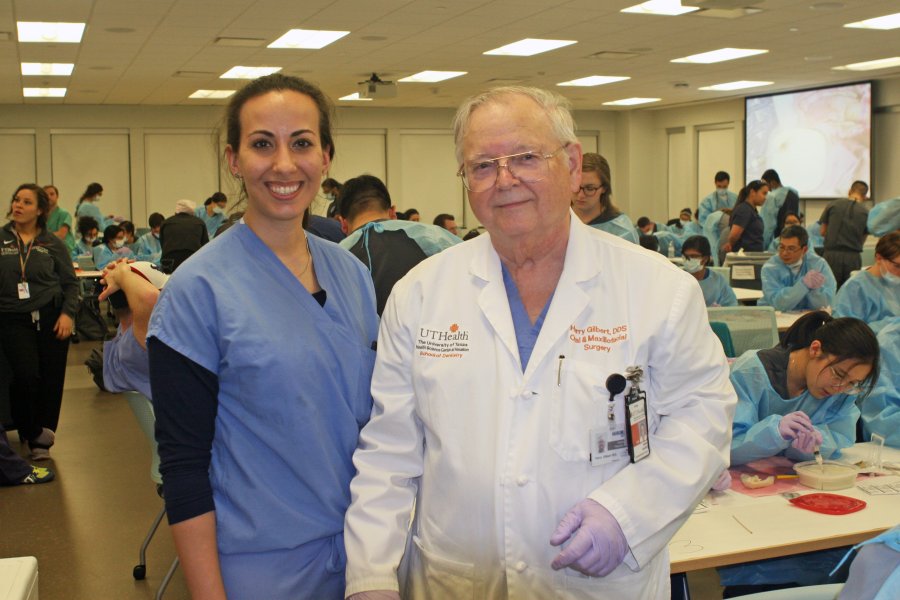 The Butler Society and the Department of Oral and Maxillofacial Surgery recently co-sponsored a biopsy course that allowed UTSD Houston students to review concepts in pathology while simultaneously practicing their hand skills.
Professor Nadarajah Vigneswaran, BDS, DrMedDent, DMD, and Assistant Professors James Melville, DDS, and Jonathan Shum, DDS, MD, presented "Indications and Techniques for Oral Soft-Tissue Biopsies: A Hands-On Lecture and Lab" to 120 dental students from all four class years, leading them through a hands-on biopsy training session.
Vigneswaran began with a lecture, where he reviewed techniques and preferences from the perspective of an oral pathologist. An hour of hands-on demonstrations followed, with Melville and Shum discussing various surgical techniques for taking biopsies from pig jaws, while volunteer faculty and residents guided the students. The students learned to take punch biopsies, incisional biopsies, how to undermine the mucosa on the jaws, and how to do fine-needle aspiration of fluids.
Faculty who volunteered were Harry D. Gilbert, DDS, Simon Young, DDS, MD, PhD, Kent Stobaugh, DDS, and Logan Banner, DDS, MD. OMS residents also volunteered, including Drs. Kelsey Menegotto, Dhafer Alsuwied, Andrew Thomas, John Guenther, Andrew Bhagyam, Rachel Bishop, Matthew Murphy, Danielle Jaul, C. Scott Manis, Amir All-Atabakhsh and Michael Woodbeck.
Butler Society President Victoria Manon, a fourth-year dental student, said the Butler Society and Department of Oral and Maxillofacial Surgery hope to continue providing these learning opportunities for the students.