UTHealth Facilities Energy Conservation Plan saves millions in energy costs
Published: April 13, 2021 by Bobby Watson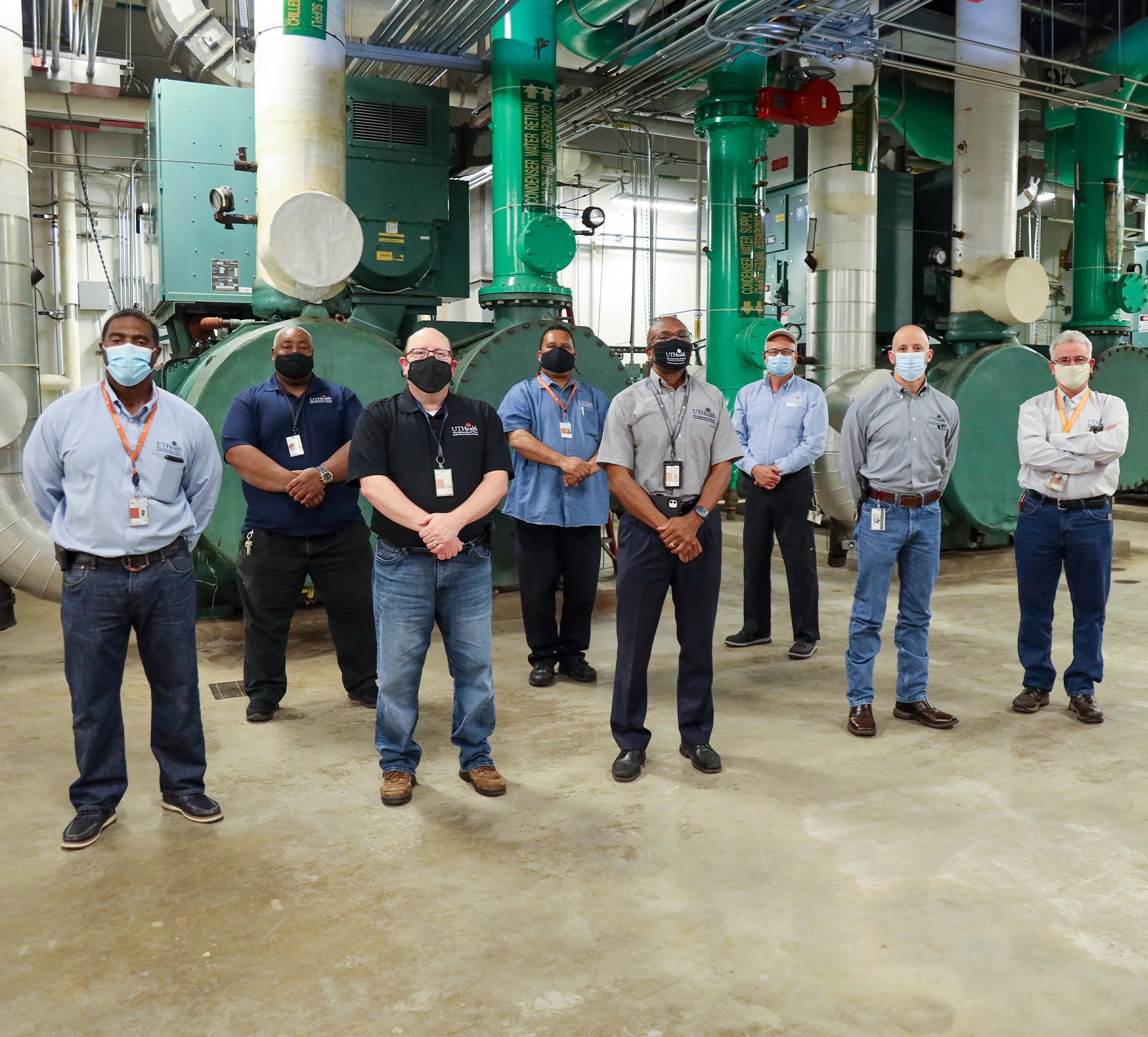 If it's true that a penny saved is a penny earned, the UTHealth Facilities, Planning and Engineering department is generating big earnings for the university.
In October 2017, the facilities department submitted its Energy and Water Management Plan to the State Energy Conservation Office with a new aggressive 5% campus energy consumption reduction goal by the end of fiscal year 2021. By the end of FY19, facilities had exceeded this goal. By the end of FY20, UTHealth's total energy consumption had decreased by approximately 10%, yielding a total cost savings of more than $3.4 million.
UTHealth's 3 million square-foot campus includes research, education, and office buildings. A large percentage of the space is "wet lab" research, which requires high volumes of outside air. In FY16 and FY17, the annual cost of utilities exceeded $15 million annually. In FY20, the university spent nearly $12.6 million on utility bills, increasing their cost savings despite the fact that the campus size has increased by 48,000 square feet since 2017.
"Within the past year, we have endured a financial climate that most of us have never witnessed before," said Senior Executive Vice President and Chief Operating Officer Kevin Dillon, MBA, CPA. "With the extraordinary efforts of Facilities, Planning, and Engineering, we've been able to use these cost savings to better position the university in uncertain times."
A detailed breakdown of utility costs by year and by building can be found on the UTHealth intranet.
In the spring of 2017, the facilities department formally established an Energy Conservation Committee (ECC) with departmental leadership, senior digital control technicians, maintenance supervisors, project managers, and outsourced engineers to develop a comprehensive energy plan. The energy plan established a base list of energy conservation opportunities (ECOs). The committee then began work on revising the existing energy plan into a more comprehensive document focusing on a prioritized list of ECOs.
The ECO committee meets monthly to update and revise the list, and to review strategies, policy, and best practices. Although the facilities controls and utilities team implements many strategies and initiatives, project management and maintenance teams are also involved to create a comprehensive team.
"This program has developed and truly come together through the team's hard work over the past few years," said Wes Stewart, vice president of Facilities, Planning, and Engineering. "Watching how they continue to innovate and identify other areas of improvement shows great promise for what is to come."
Key components of the energy master plan:
The campus temperature control policy establishes campuswide temperature and humidity standards to accommodate user and equipment needs while minimizing utility costs.
Occupancy sensors are installed in laboratories and offices to control lighting and air conditioning.
The Aircuity® system measures indoor air quality in research spaces, which typically reduces the need for the system to intake outside air..
Free cooling and economizer HVAC strategies are implemented campuswide. Senior Digital Controls Technician Byrne "Gil" Wilson was a key contributor to this effort.
The fume hood sash position management process uses a proprietary graphical tool to prevent conditioned air from being unnecessarily exhausted.
Lamp and fixture upgrades from fluorescent to LED improve indoor lighting quality and reduce utility costs.
Graphical software tools are used to monitor HVAC performance and identify equipment malfunctions. These tools were designed in-house by Senior Digital Controls Technician Terry Knowles.
In addition to utility savings, the facilities department has leveraged CenterPoint incentives and demand response programs. These programs have resulted in more than $150,000 in direct payments to the UTHealth since 2018. A breakdown of CenterPoint SCORE program initiatives can be found on the UTHealth intranet.
Conserving energy is good for the environment and the bottom line. The efforts don't stop with facilities, it's something everyone can contribute to. Small individual actions can add up to major contributions. Things like keeping fume hood sashes closed, and cutting off lights when you're away are just a couple of ways to have a measurable impact. The facilities department thanks everyone in advance for supporting these efforts.
UTHealth Purchased Utilities FY09-FY20

Year
Expenditure
% Change
FY09
$17,596,603
-0.1%
FY10
$17,338,119
-1.5%
FY11
$15,816,734
-8.8%
FY12
$17,206,370
8.8%
FY13
$15,933,556
-7.4%
FY14
$16,094,284
1%
FY15
$16,030,465
-0.4%
FY16
$15,516,958
-3.2%
FY17
$16,051,988
3.4%
FY18
$14,402,039
-10.3%
FY19
$13,792,606
-4.2%
FY20
$12,579,216
-8.8%
FY17-FY20
$3,472,772
-23.3%