Students honor UTSD educators with teaching awards
Published: May 18, 2018 by Rhonda Whitmeyer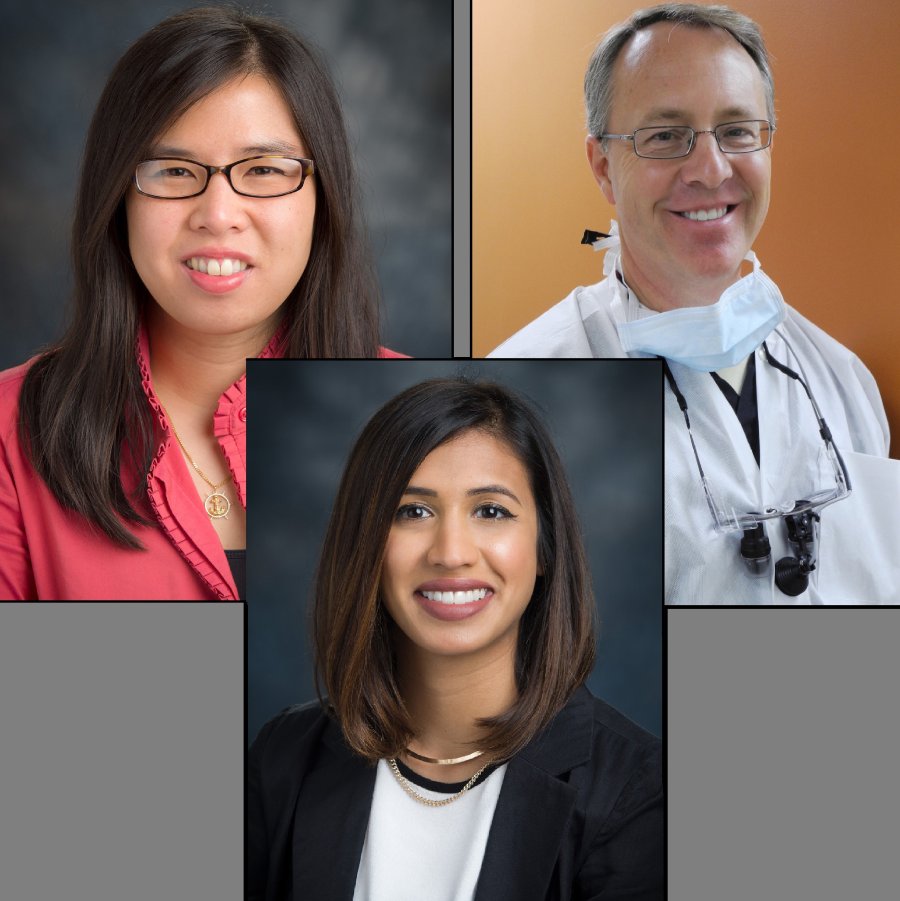 UTHealth School of Dentistry at Houston students have made their annual selections of faculty to honor for outstanding teaching in 2018. This year, the winners include Assistant Professor Vuvi Nguyen, PhD, MS; Clinical Associate Professor Dan Bentley, DDS, and Clinical Assistant Professor Tulsi Patel, RDH, BSDH, MHA.
Winners were recognized at awards banquets in the spring and at the School of Dentistry's May 18 graduation ceremony.
The John H. Freeman Award for Faculty Teaching: Dr. Vuvi Nguyen of the Department of Diagnostic and Biomedical Sciences was chosen by first- and second-year dental students for outstanding teaching in the preclinical and biomedical sciences curriculum.
In nominating Nguyen, the students praised her interesting, understandable lectures, and her emphasis on clinical relevance. "She also attends every Head and Neck lecture and takes notes of the other instructors' lectures to help clarify any questions during the lab portion of class," the nominators wrote. "Along with a great amount of interesting knowledge, there is always compassion and enthusiasm in Dr. Nguyen's teaching."
The John P. McGovern Outstanding Teaching Award: Dr. Dan Bentley of the Department of General Practice and Dental Public Health was chosen by third- and fourth-year dental students for excellence in clinical teaching. The students noted that Bentley assumed additional duties this year as Red Practice Group Director, but even so, "He kept his two passions at the forefront: dentistry, and working with students."
They also cited his open-door policy, which makes him available to students throughout the entire day. "Whether it's a pressing question about a patient on the weekend, or even needing someone just to speak to, Dr. Bentley always finds the time to be there for students," they wrote.
The Lorna J. Bruning Award for Outstanding Teaching: Clinical Assistant Professor Tulsi Patel, RDH, BSDH, MHA, of the Department of Periodontics and Dental Hygiene was chosen by UTSD's dental hygiene students for excellence in clinical teaching. The award is named for the first director of the school's Dental Hygiene Program, which opened in 1955.
Several students commended Patel for her informative, interactive lectures. "She always finds ways to have us on our feet and participating," one student wrote.
Another praised her demeanor and accessibility. "Professor Patel speaks to us as colleagues and goes out of her way to ensure that students have a voice in her class," the student wrote. "She's always available, whether it be electronically or in person, and her grading and criteria are fair and straightforward."
Faculty members who win a teaching award are ineligible to win the following year.