Student group aims to expand teaching of laser dentistry
Published: May 20, 2022 by Alexandria Brown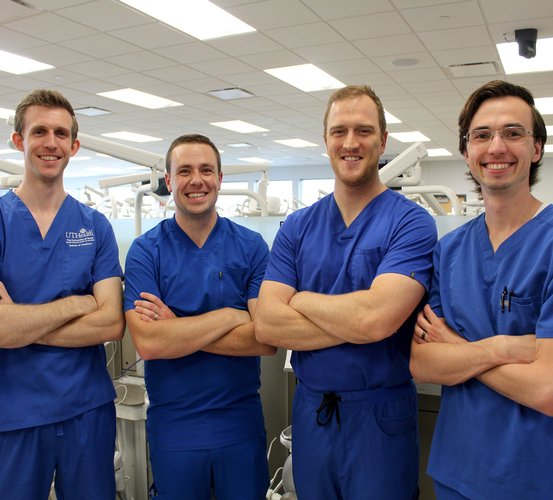 The innovation of technology used in dentistry is an always-evolving process. New techniques, research, tools, and best practices are constantly being created and updated to meet the needs of patients. The faculty, staff, residents, and students of UTHealth Houston School of Dentistry have the unique opportunity to learn from some of the most trusted names in the dental profession while standing at the cutting edge of the newest innovations in dental technology, one of those being laser dentistry.
The School of Dentistry is home to various student organizations, one of the newest being the Laser Learning Society. The group which is co-sponsored by Juliana Barros, MS, DDS; and Shalizeh 'Shelly' Patel, DDS, MEd, aims to create an avenue for students to study lasers and their use in improving clinical outcomes, as well promoting local, national, and international collaboration opportunities in research.
"We're one of the few dental schools in the U.S. that teaches a full program in laser dentistry to our students," said Barros. "We teach laser dentistry to senior students, but it is usually in their first and second year that students become interested in lasers. Before they get the full training, I want them to have attended some of the lectures not only at the School of Dentistry but from other schools. This study club is not only for students, but also for anyone who wants to learn about laser dentistry and its applications."
As one of five dental schools to offer a comprehensive laser dentistry program, the Laser Learning Society is yet another way the School of Dentistry remains at the forefront of oral healthcare. What was once an idea, has now blossomed into an organization with hopes of exposing students to ways they can take patient care to the next level.
The group, although in its infancy, has developed bylaws under the leadership of its four officers who are each in their second year of dental school, Tyler Hanis (president), Justin Quackenbush (vice president), Van DeMille (secretary), and Tanner Banks (treasurer).
Although he was elected president of the group, this was an unexpected leadership role for Hanis. He attributes the groups burgeoning success to Barros and Patel while echoing their desire to introduce students to the use of lasers in dentistry earlier.
Currently, the group plans to meet once a month with several goals in mind.
"First, there is a study club where Dr. Barros and students who've had laser cases in clinic present what they've done recently," said Hanis. "We're trying to do that monthly to show people how lasers are used in our school. The second thing we're trying to do is have collaborative lunch-and-learn events. This is a similar idea to the students presenting, but more of an outreach to professionals and experts in the field to present their research. The third thing is to have a hands-on laser activity once a year. We have one planned for the end of the month when fourth-year students are getting certified."
As the Laser Learning Society continues to grow and other dental schools around the country create similar programs, the opportunities for collaboration, innovation, and research expand. Those interested in joining the Laser Learning Society can contact President Tyler Hanis, second-year dental student, at Tyler.F.Hanis@uth.tmc.edu. Dues to join the club are $20 annually.